Best Gaming Laptops Including Intel and GeForce RTX and GTX Hardware
Published on November 27, 2019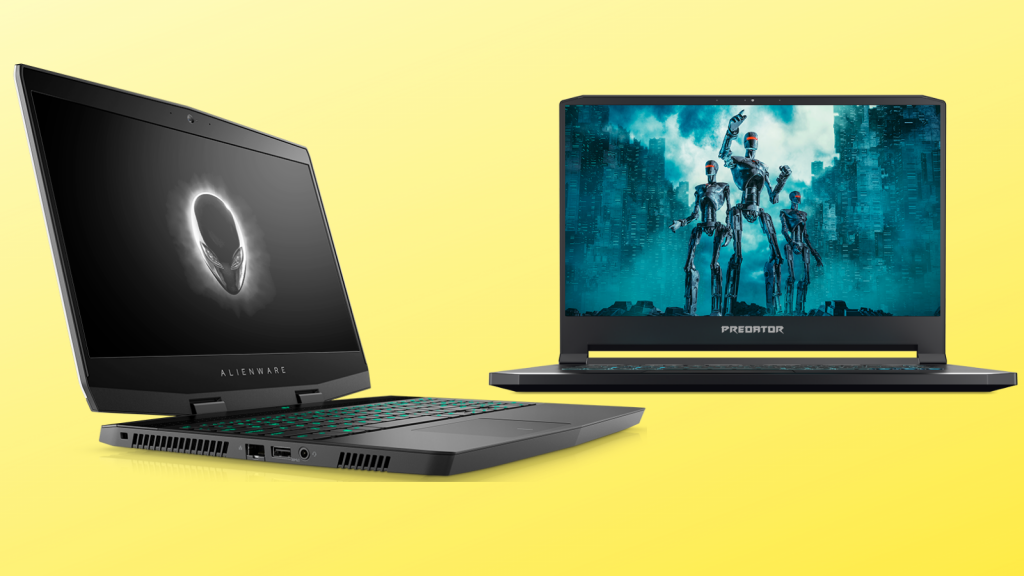 Although PC gaming has historically been mostly limited to a desktop systems, hardware manufacturers have been working hard to bring laptops up to the standards set by mainstream PC towers for years.
As a result, many great gaming laptops are available on the market and choosing one will enable players to take their gaming experiences of high quality on the go with them.
Gaming laptops, particularly those powered by NVIDIA GPUs, due to their incredible value, they've become popular in demand – and there's no time of year when it's more true than the holiday season, while people try to ambush their loved ones with presents or save a lot of money on [ great deals](https:/www.nvidia.com / en-us / force / campaigns / holiday deals/).
Here's our round-up of this holiday season's best GeForce RTX and GTX gaming laptops. There's a GeForce gaming laptop for you, no matter which price point suits your budget.
With a stunning 4 K 60Hz OLED touch display of up to 15.6-inch, up to a beefy RTX 2080 Max-Q GPU, 9th Gen Intel Core i7 9750H processor, 16 GB RAM and storage capacity up to 512 GB, The Razer Blade 15 Advanced is a great laptop for gaming. It has all the power you might want (or need) in a laptop, and the device has a strikingly sleek aesthetic that everyone's going to love. It is precious, but that's what you're paying for. Also, if you prefer a higher refresh rate to 4 K, there is an option for a standard 240Hz FHD display.
Laptops equipped with state-of – the-art RTX GPUs from NVIDIA are capable of supporting real-time ray tracing, bringing amazing effects of lighting to games that use the feature. They also make use of the unique AI-based anti-aliasing technology Deep Learning Super Sampling (DLSS), also possible to improve performance at higher settings. RTX cards are also NVIDIA's most powerful raw power graphics cards, also, that means you'll want to go with a RTX powered laptop for the best possible gaming performance. While laptops by their nature avoid significant thermal challenges, NVIDIA has succeeded in making these Max-Q GPUs efficient, making a quieter experience, something that will love every gamer. This is impressive, especially when you consider the thinness and lightness of these laptops.
Although high-end RTX devices are usually costly, you can get laptops with some RTX cards at the bottom and you still have an amazing gaming experience, all while saving some money. Meet the Lenovo Legion Y740, specifically designed to fill this niche – with the option of either selecting the RTX 2060 or 2070, the Intel Core i7-9750H 9th-generation processor, the Lenovo Legion Y740 perfectly fits the bill of an affordable RTX device with its 16 GB of RAM and its 256 GB of storage. The 144Hz 15.6-inch FHD display is also nice.
The 51M Alienware Area is the most powerful (and costly) gaming laptop you can purchase right now. Up to a RTX 2080 GPU, up to a Intel Core i9-9900 processor of 9th generation, This laptop is basically a portable supercomputer with up to 64 GB of RAM and up to a colossal 2 TB of storage space. The 17.3-inch screen is the weakest part of the package, but in general, even that's fine. It's like a 144Hz FHD screen. To afford this device, you will need to sell an arm and a leg, but you're not going to have to worry about a long update, either.
If you want good performance while being as easy as possible on your wallet, Dell's G3 Gaming Laptop will be the best choice for you. The G3 has the lowest of all the devices in this article, but that doesn't mean that it's not doing well. In addition, 8 GB of RAM, 512 GB of memory, between its GTX 1660 Ti GPU, 9th generation Intel Core i5-9300H cpu, and with its FHD 60Hz display of 15.6 inches, this budget device is punching a lot.
Those who want a high-end GTX laptop will enjoy what the Triton 700 Acer Predator has to offer. Packaging of a GTX 1080 Max-Q graphics card, Intel Core i7-7700HQ CPU 7th generation, 32 GB RAM, 512 GB memory, and a 15.6-inch FHD 120Hz display, this is a beefy GTX device that lets the lower-end RTX laptops run for their money out there. Since the GTX 1080 is in terms of power between the RTX 2060 and the 2070, this laptop will give you a comparable experience of what you would find with those cards using a device – though, it won't support DLSS or ray tracing.
Which device should you choose?
This holiday season, with so many amazing NVIDIA powered laptops out there, It's hard to know who's the best for you. I'd say the Razer Blade 15 Advanced is the best choice if you're looking for a premium experience and willing to pay for it. The Alienware Area 51 M is also a fantastic choice if you have the cash for it. The Lenovo Legion Y740 should be your go-to if you want RTX but don't want to spend a lot on it.
It would be better for people looking for a mid-range device to use one of the GTX laptops on this list. The HP Gaming Pavilion is my personal favorite because I think it provides an excellent balance of versatility, price, and design, but people who will enjoy the Dell G3 Gaming Laptop as much as they can. If you want high-end GTX, the Acer Predator Triton 700 should be your option, as the GTX 1080 GPU offers power close to some of the new RTX graphics cards.
Read Next: 10 Best Gaming Mouse in 2019