Elon Musk Has a Revolutionary HVAC System in The Works
Published on June 23, 2020
Elon Musk is probably the most innovative human being alive today. He has single-handedly increased the quality and the overall outlook of the human condition more than just about any other single entity on the face of the Earth. The same guy that revolutionized the online payments industry, the automotive industry, the aerospace industry, and the solar energy industry is now bringing us a revolutionary HVAC (Heating Ventilation and Air Conditioning) system.
The South African Technology Entrepreneur mentioned on Twitter while speaking about the Tesla Model Y that his company would be able to make use of their current heat pump technology to develop a smart HVAC system.
Key HVAC manufactures have noticed a dramatic rise in the technology's popularity due to a high level of investment in HVAC companies. The COVID-19 pandemic had a lot to do with this, but there are also environmental and sustainability factors at play. A Smart HVAC system seems to be an obvious direction for Tesla to take. Tesla already possesses all the technology and manufacturing capabilities requires to make electric air conditioning and heating systems.
How Tesla's Model Y Leads To A New HVAC Product

For Tesla's Model Y, The engineers created a new heating solution from the ground up. The overall aim of the heating system was to be as effective as possible while using as little energy as possible.
The biggest challenge Tesla faced regarding their batteries was how to get them to work well in cold weather. The solution ended up being a new heat pump that according to Elon Musk is one of the best examples of great engineering he has seen 'in a long time.'
Musk has said a thing or two before about smart HVAC systems for the home. Musk confirmed that Tesla's new home HVAC unit will include humidity control and a HEPA filter and will be very quiet. He had hinted a couple of times about such systems in interviews. It looks like now, though, an HVAC system will officially become part of Tesla's product offerings.
Elon Musk underlined the point that a car should be able to communicate with a home HVAC system. As an example, a car should be able to alert the home system, letting it know when the homeowner was almost home. This way, the homeowner can walk into their preferred home climate without it having to be set that way all day. It could use the same information to disarm or arm a home security system.
The technology to keep home temperatures at a specified level is one thing, but particulate and humidity control is something entirely different. It's also something Tesla really believes in. The electric car maker has already gained quite a bit of experience in air management. A good example of Tesla's air system quality is the Model X SUV. This vehicle featured what the company called a 'Bioweapon Defense Mode,' which saw a great measure of success amidst the 2019 California wildfires. Bioweapon Defense Mode is an advanced air cleaning system that not only cleans the air inside your car, but it also cleans the surrounding air around your car by 40%.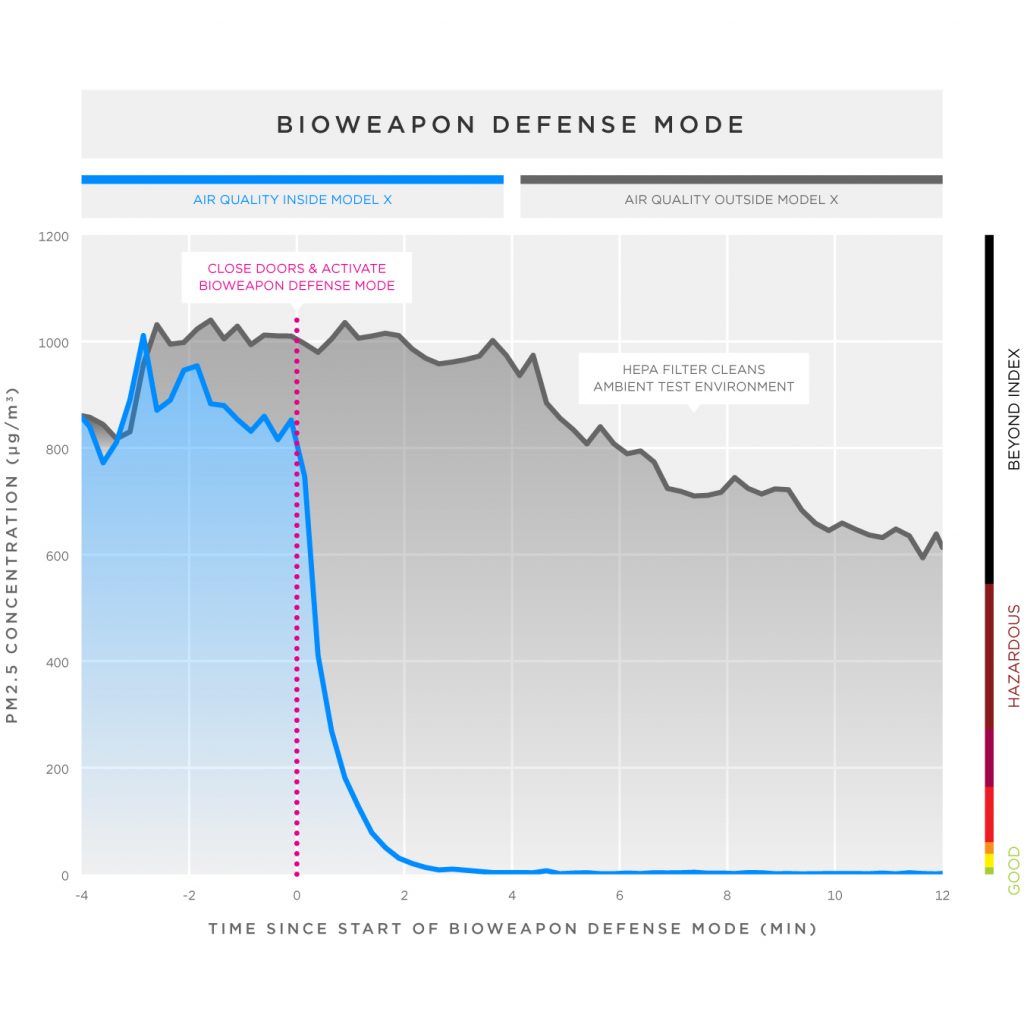 With Bioweapon Defense Mode enabled, you really can survive a military level biochemical attack in a Tesla. So basically, Tesla has proven knowledge and experience in particulate filtering at high levels. To top things off, this Bioweapon Mode has also been proven to reduce asthma attacks of its occupants.
Elon Musk is clearly on a mission to transition the planet to sustainable energy. This goal is reflected in his company's products, as they all push towards that common goal. Tesla's electric vehicles are but one component in the whole machine. The vehicle segment is essential, as it's one of the world's heaviest polluters. Tesla also has some revolutionary battery technology that they make use of in both their vehicle and residential installations.
This is a great move for Tesla. This HVAC system is just the latest in a long line of Elon Musk innovations. Personally, I think it's great to see Tesla broadening its scope. It is true that it faces some capacity challenges due to recent issues with their solar roofs and taking on the financial and logistical burden that comes along with the COVID-19 assistance they are offering. There are some major Tesla product launches coming up, and we are looking forward to expanded use of Tesla's technology in the average home.