UE Megaboom 3 Review: Power Redefined
Published on December 23, 2019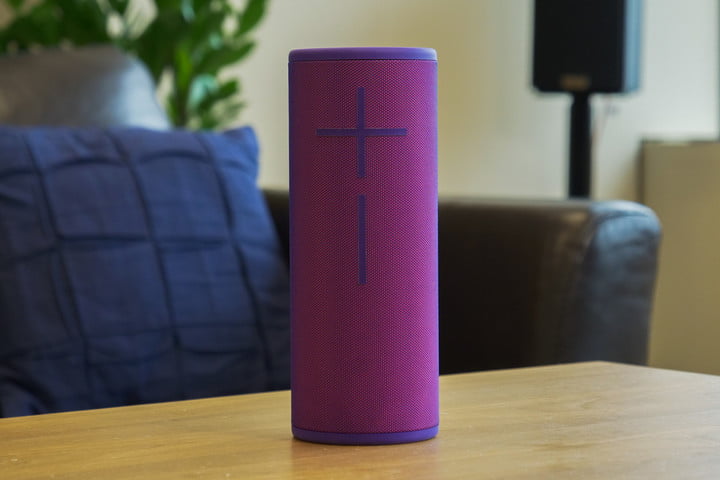 UE Megaboom 3 has the right sounds, long battery life and robustness, and this is all you want in a portable Bluetooth speaker.
The latest audio trends have been dominated by speakers with virtual assistants like Alexa and Google Assistant. Nonetheless, not everyone needs AI to go on with their lives, although almost everyone wants an awesome portable Bluetooth speaker.
The $180 UE Megaboom 3 is a solid choice when it comes to updating your speakers. The experience of the Megaboom is refined and the battery life, roughness and sound is impressive. It is not perfect for all, it is too large to go with you, but for the majority of people, it is the greatest Bluetooth wireless speaker you can buy right now.
Design
The Megaboom 3 is 8.9x 3.4 inch in size, 2-pound in weight and simplifies the previous generation to improve the dimensions of the speaker.
The new models switch the charging port from the bottom to the side to make it much more readily accessible and integrate the large volume buttons on the side of the mesh cover. Up on top, you will find small Power and Bluetooth pairing buttons along with the magic button.
The Magic Button can be programmed to trigger playlists for streaming services in Apple Music or Deezer, but it is better for managing playbacks. You can pause or play the current track by a single touch. The Magic Button replaces the touch sensitive top of the Megaboom, and the button works better than the touch top.
The Megaboom 3 does not have any supporting input, which is something UE removed in its design, so you cannot have a wired connection. The manufacturer has removed the speakerphone from the new model.
Features
Without touching your mobile, you can enjoy your dream playlist. The Megaboom 3 does not have to be turned on, only need to be attached to your smartphone.
Other basic features like PartyUp and Stereo may also be controlled with the free app. You can connect 150 Megaboom speakers, Booms of first generations, can pair two Megabooms in stereo mode. Bluetooth range of UE Megaboom 3 is 45 meter.
Sound quality
It is easy to forget that it is a portable Bluetooth speaker, because of so many features.
Luckily, the speaker sounds as lively, punchy and competent as we anticipate a speaker from the Ultimate Ears. It has an extremely exciting tone that fosters excitement and keeps an eye on balance.
The sound dispersal in 360 degrees is impressive, it fills a room easily. You'll hear its limit clearly, but the sound is satisfactorily solid, has great support for detail, well-defined edges, and an excellent rhythm.
Thanks to popular demand, the Megaboom 3 got a bass upgrade, upgrading its passive radiator to offer stronger bass. Surely, in contrast to the Alexa powered Megablast, which now is at a similar price, these wireless speakers sound punchier and bassier.
The base are deep, loading more momentum and grip, and the solidity also passes over the whole range of frequencies. The added bass may make it sound thick and it might sound cleaner on certain tracks, but the Megaboom 3 in general is more enjoyable and easy to listen compared to the Megablast.
Ruggedness
The Megaboom 3 has an IPX67 certification which ensures it will be resistant to 3 feet of water for up to 30 minutes. I held the speaker for five minutes in a sink full of water and afterwards it worked perfect.
Battery life
UE claims the speaker will continue playing for 20 hours for a full charge. The Megaboom 3 still had 72 percent of the battery left after 11 hours of use at low or medium volume. UE Megaboom 3 is a clear winner in this section. Battery is something no one wants to sacrifice for some not so useful features. Megaboom 3 offers the long lasting battery that will play your music all day and night.
Setup and Wireless
My iPhone easily connected the Megaboom 3. The strength of the signal was incredible, with several interior walls.
The updated Boom and Megaboom app for iOS and Android provides several useful features, but it also excludes a few. It lets the Megaboom 3 be coupled with the older model and with UE's Boom 2 and Boom 3 speakers, something which I want from other Bluetooth speaker companies. To assign the magic button you can select playlists. You may also select or create your own preset equalizer settings. Nevertheless, the app no longer contains an alert, and you can no longer use the speaker to connect Siri or Google Assistants on your phone.
Final words
The UE Megaboom 3 is the finest Bluetooth speaker suitable for most users. It has exceptional tone, can withstand the rainy weather, plays music for a long time and can be used for stereo sound together with other EU speakers.
This one could be best speakers if you intend to carry the speaker a lot with you, for $130. On the other side, you might make a bigger, more costly speakers, like the $250 Riva Arena or $250 Marshall Acton II which have great sound, if you don't plan to move your speakers. If you want an Alexa or Google Assistant support, Megaboom 3 isn't for you. Nonetheless, you will not be unhappy if you pick Megaboom 3.
Weatherproof portable speakers are not rare, but Ultimate Ears is a winner by incorporating excellent construction with enjoyable technology in an engaging experience. The new features of the Megaboom 3, smarter interface and better sound are worth your time and money.
Read Next: Massdrop X Sennheiser HD 6XX Review: Back With A Bang