EzViz C1C 1080p: Small Budget Security Camera
Published on December 7, 2019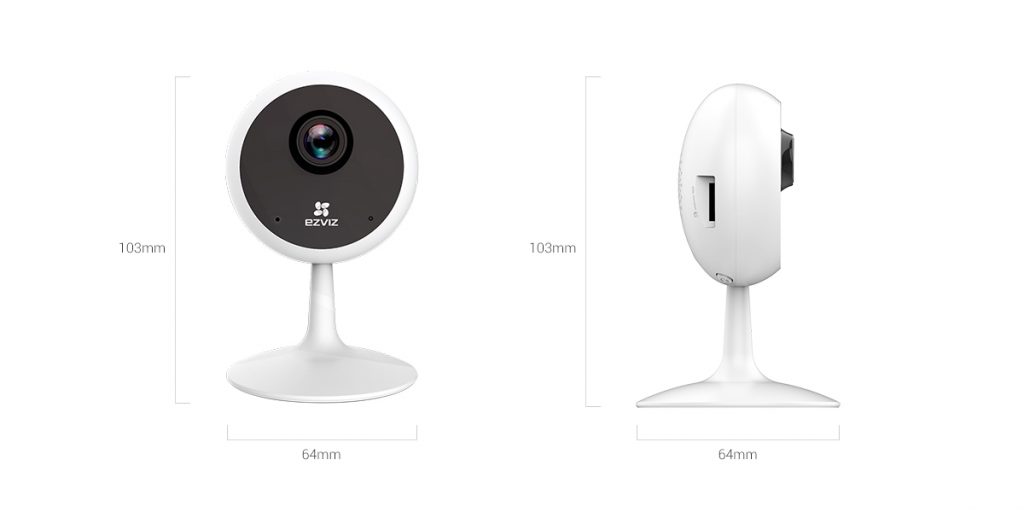 The EzViz C1C 1080p can be easily understated. It looks like many other cheap cameras for indoor safety. A 2.5 inch white disk with black lens on a 1.50 inch thin stick and a 2.5 inch round base. Its low $39.99 price would suggest that EzViz's corners have been cut.
Specification
These are the specifications of EzViz C1C. It offers the video resolution support of 1080p with two infrared LEDs for night vision. It also supports Alexa and Google Home as smart connectivity. Network connectivity speed of EzViz C1C is 2.4 GHz. They implemented Full duplex two way audio for this security camera. If we talk about the support for mobile devices, this camera supports the Android version 5.0 or higher and iOS 9.0 or higher for IPhone. Unfortunately, web browser support is not available. It supports the MicroSD memory card up to 256 GB which is not included in the package. You can select weekly, monthly or annual billing for monitoring and cloud storage. They are offering 7-day playback for $5.99/month/camera. You can pay $59.99/year/camera. For 30-day playback the offer is $10.99/month/camera or $109.99/year/camera. This EzViz C1C is priced at $39.99 which a competitive price considering the features they are offering.
I was surprised that at almost every step of my testing. I get good video quality of 1080p and an intelligent intuitive software.
Video quality
A 130-degree field of view captures good quality video, 1080p with 120 fps on 2.8 mm, CMOS and glass lens from the EzViz C1C 1080p. It's broader than the 110 degree FOV of the $25 Wyze Cam 1080p. My daylight test videos were clear and bright, brightly colored and precise. There are much better details and clarity than the Wyze Cam and EzViz Mini O 1080p.
The C1C was also less pronounced in motion blur than the Mini O and the two infrared LEDs are more suitable for illuminating night view videos than the EzViz Mini O. While the C1C videos at night are in contrast, the videos are luminous, the faces in the shadows are clear, and have decent details.
Motion-detection options
The EzViz app has a full range of usually easy to handle motion detection options. It does not have any detection of the sound or person. If there is any motion detected by your camera, it will send you pop-up message right away. Whenever you want to receive messages you can also schedule.
Specific time zones may be repeated on different days or be set separately each day. Where other security camera apps offer a visual overview of the whole week, EzViz C1C just gives you one scheduled view per day. This is the only drawback.
For setting up a motion detection zone, the EzViz app has one of the most straightforward interfaces. You simply pull your finger over the display, showing which squares you want to view because the screen is split into about 400 squares
As the detected movement continues, the EzViz C1C continues to record. It is also equipped with a slider ranging 0-6 for motion detection. When it detects motion, you can keep the camera quiet or make a single soft blond or a repeating siren sound a little louder.
The camera doesn't turn off due to motion detection options which is interesting. Rather, they limit when you receive text notices about a detected motion on your phone. You must tap the Sleep mode button to turn off the camera.
Mobile app
Although the EzViz mobile Android and iOS app is not as strong and full-featured as Arlo, it offers everything you could need within an intuitive interface.
In particular, the app offers easy access to recorded incident videos. The two main screens provide a selection of views of video history for this purpose.
The last half of your view shows thumbnails links to recordings, which are organized by date, if you hold the live view vertically. Instead of opening another window by tapping one of the thumbnails, you can play the related video on the same screen. You can also click a playback button to see a two minute summary of the videos you capture every day.
Video History displays a timeline of recorded events for users that prefer to use a broader, continuous overview to access video playback.
Audio quality
Audible but mushy and suppressed, the sound recorded in my videos as though I heard it through a thick door.
The two-way duplex audio was a challenge for this device. When an individual talked to a person in the room with a camera via the app on a remote phone, the voice was loud and clear. The pickup area was small when someone talked from the camera to the phone. I could understand him plainly, though the sound was low, if he was right in front of the screen. When he moved to either side only 30 inches, with some breakups the sounder was softer. And it was hardly audible when he was around 5 feet in front of the camera.
Storage options
MicroSD memory card of to up to 256 gigabytes can be supported by C1C as far as local storage is concerned. To access your videos, you do not need to choose a cloud storage plan. And for those with the tight budget, this is good news, because EzViz has no ongoing, free cloud plan following the one-month test access. With 14 days free cloud storage, the cheaper Wyze Cam is more generous. There's also a continuous recording slot for the microSD card. However, EzViz saves videos while movement is detected, whereas the Wyze Cam only saves videos to the cloud for 14 seconds.
Bottom line
The little EzViz C1C 1080p is priced at just $39.99 and is worth every penny. It offers an intuitive app with everything you need intelligently and it provides quality video over a fairly wide range of views. The Wyze Cam is $15 cheaper, however, and can be combined to trigger the camera using smart home sensors. Free cloud space is also available. Nevertheless, the C1C 1080p video was somewhat better than Wyze Cam, which is the biggest thing for many.
Read Next: Arlo Ultra Review: 4K Video and Color Vision at Night is Great