Ring Fit Adventure Review: Indoor Workout Redefined
Published on December 9, 2019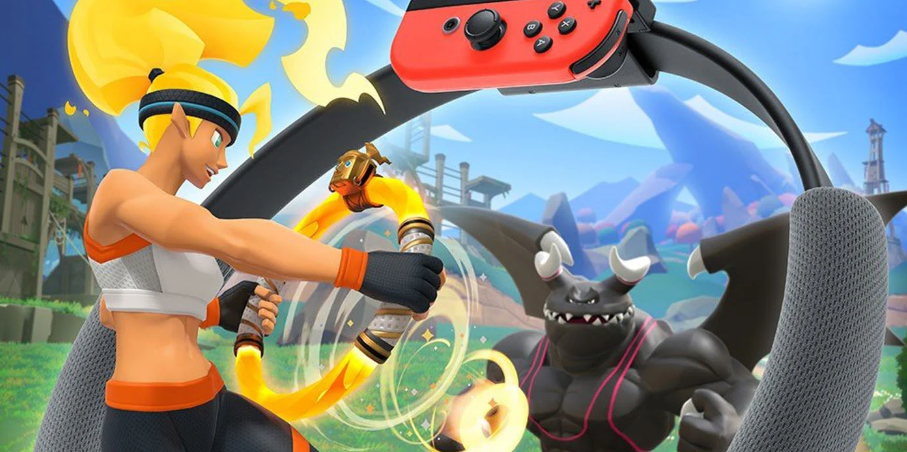 Nintendo becomes strange again with games. You may want a workout with Nintendo Switch's new Ring Fit Adventure game. Put the energy drinks down, break a sweat and stretch out your limbs. Since it's such a personal game, your heart rate is read and your calories are divined. 
I hopped into the world of biometric tracking workout after I turned 29. I felt the target audience for the Ring Fit after I strapped the left Switch Joy-Con around left thigh and snapped the right Joy-Con into the actual ring. I also have Apple Watch always strapped to my left wrist.
I've come to look at it in a nice way to have a good workout after about a week of Ring Fit usage which was spread over a couple of weeks. It won't substitute for my usual training, since it requires more space than I regularly control. However, it is a nice way to break a sweat and to have a quick training.
Inside The Box
There are only two accessories comes with Ring Fit Adventure. Ring Fit Adventure only works with these accessories which includes one Ring-Con and a Leg. The Ring-Con is a flexible ring with two pads, two of the fundamental actions you perform during the game, to move the ring in and out.
Sometimes after I ran, I have to adjust the leg strap. Otherwise, I saw almost perfect success. As graphics showed in the screen I did my best to keep my strap in the center of my thigh. Fortunately, it didn't hurt my game.
Getting Setup
I walked through a series of instructional windows while booting up Ring Fit Adventure that emphasized how little I thought of it. I did not have enough vertical room space to test this game in my bedroom, due to a small ceiling, to perform a couple of tasks.
It took a surprisingly little time to figure out how to use the Ring-Con as a controller, though the mechanism is still not perfect for rotational design. I also stopped pressing the ring Con to choose a solution and instead moved on the Joy-Con button using the X button.
Alarms can be set with the Ring Fit Adventure if you are having difficulty to remember but it only shows on the Switch.
An Exercise In Role-playing
In Ring Fit Adventure, the heart of an obstacle course is an adventure in which you are a budding exercise man who meets a brilliant, talkative circle which is so called Ring. Your nemesis doesn't seem too creepy because, in a black mesh singlet, he's a giant dragon.
It is a quick way to break a sweat with a multi-task training session and it is more fun than it sounds. I felt the burning even more when fighting baddies, because, like when selecting attacks for fighting baddies in a more traditional RPG, you have to perform exercises with damage from a menu.
You choose the exercises to attack your enemies with choices such as squats, overhead presses in the Ring-Con, and the pose on the chair. The exercises take the form of two sets, each consisting of approximately six to 12 reps. Each rep calls a punch or kick that matches what his body does like squats are permitted for fantastic kicks. Like in a RPG, a system with color code has been found by me soon to cause more damage to spot higher damage. New attacks and excercises are available.
I could do around 1-2 levels each, and once I felt I needed it, I stopped. Ring Fit Adventure is good at pulling you politely off. You will not have a bad feeling about being a marathon man or a marathon woman.
At the end of each practice, Ring Fit Adventure gives you a summary that tells you how much time you spent working out, although it seemed to me a bit short. My Apple Watch knew better and told me that I'd been going at it for 28:30, with 296 calories burned while Ring Fit Adventure says I exercised for 10 minutes and 19 seconds, and burned 68 calories.
Extras
You can still feel the burn in the other modes of Ring Fit adventure if you do not want to rock with the Ring and fight with Dragaux. There are mini-games if you want a bit more fun. It also include customized training routines that can track your performance against your friends.
In the Ring Con, I enjoyed Crate Crasher to blow wind in towers and panels. I loved it. It is very similar to the mini-games in Street Fighter, where you can thrash cars and damage barrels.
There is a multitask mode so that while squeezing the Ring-Con, you can watch something else. The physical and audio feedback is a little low to let you know the squeeze and I am not really fond of it.
Final Verdict
Ring Fit Adventure shows Nintendo's commitment to making gaming strange and exercising at the console very good. Usually in the gym, I can burn more calories than Ring Fit Adventure. Other than that, it was a great fun to break my sweat. According to my Apple Watch, a 50-minute set, burns over twice as high calories (770 calories).
So as Ring Fit Adventure cannot substitute traditional workouts, in those rainy days, I won't want to take my body to the fitness center, it'll be a great option for me. I'm extremely amazed the way Dragaux and Ring and are keeping things fascinating for the 20 worlds of the game.
Ring Fit Adventure is 33 percent more expensive than most premium games at $80, although this difference can be explained by its included accessories. I'd say that it definitely is worth it if you get more than four months of serious Ring Fit Adventure workouts.
Read Next: Best Black Friday 2019 deals today: $149 Xbox, $199 PlayStation, $175 Switch Lite and more (Monday update)