Microsoft Project Review: Features, Pricing and Much More
Published on December 6, 2019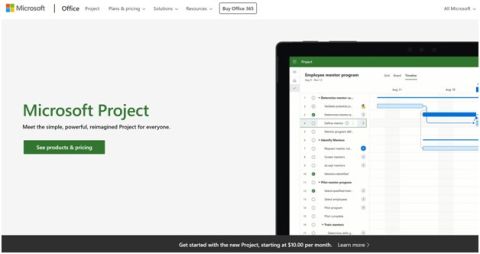 Are you searching for a perfect project manager for yourself? Microsoft Project manager is for you. It has a clever resource assignment features along with extraordinary interface. Cutting edge technology lets us find the best way to schedule our projects. The burden among the workers can be greatly reduced using Microsoft Project. This Microsoft project is designed for both small as well as large businesses. Project manager is one of the user-friendly Project management solutions available.
Microsoft Corporation is an American multinational technology company with headquarters in Redmond, Washington. Mostly known software products are the Microsoft Windows operating systems, the Microsoft Office suite, and the Internet Explorer and Edge web browsers. Microsoft organization was developed in 1975.
Microsoft Project Features:
There is a wide range of features of Microsoft Project available.
Management and Planning Features
Task prioritization and scheduler:
This feature performs task prioritization and scheduling using Gantt charts and task lists. One can list out their charts, add other details for colleagues.
Users can create one or more custom calendars. It can be accessed by all of the members of the team. This feature is really helpful when your project is very extensive and there are so many tasks that are needed to be managed.
One can track its working resources such as hours, days or weeks or cost resources such as expenses or material resources such as computers or other materials using customs built charts.
It builts budget summaries for you. You can view these reports on the project dashboard. You can also export these reports to others.
There is an interactive dashboard too that can take your project managing game to the next level.it communicates the current status of your project.
Interface:
The interface is very similar to the other applications of Microsoft. So if you ever have used Microsoft Excel or other such tools of Microsoft it will be easier for you as there is a toolbar on the top.
Microsoft also offered a web app named as project portfolio Dashboard on which help you to design comprehensive project reports on your smart phone or tablet.
Support:
If you have any queries for settling the system of Microsoft Project Manager you can seek assistance from the public service care customer on phone. There are video tutorials as well as articles for your help.
Pricing of Microsoft Manager:
You have many ways to get the Microsoft Manager software. Microsoft Project cloud-based solution is one of the most popular types. We can get it by three different packages available in the market. The first one is Project Plan 1, the second one is Project plan 3 and the third one is Project Plan 5. The prices vary from $10 to $50 per month and it is billed annually.
Gant charts, use of grids as well as boards view can be used whether you pick first, second or third plan.
Project plan 1 is a browser-based application while the other two are downloadable desktop clients. For a higher level of business management, one should opt for Project plan 5.
Premise Version of Microsoft Manager:
If you want a single investment in your business and want to buy the license for a whole lifetime. You can opt for this option by the on-premise version of Microsoft. There are three such versions available that are Project Professional 2019, Project Standard 2019, and Project Server. The cost of first two version is around $620 and $1,030 respectively. Moreover, if one need to buy the project server one has to request a quote directly from Microsoft.
One can even install three of the premise versions at once on a single PC. The features of cloud Microsoft Project editions are not present in these three versions.
Microsoft Project Manager is one of the best project managers available in the market. It is designed for enterprises of all different capacities. All of the features help the project manager to a great extent. So if you are looking for perfection go for Microsoft Project manager.
If you have any queries regarding the Microsoft Project manager you may ask in the comment section below. We will answer your questions as soon as we receive them. Have a happy using!!!
Read Next: CureMD Review: Health Management Simplified