LG's 88-inch 8K OLED TV debut at IFA 2018
Published on September 7, 2018
At IFA show event that was held in Berlin today, LG has unveiled its all-new 88 inches 8K OLED TV which was available for all the show attendees to see.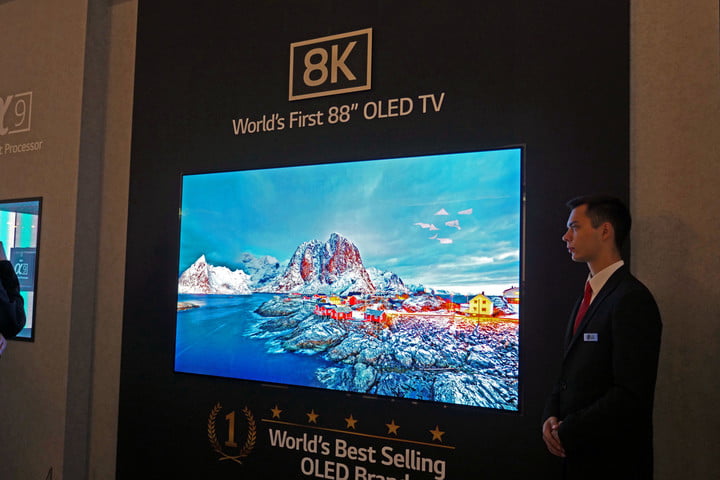 In January, the company behind the closed doors at CES has shown an 88 inch 8K OLED display prototype which is said to be from the LG display. LG which is the South Korean electronics giant has not given any hint to the public about this new 8K massive TV. With the latest announcement from the company, it seems that the LG is now going one step closer to reach an advanced TV which is available for purchase in the year 2019 with the price tag is said to be matching with the size of the TV.
This all-new 88-inch TV has been seen to create many shocking reactions among the viewers who all have visited the event. The latest TV by LG has got an incredible large 8K creation sports which are said to be about four times about the pixel count of the 4K as well as sixteen times that of standard HDTV. If the numbers see it, then one can say that about 33 million pixels which are at a 7,680 X 4,320 resolution. It is like to imagine a four 4K television in a 2 X 2 grid.
In this event, LG is not the sole brand to unveil this 8K TV. With this, Samsung has also unveiled an 8K QLED TV at IFA with the billboard advertisement can be seen all over the Berlin
With this new introduction by both of the companies, its draws mixed reactions from the audience. Many audiences are seen to say that it is not the right time to introduce these 8K TVs. At this point, we barely come to a point where 4K content is readily available with the many streaming services like Amazon, YouTube, NetFlix, and Vudu. If this 8K TV comes now, where the 8K content will be bought from, and this seems that the manufacturers are now trying to upgrade the things in a very fast way which is not looking good to many people.
According to Brian Kwon, who is the president of LG Home Entertainment Company, said that the LG's first 8K OLED TV is said to be the pinnacle of the technical achievement with the next evolutionary step is said to be in display technology. Currently, 4K OLED has played a major role to reshape the TV industry with the LG company is now confident that 8K OLED will be the same.
As per the company, it said that the growth of the 8K TV sales would be growing to about 5 million units by the year 2022 which will see the growth of 4K over the first three years.