LG Introduces The New Updated Version Of UltraFine 5K Display
Published on August 1, 2019
LG is one of the biggest companies in the tech industry. When it comes to technology and its quality, LG makes sure to not ditch nor disappoint its consumers. From home appliances to mobile phones LG has been working back and forth to make their tech top quality.
Recently, LG announced its new updated version of the 27-inch UltraFine 5k Display which now consists USB-C connectivity along with Thunderbolt 3. It delivers 94 watts of power as of compared to the last model of the LG display. Because of the Thunderbolt 3, it is going to be compatible with 2018 iPad Pro over USB-C but it is still unclear that on which resolution it is going to support. The new updated version of the UltraFine display is replicable to its last model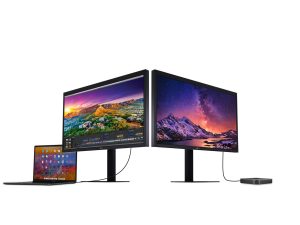 If you are looking for some amazing displays compatible with your MacOs then LG's UltraFine display is the best option to go for as LG has put some amazing panels which gives an excellent experience to the user, the tech includes True Tone feature whenever connected to a supported laptop. But if you are looking for displays for your Windows computers, then you must not go for LG's UltraFine display as the display does not support any physical controls as well as their industrial design are not as exciting as expected. LG also came up with a 24-inch version of the UltraFine 4K display, the previous display was 21.5-inch in size and did not have good resolution compared to the older version.
LG's UltraFine display is now available at the Apple stores and Apple's official website. LG has provided a pretty good option if you are looking for a display compatible with your MacOs and the prices of the display costs as twice as much at $1,299. The rates are way too high in our opinion but if you are looking for some amazing experience then the price should not bother you much.