Spotify's $90 'Car Thing' Goes On Sale in the US – But is it Really All That Good?
Published on February 25, 2022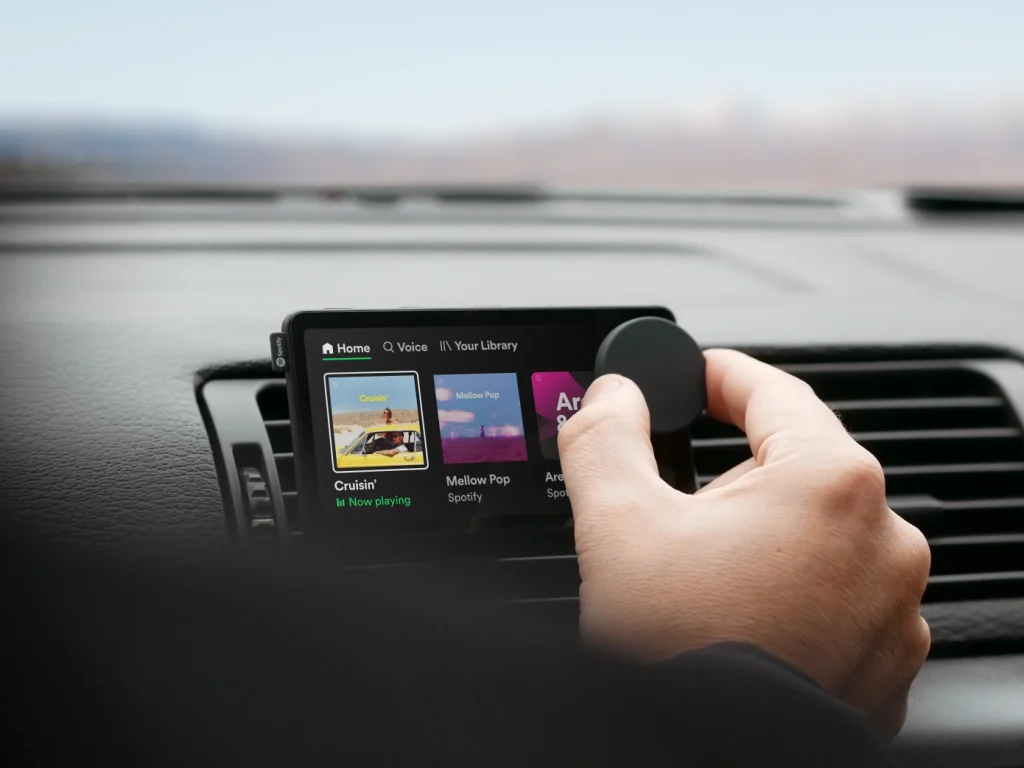 Most product names are pretty descriptive about what that product is. The Spotify Car Thing, on the other hand, has a vague name that teases you to click and find out what it is.
What is Spotify's 'Car Thing'?
Spotify has flirted with the idea of physical products in the past, but Car Thing marks its first legit hardware. Hardware has been on Spotify's radar for years. CEO Daniel Ek once mused about a future with musical light bulbs. Still, the company has remained focused on its streaming-music service, helping it become the world's most extensive such offering with more than 345 million listeners globally. The scant track record in hardware, and the fact that Spotify has been referring to it simply as Car Thing throughout its development, made the product seem like it may amount to nothing more than vaporware.
Spotify responded to this, saying that "Our focus remains on becoming the world's number one audio platform — not on creating hardware –, but we developed Car Thing because we saw a need from our users, many of whom were missing out on a seamless and personalized in-car listening experience."
Car Thing is similar to a touchscreen, voice-enabled tuner, except the only things Car Thing helps drivers "tune" are different tracks, podcasts, albums or playlists inside Spotify's library. In addition to allowing you to tap its screen or direct it with voice commands, Car Thing has a sizable physical dial. Spotify said that Car Thing "is not meant to compete with in-car infotainment systems." Instead, it can supplement the system your Car already has, or it can provide a way for older cars to add a higher-tech tool for listening to Spotify. (And yes, this device only works with Spotify.) The device comes with a selection of different attachments to mount to your dashboard.
Physical Features
The screen is shy of four inches, accented by a big rotary dial that partially blocks it, augmented by a handful of buttons. An accenting rubber tag with the Spotify logo and wordmark sticks out of the left edge, which is more fun than the sort of screen printed branding you'd expect and a nice touch.
A row of additional buttons on the top of the Car Thing studded between the microphone array offers quick and configurable shortcuts to specific content or playlists and settings. Still, they're hard to hit, especially when driving.
Car Thing responds to "Hey Spotify" voice commands that can trigger playlists, albums, specific songs, or anything else you'd like to hear. You can also control playback or save content.
There's no built-in audio out, so Car Thing relies on your phone to supply audio — that can be either wired or via a secondary Bluetooth device.
What do we think?
The question is, is Spotify Car Thing even worth it? Spotify is a brilliant way for everyone to reach out to their favourite artists and podcasts, especially those who did not have an Apple Phone and Itunes. We wish that Spotify paid their artists better; however, its recommendations and dynamic playlists have been second to none.
However, could we give it a miss? Car Thing's single-purpose use offers too many shortcomings over simply using your phone in a mount with either the Assistant's driving mode, the now-deprecated standalone Android Auto, or even just Google Maps/Waze and the music service integration bundled into each.ar Thing doesn't offer navigation, and though you can fire up Google Maps separately on your phone and have it read out turn-by-turn directions mixed in with your music, you don't have the benefit of seeing them on the screen as you would with your phone in a mount or Android Auto.
Spotify's voice commands are also much more limited than the Google Assistant, and you can't have messages read back to you or fire off critical responses with your voice.
If you already need your phone around for the Car Thing to do its job, why not just use its screen instead and get that fuller, better experience?