Asus ROG Zephyrus M GU502GU Review: Fun Gaming With Portability
Published on December 24, 2019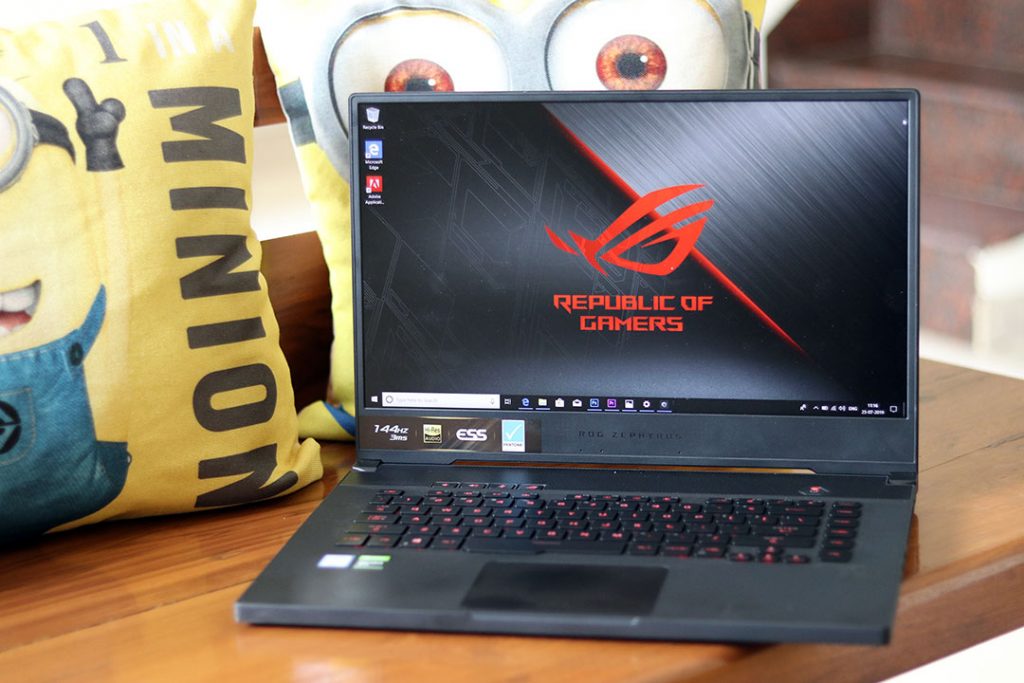 The Zephyrus M GU502 is for people seeking a laptop which also doubles as a gaming machine. Although it has its own set of measures, the essential elements are not compromised.
The Zephyrus series is designed to deliver a highly portable laptop. Zephyrus M is lightweight computer laptop that is extremely versatile to operate big AAA games and power-hungry artistic applications. Zephyrus M provides an innovative selection of hardware and a new design to maintain balance between work and gaming. The laptop can be purchased at exclusive Asus stores, FliPkart and offline retailers throughout India, at a price of Rs. 1, 49,990.
Display and Design
Asus says that the ROG Zephyrus M GU502 is 25 percent thinner and 45 percent lighter than traditional 15″ laptops. At the thickest point it measures 18.9 mm, and weights 1.9 kg. The magnesium reinforced aluminum frame has a sturdy hand and an edge on the deck and a matt coating around the keyboard and trackpad. The trackpad is designed to prevent extra flex and is coated in a smooth paint to feel softer. The RGB lighting enhancement and gaming graphics look bit luxurious.
The laptop is powered by a smart cooling system, 83-blade fans with small 0.1 mm fins. The cooling system that works to disperse the heat away from the CPU and GPU contains a minimum of five heatsinks. It also has a dust safety tunnel that removes dust and debris to the heat tubing, stopping the dust from reaching the refrigeration system.
Asus Zephyrus M has an IPS screen with 144Hz refresh rate and 3ms response time, and it offers 15.6-inch Full HD, 1920x 1.080 pixels. The monitor is covered by a 6.2 mm thin bezels that represents a ratio of 81 percent of the screen to body.
The Zephyrus M is perfect for watching second season of "The Punisher" and playing games. The viewing experience stays seamless at the ultra-smooth refreshment and a limited bezel feel at three sides, and you can see any quick action during playing PUBG.
The Zephyrus M has a validated pantone screen which produces the whole color spectrum of sRGB. Thus, while you enjoy vibrant colors in games, creators, illustrators and video editors can benefit from this to make visuals that are attractive and true to life.
Performance
The strong Intel Core i7-9750H CPU of ninth generation with 6 GB NVIDIA GeForce GTX 1660Ti and 16 GB RAM are booted underneath the slim frame of Asus ROG Zephyrus M. The Zephyrus M model has 512 GB SSD, and a second M.2 for adding more. You can link up to 1 TB and use it for faster read and write performance in the RAID 0 environment.
Performance is the particular thing about the machine, so Zephyrus M will handle everything without breaking a sweat. It's one of the few laptops ideal for maintaining balance between your gaming and professional life. You can just enjoy graphic heavy games in the workplace after two hours of work, by using the equipment built into an 18-mm thin body.
Even after this laptop has been carefully built, it comes with some demerits. Asus's super smart cooling approach to the Zephyrus M does not do all that much. Although it can be used to drive intensively heated gameplays, the casing is warm in a round of PUBG and that is not ideal for the outputs of the laptop over time.
The NVIDIA GTX 1660Ti is not RTX 2060, but it should not be a matter of concern for players since the M Zephyrus will fulfill the gaming hunger while still being effective in the office.
Keyboard
The keyboard has generated excellent reviews. Keyboard is somewhat strong and convenient to play games. The key-travel is appropriate when you type long words and sentences, and doesn't feel like a gaming laptop. The trackpad works well and placed underneath the keyboard. I had no trackpad issues with my use.
The Zephyrus M does not leave you wanting with regard to the input and output ports. In addition to two USB3.1 Type-A and two 3.5 mm head jacks for microphone and headphone, it supports RJ45 Gigabit Ethernet, Kensington Switch, USB3.1 Type-C, USB3.1 Type-A and HDMI 2.0b.
Battery
The laptop has a 76Wh Li-ion rechargeable battery that Asus says will take up to 6 hours to completely drain while using the internet. Nevertheless, in almost 4 hours, it was drained after watching YouTube videos, listening to music, and some web surfing. But you're going to expect that from a laptop that is for gaming.
The battery performance of Zephyrus M GU502 is a significant downside, and could have been better. Asus should find a suitable power solution in this department because it impedes portability, which is known for the very original line-up.
A USB Type-C Power Delivery functionality is supported on the laptop and lets users power up their laptop via the power bank in case of a power fall below 10 percent.
Final Words
The Asus ROG Zephyrus M GU502 is for people seeking a laptop which will boost up their working experience with speed and efficiency. This laptop is perfect for programmers, publishers and content creators for its challenging size. Some laptops are more powerful, but they deliver no sleekness, reliability or portability that our Zephyrus M does here.
The Zephyrus M is a perfect choice for gaming as well as for other heavy graphic tasks at the price of $ 1,849.