You May Want to Hold Off on That MacBook or Windows 10 Laptop Purchase For Now
Published on September 22, 2020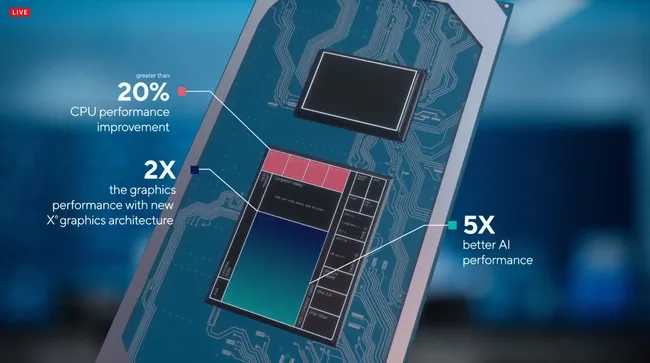 Right now isn't the best time to buy a new MacOS or Windows laptop. Intel's up coming chips are promising a huge boost in CPU performance and quite a serious jump in graphics horsepower. Early tests of the new chip are showing that it may be worth waiting for.
The Tech Chap on YouTube managed to get a pre-production MSI Prestige 14 laptop and an Intel Core i7-1185G7 CPU. The 1185G7 is the most powerful chip in the Tiger Lake family and comes with Intel's all-new 'Xe' graphics engine with 96 execution units.
CPU performance in the quad-core Core i7-1185G7 is supposed to see a decent boost compared to 10th Gen Intel Ice Lake chips that are found in devices like the Microsoft Surface Laptop 3. Really though, the graphics performance is where Tiger Lake chips really shine.
The Tech Chap performed a variety of tests and benchmarks revealing that the Core i7-1185G7 does indeed outperform many laptops that use Ice Lake CPU with Iris Plus graphics. In fact, the new i7 even outperforms machines that have an AMD Ryzen 7 4800U with Vega 8 graphics. Even more astonishing, it also has better performance than a laptop with a dedicated Nvidia MX350 GPUs.
Photo and video editing performance will see real-world gains, and ultra-portable laptops will actually be able to run modern games at decent frame rates.
Things aren't perfect just yet. The Tech Chap mentioned that there are some issues with drivers. When gaming after a while, the system crashed when gaming [sad-emoji]. It's still in the early days for the Tiger Lake chips, though. The Tech Chap also noted that the MSI Prestige 14 is a little thicker than other ultra-portables and has higher-end cooling. This means it's more likely to be able to squeeze a bit more out of the Core i7-1185G7 than other upcoming super-slim laptops.
The new Intel chip managed to deliver some pretty solid performance in games like Fortnite and Rainbow Six Siege. And remember, this is well before Intel's Tiger Lake chips have been put through driver updates and optimization.
Basically, Intel's new Tiger Lake chips are seeming like they actually might be worth buying. They are promising to provide ultra-portables a sizable upgrade. So, that's why you might want to wait to buy a new MacBook Pro, MacBook Air, or Windows 10 laptop for now.
Remember, Apple is moving away from Intel chips in favor of its own ARM-based processors. So, we are expecting to see a MacBook with an ARM-based chip this year or early next year, but for now, the MacBook Air and MacBook Pro will more than likely still use Intel's processors for the next generation or two.
So, if you want to get a new MacBook, you may want to wait on that purchase because there is a high likelihood that Apple will put a Tiger Lake chip into a refreshed versions of its MacOS machines. That upgrade will give those laptops a boost in graphics power without needing to opt for a model that has a dedicated GPU. 
Judging by currently available leaks, we are expecting to see a 12-inch MacBook and a 13-inch MacBook Pro with a with a custom ARM-based chip. Apple is expected to drop Intel chips from its MacBook range entirely, so the point mentioned above on waiting to buy a new Mac machine holds true; it's worth waiting for either Apple Silicon or Intel Tiger Lake-powered MacBooks.