WhatsApp increased the time of 'Delete for Everyone' feature with Beta Build 2.18.69
Published on March 3, 2018
WhatsApp recently came with an update of deleting sent messages on its social messaging app. Gmail's Undo feature inspired this feature, but in WhatsApp, the time limit is 7 minutes to remove the message for everyone, sender, and receiver both. If the message is in a group chat, then I will delete the message from all the receivers.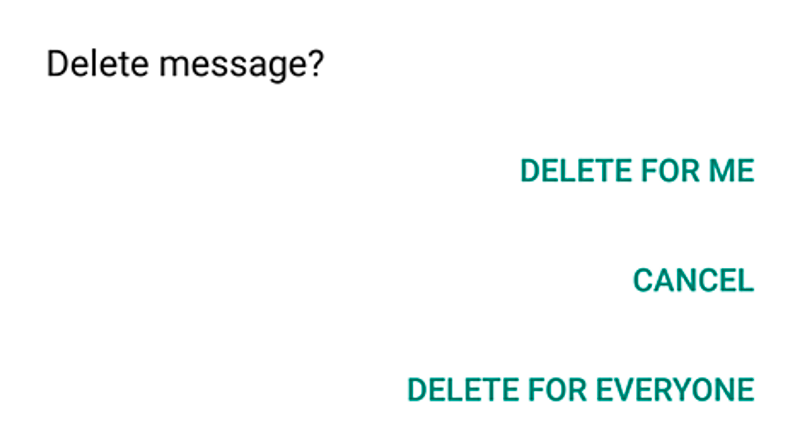 However, according to WABetaInfo, a new built of WhatsApp for Android seems to be increasing the time limit. The beta makes with version number 2.18.69 provides the user with 68 minutes and 16 seconds for deleting the message for everyone in the chat. Which means Facebook-owned WhatsApp users will have more than an hour to remove the messages sent by them.
Along with extended time limit for delete message feature, the beta build brings minor changes including an update to sticker feature which gets a modified button but stay disable by default.
WhatsApp has also released two more beta updates after version 2.18.69 with version numbers 2.18.70 and 2.18.71 for the beta program user on Android.
These new beta updates bring 'Locked Recording' feature which locks the voice recording button into place while recording. These features are also disabled by default which will be made available to a general audience with upcoming updates.
WhatsApp was also recently spotted testing an in chat feature which can identify whether a message has been forwarded. The feature going by the name 'Forward Message Label,' the Label will show up on the top of the message if the message has been forwarded from another or same chat app. This is a much-needed feature to combat the false message and fake public messages. However, it is also disabled by default like sticker pack.
Currently, it does not know when general user will able to get and use these feature, but they sure look promising.