The Official Name of Samsung's Upcoming Foldable Smartphone is Here!
Published on January 10, 2020
Samsung allegedly arranged secret meetings with its carriers clients and partners to showcase the un-announced products at CES 2020. One can't reject the leak, as the company involved in similar kinds of incidents in the past.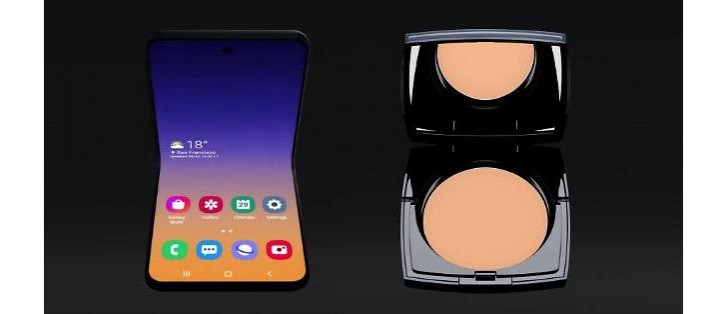 What Happened in the Secret Meetings?
Samsung has multiple surprises for 2020, and some of them leaked from the meetings. Firstly, DJ Koh, the CEO of Samsung Telecommunication, introduced the official name of the company's upcoming foldable smartphone. Currently, most of the media reports describing the foldable smartphone in the name of Galaxy Fold 2, which is not true. Samsung is calling the next-generation smartphone as Galaxy Bloom. An attendee even photographed an image of the background presentation to prove the leak right.
The Galaxy Bloom in Details
Leaks suggest that the firm is planning to target young women with this new folding phone, but why and how is not clear yet. The upcoming foldable smartphone is quite similar to Lancome's compact foundation. It seems like Samsung is learning from his previous mistakes, as it is replacing the last plastic generation with an ultra-thin glass. Experts believe the latest inclusion of glass will result in a more durable device.
The upcoming Galaxy Bloom can record videos with 8K resolution. Therefore, it is going to be the first smartphone to have this capability. Samsung is planning to launch both 4G and 5G variants of the Galaxy Bloom.
DJ Koh also confirmed the new naming pattern of the Galaxy S series phone. Samsung is going to name the upcoming three S-series flagship as S20, S20 Plus, and S20 Ultra. The company is changing the name of its flagship to celebrate the new decade. Similar to Galaxy Bloom, all three smartphones will support 8K video recordings. Whereas, the upcoming S 20 Ultra will carry a 108 MP back camera, and it will support 100x zoom.
Samsung will launch these devices on the 11th of February.