The Chuwi Hipad Pro Tablet is Equipped With an ARM-based Qualcomm Snapdragon 662
Published on July 19, 2021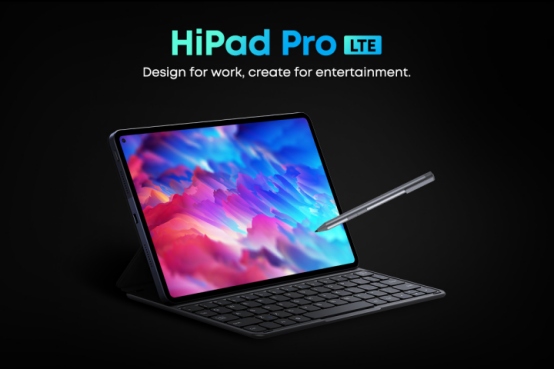 It's official: The new HiPad Pro tablet is going to be released on August 3rd via AliExpress for promotion day. The powerful tablet is equipped with a 10.8-inch screen that has 90% display area to bezel ratio. The tablet is powered by the Qualcomm Snapdragon 662 processor, which supports dual SIM 4G LTE. This tablet is being positioning as a business and office machine. The focus in designing this tablet was to create a great two-in-one tablet that works well for portable mobile productivity.
9:10 Screen To Bezel Ratio – Full HD Resolution
This tablet has a 10.8″ IPS screen that features a narrow 4.5mm frame. That gives the Hipad Pro the highest screen to bezel ratio compared to any other tablet in this class. The screen resolution is FHD, which comes out to 1920×1080. It has a peak brightness of 400N, and a pixel density of 280PPI. It has a built-in matrix distributed HiFi loudspeaker, so it can fully meet the needs of business office, content creation, life and learning.
Hipad Pro comes with the latest Android 11 operating system pre-installed. This OS provides a smoother, easier, and more secure user experience than ever before. Android 11 is certified compatible with Google's own Widevine L1 digital rights management system, and it supports HD playback of authentic Netflix, Youtube, Amazon Prime Video, Hulu and other streaming media.
4G LTE Connectivity Via Qualcomm Snapdragon 662
The Hipad Pro features the Qualcomm Snapdragon 662 SoC (System on Chip). This processor has 8 compute cores built on an 11nm process. The chip includes a Qualcomm Adreno 610 GPU. The cores can dynamically adjust their clock speeds to ensure the best balance between performance and power consumption. The Antutubench benchmark running on this tablet scored well over 200000. The Hipad Pro uses 4G LTE mobile communication network technology, and has full support for dual SIM (multiple networks) so that means you will always have a connection.
6.9mm Thin And Portable – High-End Business Aesthetic
The Hipad Pro has a custom, high-end, all-metal chassis. The body is only 6.9mm thick and weighs just 480g. The back cover follows the Morandi's color aesthetic concept which creates a comfortable feel and light, luxurious texture. The chassis is light and thin, so it is able to effectively serve as a strong 2-in-1 tablet computer in multiple positions. It has a high-end stylus that supports 4096 pressure levels, and that makes for fast and efficient design in the office. It also comes with a full-size Bluetooth keyboard for an enhanced portable experience.
The Chuwi Hipad Pro will debut on AliExpress on August 3. More details and launch price will be announced later. Check back soon!