Tesla Cybertruck Will Have a Response to the Electric Hummer's Crab Mode
Published on July 5, 2021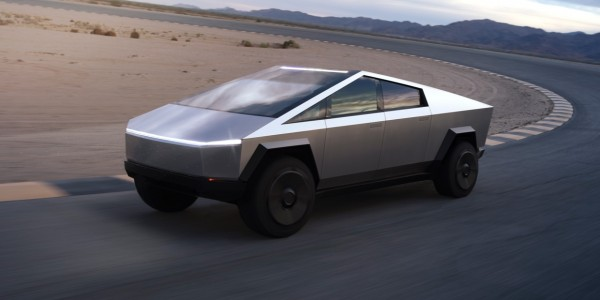 Tesla is known for innovation. The company isn't going to let electric trucks like the Hummer EV and Rivian R1T have special features that Tesla does not. So, Elon Musk revealed that Tesla is also adding rear-wheel steering to the Cybertruck. This will help the EV have far greater maneuverability.
Musk also confirmed that the Cybertruck's design is going to be 'almost exactly' what you saw during its November 2019 introduction. We do, however, expect it to be a little smaller so that it can, ya know, fit in a garage.
Rear-wheel steering is practical. In fact, it may be necessary. The Cybertruck is huge, even compared to other trucks. So, the easier it is to move around, the easier it will be to sell. Since Tesla started talking about making a truck, rival companies like GMC, Rivian and Ford have all announced electric trucks that match and even sometimes beat Tesla's feature set.