Oppo Launches the N2 Flip Phone: The First True Rival to the Samsung Galaxy Z Flip 4
Published on February 17, 2023
Oppo is showing itself to be one of the most innovative producers of flexible phones with the introduction of its Find N series. Initially unveiled in December 2020 for the Chinese market, during a presentation in London, the company announced that the most recent model, the Oppo Find N2 Flip, will be available in other global markets.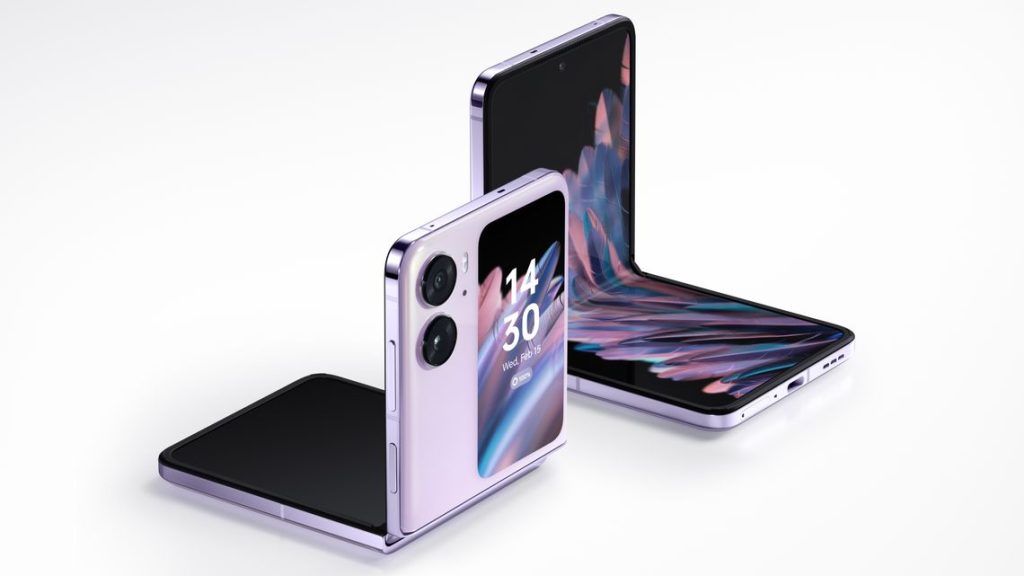 The Oppo Find N2 Flip stands out from its previous Find N models with its vertical folding feature, which is indicated in its name. However, it still maintains similarities, such as its close-fitting design, which decreases the possibility of dust entering and settling on the display compared to other models.
The OPPO Find N2 Flip is a phone model from OPPO company. It has a flip design, making it a unique device from the brand. It can be used for various purposes and comes with features that make it an attractive choice for consumers.
Oppo's Find N2 Flip is the firm's first foldable phone to be accessible outside of the Chinese market. It comes with a 6.8″ 120Hz main screen, a 3.26″ outer display, and the MediaTek Dimensity 9000+ processor.
Specs
Screen
Oppo's Find N2 Flip offers an impressive 3.26-inch cover screen, the largest available on any flip phone, offering more usability without needing to open the display. Unfolding the device reveals an expansive 6.8-inch AMOLED display with 2520 x 1080 resolution and 120Hz refresh rate.
Chip & Storage
The phone is equipped with a MediaTek Dimensity 9000+ chipset and we are still waiting to find out how much RAM and storage will be available in the international edition. One version of the phone has 8GB of RAM and 256GB of storage, however, we have not heard of any other confirmed storage sizes.
Battery & Camera
The phone contains a 4,300mAh battery with 44W fast charging capability. For the camera, there is a 50MP main camera with a Sony IMX890 sensor, accompanied by an 8MP ultra-wide Sony IMX355. The inner screen contains a 32MP selfie camera.
What else we know
Running ColorOS 13, the Oppo has stated that this device will receive four years of updates and five years of security upgrades. This policy was declared at the conclusion of 2022, so this is the first handset from the company to fulfill this assurance. As for the Oppo Find X6 series, which may launch in the near future, we are hoping to hear something similar.
Is it better than the Samsung Galaxy Z Flip 4?
I've been utilizing the Oppo Find N2 Flip for a few days and even though I haven't had it long enough to make a final judgment, I'm starting to feel it could be a real competitor to the Samsung Galaxy Z Flip 4. I'm uncertain whether the ColorOS 13 software is up to the standard of the Samsung foldable, however, the hardware is remarkable.
Favorite feature
My favorite feature of this phone so far is the outer display that gives way more details than a Samsung Z Flip. You cannot run full apps on this outer display, however, it is still useful for simple things like replying to notifications, changing settings, viewing the time, and pausing audio.
Will it be available internationally?
In the UK, the Find N2 Flip is certainly more budget-friendly than its nearest competitor, coming in at £849, which will likely be a draw for customers. Unfortunately, the likelihood of the Find N2 Flip being released in the US is slim, as Oppo has yet to confirm and they do not market any of their other phones in the country. Our comprehensive review of the Find N2 Flip should appear in the near future.