NASA's Mars Helicopter Takes 'Huge Leap' Forward, Gets New Mission Support Role
Published on July 8, 2021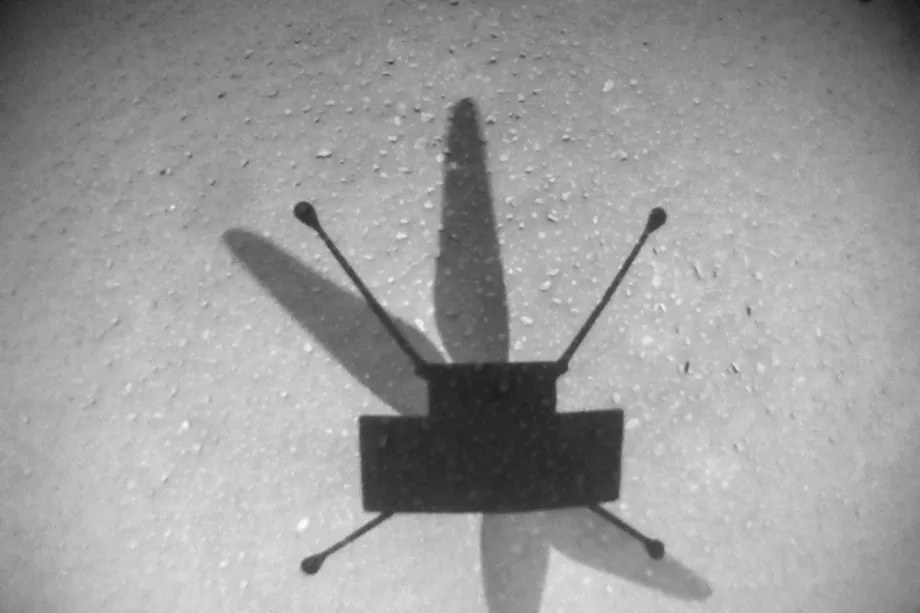 There is a rock-filled area on Mars called the Séítah region, and it was far too difficult for NASA's Perseverance rover to travel into. So the helicopter that is going along with the main rover flew over the area on Monday and snapped some photos. The images captured key areas on the other side. In just under 3 minutes, Ingenuity saved Perseverance from having to go through months of driving that it would have had to endure to take those same photos.
This was Ingenuity's ninth flight on Mars so far. It was, however, the first time that it actually helped Perseverance perform its main mission. The helicopter weighed four pounds and showed up on Mars on the 14th of February. It came in attached to the underside of Perseverance. It is the first object to take powered flight to another world.
On this flight, NASA pushed Ingenuity's the envelop as far as what the flying probe can do. In just 166 seconds, Ingenuity flew at about 11 miles per hour for almost a half-mile. 2,050 feet to be specific. That is a lot longer than the June flight, which was only 525 feet. All in all, Ingenuity flew around Séítah taking photos of its borders and where junctures between different rock formations are curious targets in Perseverance's hunt for fossilized microbial life.
This was a big leap — big leap — in terms of what we've done before. We went between sites that were 620, 625 meters apart, which is enormous compared to what we've done before.

Harvard Grip – Ingenuity Chief Pilot
The photos that Ingenuity took are going to be available in a few days after traveling across the Mars-to-Earth data pipeline. This data will help engineers at JPL (NASA's Jet Propulsion Laboratory) to decide where to send the rover to scoop up rock samples in that particular contact region.
Ingenuity was originally intended to only fly on short trips from point A to B. But this time it dipped in and out of one of Séítah's eroded craters, then slowed down, and then ascended up slopes for the first time. It did this while using autonomous navigation algorithms that were written on earth to anticipate flying over only flat terrain. So NASA engineers had to tweak the code in order to convince the helicopter that Séítah's bumpy features were flat.
This was the first time where we really said, 'Let's go big, and let's take a risk and get across Séítah,' which we know is an extremely challenging terrain for a rover to traverse.

Ken Williford – Deputy Project Scientist

This was the first time where we really said, 'Let's go big, and let's take a risk and get across Séítah,' which we know is an extremely challenging terrain for a rover to traverse. When scientists can get those images of that contact early, we can start the science process much earlier than we would otherwise, and start to make observations and interpretations and understand what those rocks are.

Ken Williford – Deputy Project Scientist