Microsoft Surface Laptop 2 vs Apple MacBook Pro
Published on October 4, 2018
There are millions of users who need a speed of their choice and also the best performance for their work, therefore for those Microsoft and Apple has a new laptop which will suit their personality as well as have the best processor in it and the most surprising thing is that they both have recently launched in the market. The most interesting thing is that they both have the Intel's latest  8th-Generation processors, which comes with multiple features. If you will compare both the laptops the Surface Laptop 2 and Apple MacBook Pro you will find that like the Apple's has its space grey finish, the Surface laptop also has a black colour coat on it.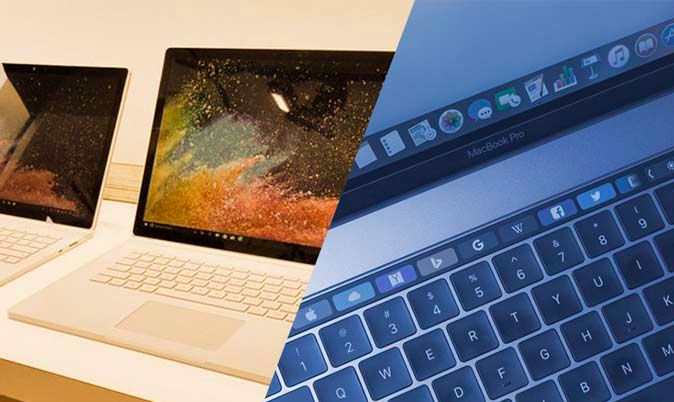 Let us compare both the laptop for you
Design
If you will see both the laptops, they both look very similar to the previous models and many changes have not occurred, whereas they both still have a same type of attribute and also have the same type of a premium unibody aluminium build, the main thing which they focus on was their design. Microsoft has upgraded it to the great extent likeways, it has covered its keyboard deck with Alcantara fabric which will obviously add warmth texture to the cold design of the laptop. More update and changes are of the colour, if we look for the MacBook Pro- it is only available in two colours, space grey and silver, whereas Microsoft gives many new colours option such as black, burgundy, platinum, and cobalt blue. Dimensions of the new Surface Laptop 2 are 12.13 x 8.79 x 0.57-inches which results in more slimmer than the new MacBook Pro, just like MacBook Pro has dimensions of 11.97 x 8.36 x 0.59 inches. As you can compare that they both have a slightly little change in their dimensions.
The most interesting thing is that these laptops have a touchscreen option and therefore if we talk about the Surface Laptop 2 it comes with absolute touch also with inking and pen input, while Apple took a more reserved approach with a Touch Bar positioned just above the keyboard to quickly access shortcuts. If it is about the security than yes both the laptops have security system also, as it offers biometric security. One thing which Microsoft has done with its security thing is that it has built a Windows Hello infrared camera into the display for facial recognition whereas Apple still keeps the old pattern of security, it has a fingerprint sensor which is next to the touch bar.
Both Apple and Microsoft has itself said that we have made the keyboards quieter than before and also claim that Microsoft lies on Traditional keyboard whereas Apple has a butterfly key switches which will make travel easier. One thing which is common between both the keyboards is that both keyboards support gestures.
What about Performance?
As it was mentioned above that both the Laptops have the latest Intel's processor, the 8th generation quad-core processor but have a slighter difference, Surface Laptop 2 has a U-series processor with a slower clock speed than Apple's MacBook Pro. MacBook Pro starts with the faster processor than Microsoft, it has a 2.3GHz quad-core processor on the models and also with Touch Bar whereas Surface Laptop 2 starts with a 1.6Ghz Core i5 processor which is slightly good. Let us know to go for the more internal featured carried out by both the laptops, Apple's MacBook Pro starts with the fine and most faster 2.7GHz quad-core Core i7 processor and also have 2TB of storage which is quite good whereas 16GB of RAM. therefore, the Surface Laptop has its highest processor of 1.9GHz quad-core Intel Core i7 processor which runs on 16GB of RAM and have half storage than Apple, 1TB. Both have a good graphics card,
Apple's MacBook Pro: Intel Iris Plus Graphics 655
Microsoft's Surface Laptop 2:  Intel UHD Graphics 620
Surface Laptop 2 has a screen size of 13.5 inches PixelSense display which completely supports the touch option and has a resolution screen of 2,2256 x 1,506 whereas if we compare it to MacBook Pro, then it comes with a slightly smaller display than Microsoft's Surface Laptop, it has a display of 13.3-inch with a non-touch IPS panel with a resolution of 2,560 x 1,600 pixels. It was found that during Apple completes the future of ports by going all-in on with Thunderbolt 3 over USB-C in the same way Microsoft is being there with a single USB-A 3.0 port and a mini-DisplayPort. Now if you also get a charging cable which uses a magnetic thing then obviously it will help you to quickly unlatch in the event your trip over the cord.
Portability?
The Surface Laptop 2 is the best and compatible with the college students so that they could handle in their bags and make their life easier even after carrying these laptops to their busy schedule, same as the weight the MacBook Pro weight of 3.02 pounds make it almost a quarter-pound heavier than the Surface Laptop 2. If we compare the battery of the two then, MacBook Pro can last for 10 hours whereas the new Microsoft Surface Laptop 2 will last for 14-15 hours once fully charged. More things to compare the Microsofts Surface Laptop 2 rely on  47 watt-hour battery, while Apple's MacBook Pro comes with a heftier 58 watt-hour battery.
What to Have Window and Mac?
You must have viewed a number of specification and stats about both these laptop and therefore you also must be confused that which laptop you should opt for whether Microsoft Surface Laptop 2 or Apple MacBook Pro, basically you should not go with the numbers of specification but you should look for your own comfort where you can be comfortable using one. You will surely look for the price as well then your Microsoft Surface Laptop 2 will cost you around $2,700 for the highest configuration and Apple MacBook Pro will cost you around $3000 or more. Now you are well smart to choose for your own laptop.