Here is what you might see at MWC 2018
Published on February 23, 2018
Mobile World Congress is one of the most anticipated and most significant events in the world. MWC is an event where big brands like Samsung, Sony, Huawei and others launch their endless gadgets and devices. MWC 2018 will begin from Sunday, February 25 and this time it will be in Barcelona, Spain. There are various significant themes for MWC 2018 like the introduction of 5G network technology, Artificial Intelligence, Galaxy S9 and much more.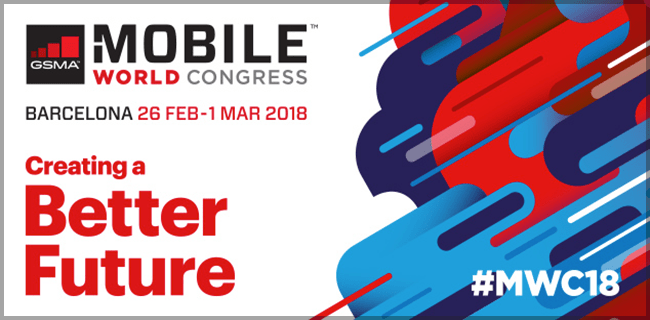 Samsung will be initiating the attraction over MWC 2018 with the launch of its Galaxy S9 on the very first day (Sunday). The event will begin with the start of the much-anticipated smartphone.
Last year more than 1,00,000 people attended the event. At the same place and this year, the event is expected to be some new standards. Some predictions of significant attractions of MWC are described below.
Smartphones
There might be the launch of many high-end smartphones like Galaxy S9 and Galaxy S9 Plus and many mid-range smartphones like LG K10 and K8. So the event will be full of the launch of smartphone that belongs from all range. But the start if Galaxy S9 on the very first day of the event will raise the gathering over there and this is what for which people are excited about MWC 2018.
Samsung has scheduled an official conference on Sunday where they'll unveil the smartphone, just ahead of its official showcase at MWC 2018. HMD Global, which is now selling smartphone named 'Nokia' will also showcase some of its new range of smartphones. Sony will also be in the queue with the launch of some new handsets on Monday, and the conference of that has already been scheduled.
5G Connectivity
There might be a showcase of some substantial and concrete plans over 5G network. CNBC has reported that Ian Fogg, head of mobile at IHS said "Everyone is at final approach to launching 5G services commercially. There are some more pre-commercial trials; the focus is about when will 5G arrive and what will it deliver in the next couple years."
Artificial Intelligence
Artificial Intelligence or AI is one of the most searched teams in the section of technology. This year also there will be a showcase of some higher standards of AI which companies have developed for human use.
Telecom companies will push a screening how this AI will upgrade their network while smartphone makers will depict it as an addition to the innovations of their smartphones.
CNBC also reported at Ben Wood, chief of CCS Insight told that "We believe that AI is going to be a fundamental element of all devices and services in the future, the way in which it is being marketed right now feels reckless." Wood added "From the perspective of consumers, they are not going to buy AI. They are going to buy products which use AI and deliver a fantastic experience."