Google to bring Responsive Search Ads
Published on July 19, 2018
Google announced last month that it is now bringing some changes to the company's portfolio of the advertisement products which is by streamlining the offerings which are like AdWords. It is by making it easier for the businesses and the advertisers who all choose most of the suitable option for the campaigns.
The company has revealed the new ad marketing tools which will come with the machine learning smarts, and they have announced the integration of the ML tools in the existing products, at the Google Marketing Live Event on Thursday.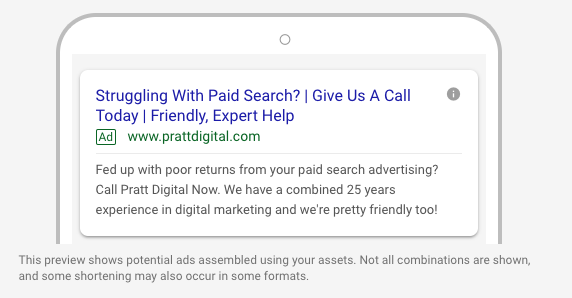 It is seen that the artificial intelligence and machine learning is said to be every product or the feature which was released from Google Ads. This will also bring the Bing Ads which is over the past year, and it has had a machine learning language which is behind it.
In the key announcements which are made by the Google at that event, it shows the improved optimization for the responsive search ads, to boost the impressions and footfalls. The tools also help in delivering the impactful ads on the YouTube.
The next thing is all about the responsive search ads which combine with the relevant ad data and creative input which usually provided by the advertisers along with the machine learning algorithms to maximize the impact of the ads. The advertisers now need to provide headlines and description lines along with the Adwords tool which is backed by the machine learning and will automatically test the different combinations which can identify them and can help in performing the best by adapting the ad material to suit them in the search query of the customers. This helps in boosting the ad campaign.
Google also claims that the advertisers who are employed in the advanced ML-backed responsive search ads have got more than 15 percent more clicks on the ads.  In the official website, the company has said in a blog that Google has revealed that the rollout of the responsive search ads and it will be done over the course of the next few months.
Google will also release new tools which it will be known as Maximize Lift for the YouTube ads, and they can help the advertisers to reach a large number of people who may respond to the ads and can interact with the brand. This is now under beta testing phase and will be very soon available to all advertisers.