Ford will embrace its market girth in 2019 with Edge Titanium
Published on October 7, 2018
Ford is the best brand in making worlds most powerful engines and body, in the last Detroit auto show which was held earlier this year the 2019 model Ford Edge debuted, it was the best part at the show that it got best reviews and also its ST model gave the hottest look, this was only possible because of its horsepower, it has 335-horsepower twin-turbo V6, tighter suspension and sharper looks. Same way all the models such as SE, SEL and Titanium models have been updated so that it should make up the bulk of Edges sales and also it will have an experience of the new redesigned Edge first-hand, I jumped on a plane and headed to Utah.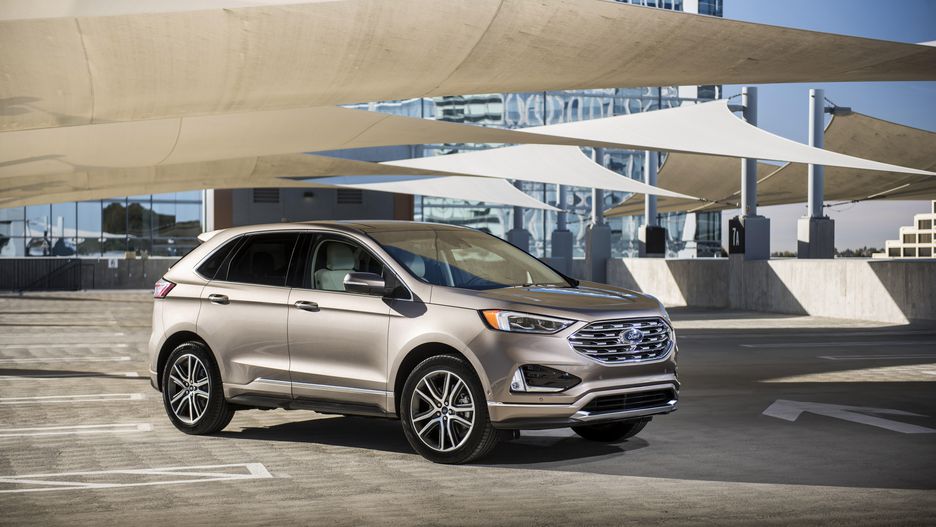 Basically this new Ford doesn't have a big change but yes some small change which have a great impact such as it has changed its exterior by a new hood, fascias, a wider grille, plus new liftgate and wheel designs whereas if we see for the front fender they have changed doors and rear quarter panels carry over. The Metallic painted test cars which look awesome on Ford than the Titanium Elite, also by adding 20-inch wheels with dark-painted spoke inserts, body-colour bumpers and side cladding, as well as a tasteful helping of chrome trim sprinkled throughout. Whereas if we talk about its look then yes it looks very attractive and clean, anyways it also doesn't care because it looks more attracted than its previous model which launched in 2015.
It is somehow the same but the major thing which has changed is the gear shift dial. Whereas the design of this is the more compact than the old-lever-style shifter, it is exactly when we have to free up space which can have a larger storage compartment. Just because of the soft-touch surfaces and for some stitched panels and chrome as well as with gloss black trim offers nice contrast just because of the dash and door panels. The interesting thing is that the sitting position is still very high but if we see the front and rear passengers seat it is at the normal size.
Cargo space is the important thing which we can have, therefore, measuring 39.2 cubic feet behind the rear seats and 73.4 with them folded, offering enough room for some serious Ikea shopping trips.
Front features
The infotainment system has a perfect display of 10-inch in the new model of Ford Edge Titanium and also has an audio system with 12 speakers around.  a Wi-Fi hotspot, optional navigation, Apple CarPlay and Android Auto. Amazon Alexa integration, which can be used to lock and unlock doors and open and close garage doors via commands, is also available. Also, this has new features and in this new Edge you can easily charge more than 1 mobile phone or any other gadget you wish too, it has 2 USB ports in it which are of 12-volt where one lies in the centre console and another one in the footwell.
The best thing which one can do is the wireless charger, and this new Ford has a wireless charger pad in the front which has around 12-volt outlet and has a three-prong power outlet after the centre console. This many options for charging will help in family trip or outing with friends.
You will be more surprising and attracted towards this Ford because it has an awesome and good safety measure plans, Ford itself claims that it is the first vehicle which has the Co-Pilot360 package which includes  forward collision warning with automatic emergency braking, blind-spot monitoring, a lane-keeping system, auto high beams and a backup camera standard. This system is for complete safety of you and the one who is travelling with you, whereas you will be thinking about the camera quality, then sorry because it doesn't have the good camera quality, if you further think that more safety should be there then yes, Ford has a  Co-Pilot360+ package is also available for more price which helps to add cruise control system with stop-and-go and evasive steering assist. Ford has so much in its new model such as, it is very easy to climb up the mountain roads, the slight output increase is also good because the 280-horsepower V6 available previously has been dropped for 2019, meaning any non-ST Edge you buy going forward will have a turbo four-cylinder.
The one thing which makes it more good and attractive from inside is that it has eight-speed automatic tagging in for the old six-cog unit and also have very smooth shifts. Let us know more about the price, then the new 2019 Ford Edge is available at $30,990 just for the base price and can be increased more if you will ask for more features.
This new Ford will give you more comfort space than before.