AMD have to debut with Radeon Pro V340 Dual-GPU card
Published on August 31, 2018
Since last week, NVIDIA has been in the news for the GeForce RTX family which is for the gaming graphics cards. But now, AMD has announced about its new high-end graphics solution which is specially designed for the high-density data centre applications. The Radeon Pro V340 is usually based on the AMD's current generation Vega architecture which is actually have got the features which have got the dual GPUs. It has also got a dual slot card along with the 32 GB of ECC HBM2.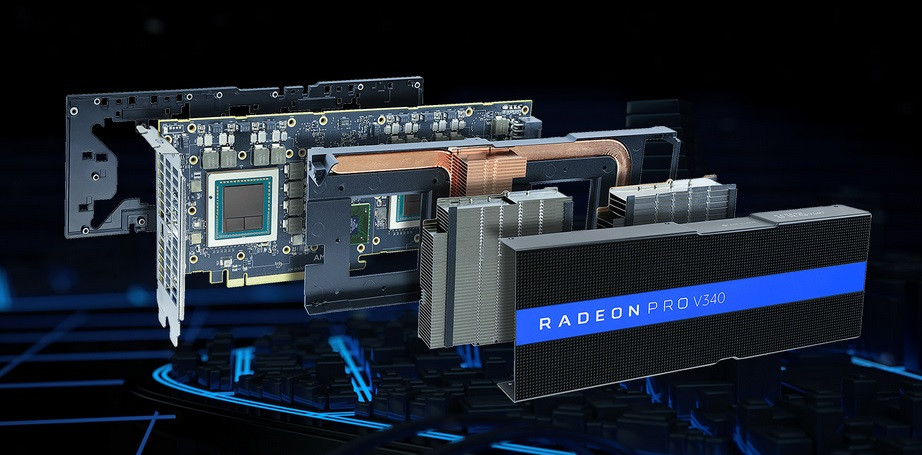 As per the AMD, it said that the Radeon Pro v340 is said to be capable of supporting up to 32  1GB virtual machines which can outpace the Tesla-based counterpart which is from the NVIDIA by about 33 per cent. The powerhouse graphics solutions are said to be capable of compressing with the independent video streams which are in H.264 or H.265. It has also got an onboard security processor with secure boot along with the storage encryption.
This Radeon Pro V340 is said to be the perfect solution for the parallel as well as virtualized cloud graphics which process as well as enable with the multiple users in order to share a single card's resources. AMD is able to accomplish with using the MxGPU hardware based VPU virtualization technology. The company has touted as the industry exclusive.
According to Sheldon D'Paiva, who is the director of the Product Marketing for VMware, said that the AMD Radeon Pro V340 graphics card would enable the customers to secure the leverage desktop as well as application virtualization for the most graphically demanding applications. With this Radeon Pro for VMware, the admins can now easily set up the VDI environment with rapidly deploy of virtual GPUs in order to exist the virtual machines as well as enable about hundreds of professionals with just a few mouse clicks.
AMD has also shown about the Radeon Pro V340 at VMworld which has held in this weekend in Las Vegas. This will be coming in Q4 in 2018. But the company has not announced the price of the cards till now.