Adobe updates Premiere Pro CC, After Effects CC and more
Published on April 4, 2018
An increasing number of technology giants are looking to adopt automation into their products as soon as possible, and Adobe is no different. With the introduction of their latest 2018 additions, the technology giant reportedly decided to concentrate on automation, as had been predicted. The company feels that automation would be perfect to solve the time-consuming tasks and workflows of a particular user. It would also further help in the beefing up on class-leading video, audio and graphics manipulation features as well.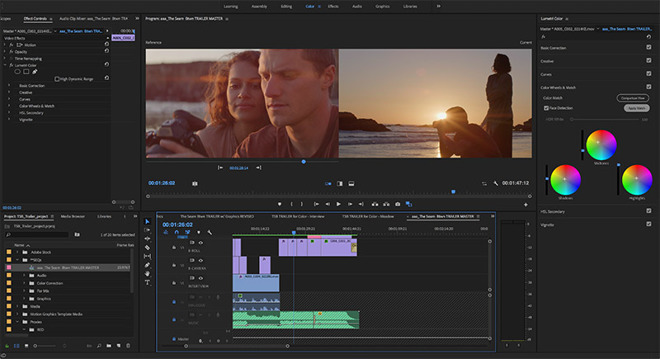 "The demands and pace of video content creation are reaching levels we've never seen before. The time pressure on video professionals means the need for powerful and efficient creative tools has never been greater," said Steven Warner, vice president of digital video and audio at Adobe. "Adobe video apps like Premiere Pro and After Effects give them that power which, combined with the services available in Creative Cloud, provides broadcasters, media companies, filmmakers, and YouTubers a complete ecosystem to bring their stories to screen faster than ever."
PREMIERE PRO CC
Adobe has reportedly decided to launch a new one-click color matching option with the latest update to Premiere Pro CC. The primary highlight of the technology is that it gains its power from the Adobe Sensei artificial intelligence technology. Its Color Match ability enables the application of editable color adjustments between multiple clips explicitly. The new setting is expected to allow users to make quick comparisons and go on to maintain a consistent look between numerous shots.
The feature also preserves a specific kind of skin tone, which can often become a difficult task especially when grading activities are involved. As far as its audio abilities are concerned, Premiere Pro CC has now been updated with an Auto Ducking feature to normalize music levels when other audio is detected. The system is further powered by Adobe Sensei, which is a tool that makes it easier for one to mix in dialogue and spoken sound over a soundtrack. As with Color Match, Auto Ducking is editable by the end user for ultimate control. Apart from this, there is a new Learn panel that goes on to offer easy access to tutorials, which are specifically designed to help further users take maximum advantage of the video-editing software.
AFTER EFFECTS CC
Coming to Adobe's motion graphics software After Effects CC – the system goes on to receive a new Master Properties feature that allows individual users to apply effects across multiple versions of a single composition. This move is a new Advanced Puppet engine that goes on to provide more organic deformations of graphical objects while extending support for Adobe Immersive Environment while simplifying the 360-degree workflows for the Virtual Reality (VR) technology. In addition to this, the character animator software is further refined with the objective to streamline elaborate puppet. Through the latest change, the device manufacturer can trigger many behavioral workflows easily. Users can go on to drag items from the Puppet panel directly onto the Triggers panel with the objective to create and edit behaviors.
As far as Audition CC is concerned, the system comes included with multiple enhancements. The list consists of better integration with Premiere Pro CC, improvements made to multi-tracking mixing and editing features and other collaboration tools. These tools across Adobe's software suite ensures that users can communicate when they are online with others. The new badges are indicators of when the update is rolled out for a new project. Adobe's Creative Cloud plans start at $19.99 per month for single apps like Premiere Pro CC, while access to all CC apps, including photography software, comes in at $49.99 per month.