Your Palm-sized phone is out now: Read more
Published on October 18, 2018
You all would be glad to know that the market is soon coming with a good gadget which will keep you relaxed and calm. Yes, it is the new phone which is named "Palm", also written on the back of the mobile phone. Reports also came about this phone from San Francisco along with its cost, like $349.99 which will be soon available in the market. Basically, the Palm phone is your partner for weekends and outing, it is just a little version of your phone so that you should not get distracted. This phone works after sharing your number just as same as your actual phone.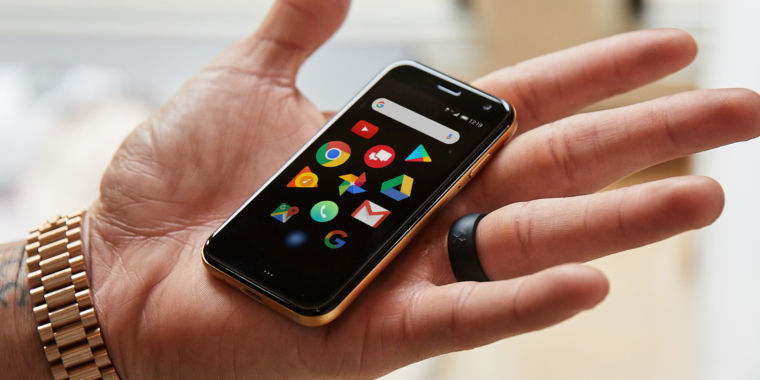 You must be thinking that does this phone carries everything or not?
Yes, the phone also supports Android 8.1 version and you can also access all the apps which you would on your bigger phone( from Google Play store). actually, this phone will allow you to perform all the task which your big size phone allowed but the main fact about this tiny phone is that you should not be busy all day long. A large number of reports came about the smartphone that they have been increasing its size to the great extent but now you will have a tiny phone which is different from every phone in the market.
This phone will actually act as your smartwatch, the smartwatch is actually been seen as the mini mobile phone because it is also eligible to carry all the task which your smartphone can perform, now same goes for the new Palm phone. The main motive for manufacturing this phone is that you will get less distracted from the mobile phone along with this one more important thing is that the Palm phone also works on the Verizon network.
The main thing with which the tiny phone will help you with is that, you will be stressed out from work emails and other important documentation and also you will have a great weight (such lightweight).
Some key points which this tiny smartphone holds are that according to the reports it came that this phone somehow looks like the smaller version of iPhone X and also having gorilla glass 3 on both sides of the phone which will directly save your phone with water and dust.
The new big smartphone holds around 3,500 mAh of battery on an average which works for the entire day, in the same way, this tiny phone has the battery of 800 mAh which last the phone for the entire day. Along with this, the phone doesn't have so much thing but one single button which is used as a power button and also used in many ways. It is 7.4mm thick and just weight 62.5 gm, now you can imagine that will it be felt in your pocket or not. 
This Palm phone has a display of 3.3-inches LCD display which is big enough for having phone calls and some small use, but you will be surprised by its camera configuration, its rear camera is 12 megapixels and the front camera is of 8 megapixels, one important note is that this phone doesn't support the headphone jack. Like the mid-range phones this phone also has Snapdragon 435 with the support of 3 GB of RAM with 32 GB of internal storage but here you don't have the option to increase the storage by using microSD card.
This phone will be tremendously good for use and will give you the best time you cannot have along with this you will never get a distraction from your fun and outing with friends and family.