Watch This YouTuber Perform a VRAM Upgrade on a GeForce RTX 2070 From 8GB to 16GB
Published on January 29, 2021
Believe it or not: BGA (Ball Grid Array) devices can be upgraded. Sure, the average person might not be able to do it, but YouTuber 'VIK-on' posted a video showing that you indeed can upgrade a graphics card's BGA memory chips. He upgraded a his Palit GeForce RTX 2070's RAM from 8GB of Micron GDDR6 to 16GB of Samsung GDDR6. Nice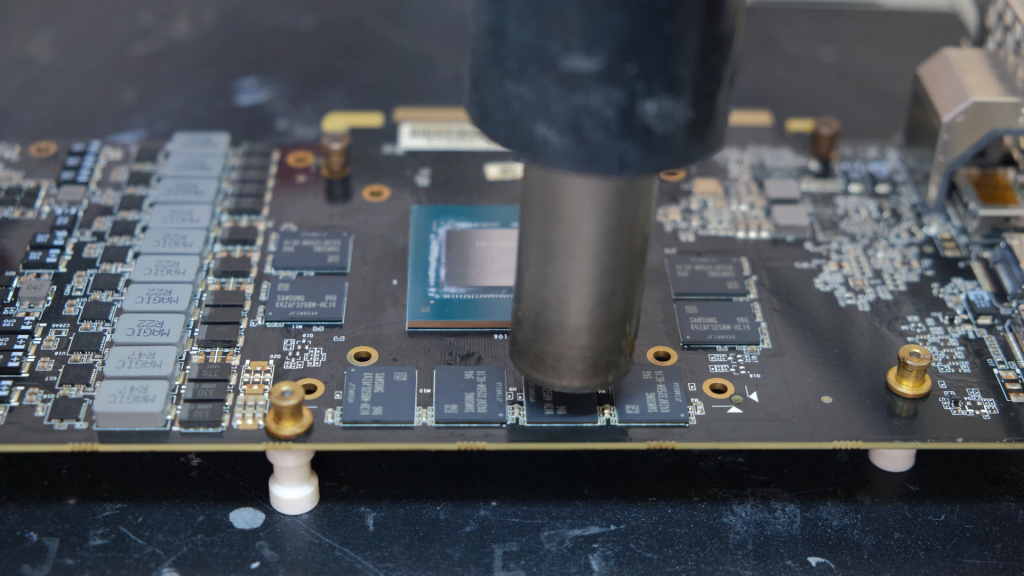 VIK-on inspired to do this memory transplant when he saw a leaked diagram for a RTX 2070 that had a 16GB VRAM option. The document showed that the RTX 2070 could support both 1GB and 2GB GDDR6 chips from Samsung.
Like any other BGA removal process, hot air was used. VIK-on used a heat gun to heat the Micron GDDR6 chips enough to be able to safely remove them from the RTX 2070. After that, he moved some resistors that are located on the rear of the circuit board. The resistors in question are directly on the opposite side of the board as the GDDR6 memory chips. Changing these resistors makes the RTX 2070 compatible with the Samsung chips. Once the 1GB memory chips were removed, he then attached eight 2GB Samsung GDDR6 chips onto the RTX 2070 board. The RAM upgrade cost $202, as he had to source the chips in small quantities from aliexpress.
After that, VIC-on booted up the computer and his newly-modified RTX 2070 posted perfectly with the new 2GB Samsung chips installed. It even reads correctly in GPU-Z, as you can see in the photo below:
In the screenshot, all 16GB of the Samsung VRAM is registered by the RTX 2070. There is a catch, though. Unfortunately the upgraded card was not stable under full load. When the system was stressed, the memory displayed odd clock speed behavior which made the card crash, presenting only a blank screen. This is more than likely due to some of the BGA pins not being properly connected. Manually lowering the memory clock speeds would more than likely resolve the issue. Another solution would be, ya know, soldering it correctly. But none the less, this feat was impressive.
It's pretty awesome to actually see that work. Anyone with the right tools and enough determination can upgrade their RTX 2070 to from 8GB to 16GB.
If you want to try this yourself, then you can pick up an 8GB GeForce RTX 2070 on Amazon!