Third generation Echo Dot vs Google Home Mini
Published on October 8, 2018
Amazon Alexa, which had a great sale in this year, know also had a new Alexa gadget. This information was passed by Amazon itself at the whirlwind event. Whereas you all will be most aware of its most selling product Echo Dot. If you are thinking to buy the new Amazon Echo Dot than it will be more than amazing because the new Echo dot is better than the previous one, in terms of Size- it has bigger size than before. In terms of the volume and speakers- the new Echo Dot has made the sound quality better also with this advancement it also has a bigger audio setup via Bluetooth or you can use Aux cable.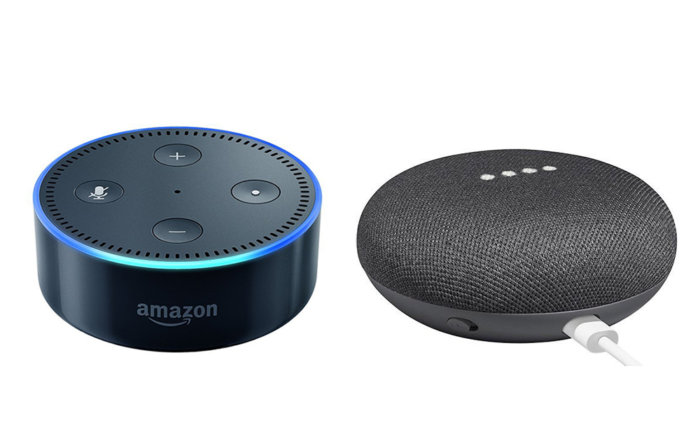 You all are familiar with the fact that at the time of Amazon Echo Dot(released), Google also released its smart speaker named Google Home mini, therefore now Google Home Mini is not the main competitor of Echo Dot because the new Echo Dot has made many added features which are explained above, whereas the most interesting thing about this is that, the cost of new version is still the same as $50. Amazon can proudly say that its smart speaker is better than Google Home Mini.
Above, you would have been clear about this new third generation Echo Dot that how powerful it has been made than earlier. This new Echo Dot is perfectly amazing for casual listening, such as in your living room or drawing room and also on the side of your bed and also as it gave the option earlier also you can connect it will external devices, speakers or woofers. Amazon Echo Dot has a fabric-bodied design.
But the new Echo Dot itself says that it has improved the new sound quality and updated speakers.
but definitely, this new device is been questioned up that, is it having better sound quality than Google Home Mini?
When both Google Home Mini and Amazon Echo Dot was launched Home Mini had a stronger sound than Dot but now the third generation Echo Dot has become capable of giving same sound as Home Mini and also are on equal footing in terms of sound. Majorly two have the difference the Google Home Mini has a better and clarity in its sound whereas the new Echo Dot is for giving a louder sound and you can also be called it as fuller sounding speaker.
Also according to the new social networking test and the group test, the third generation Amazon Echo Dot got more votes comparing to Home Mini. Therefore it is simply clear that the Echo Dot is better in sound and will be preferred more over Home Mini. But this is not the correct way, if you will comparatively comparing both the speaker at the same time you will better understand which one has the louder volume. There are more chances that it could be somehow equal.
Till date, the surveys tell us that, people attracted to the smart speaker are more considering Home Mini to be the better one and purchasing it more frequently than Echo Dot. For more now Echo dot has a good advantage and you can trust on that.