The Microsoft Surface Duo, Redmond's First Android Phone (August 24th Ship Date)
Published on August 15, 2020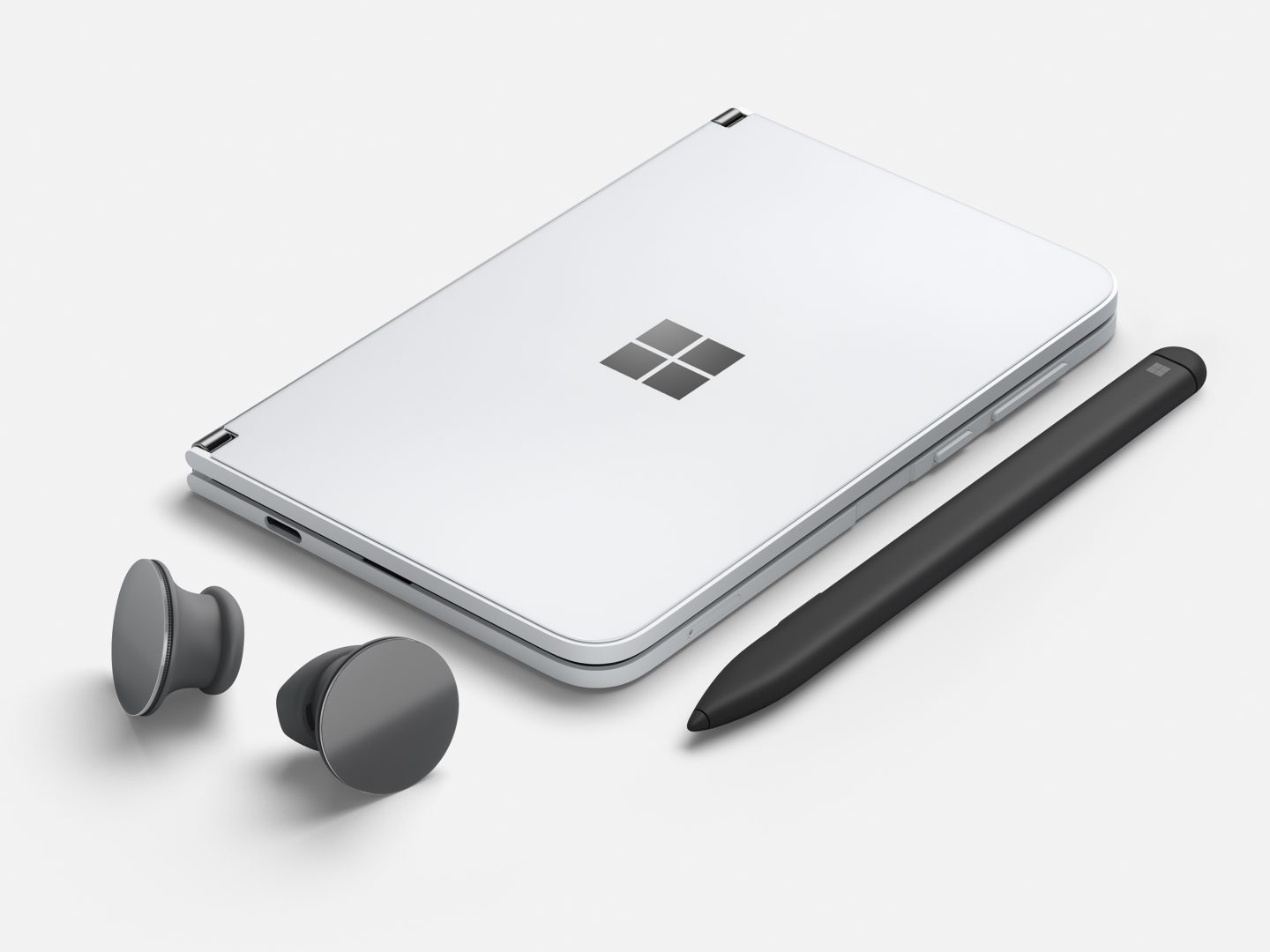 What is the Surface Duo?
The Microsoft Surface Duo is an Android phone by Microsoft. Since it was announced almost a year ago, we've seen quite a few official images of the dual-screen phone. The entire time, Microsoft has been quietly developing the groundbreaking device. Microsoft has finally given us a little more information about its release date, specs, and price.
How Much Will The Surface Duo Cost?
You can pre-order the Microsoft Surface Duo now for $1,399. Yes. One Thousand, Three Hundred, and Ninety-Nine Dollars.
The specs are as follows: You get two 5.6-inch, 1800×1350 (4:3 Aspect Ratio), 60Hz OLED screens, a Snapdragon 855 Soc (System on Chip), 6GB of LP-DDR4 RAM, a 3577mAh battery, and either 128GB or 256GB of system storage. The total usable screen real-estate amounts to 1800×2700, which is plenty to get your work done. There is a single 11MP camera above the right-side screen that is also able to function as the front-facing camera, thanks to the all-important hinge. The Microsoft Surface Duo relies on a USB-C port for power and data transfer, has a single bottom-firing speaker, and a fingerprint reader. The device runs on Android 10 and has full support for Surface pen input.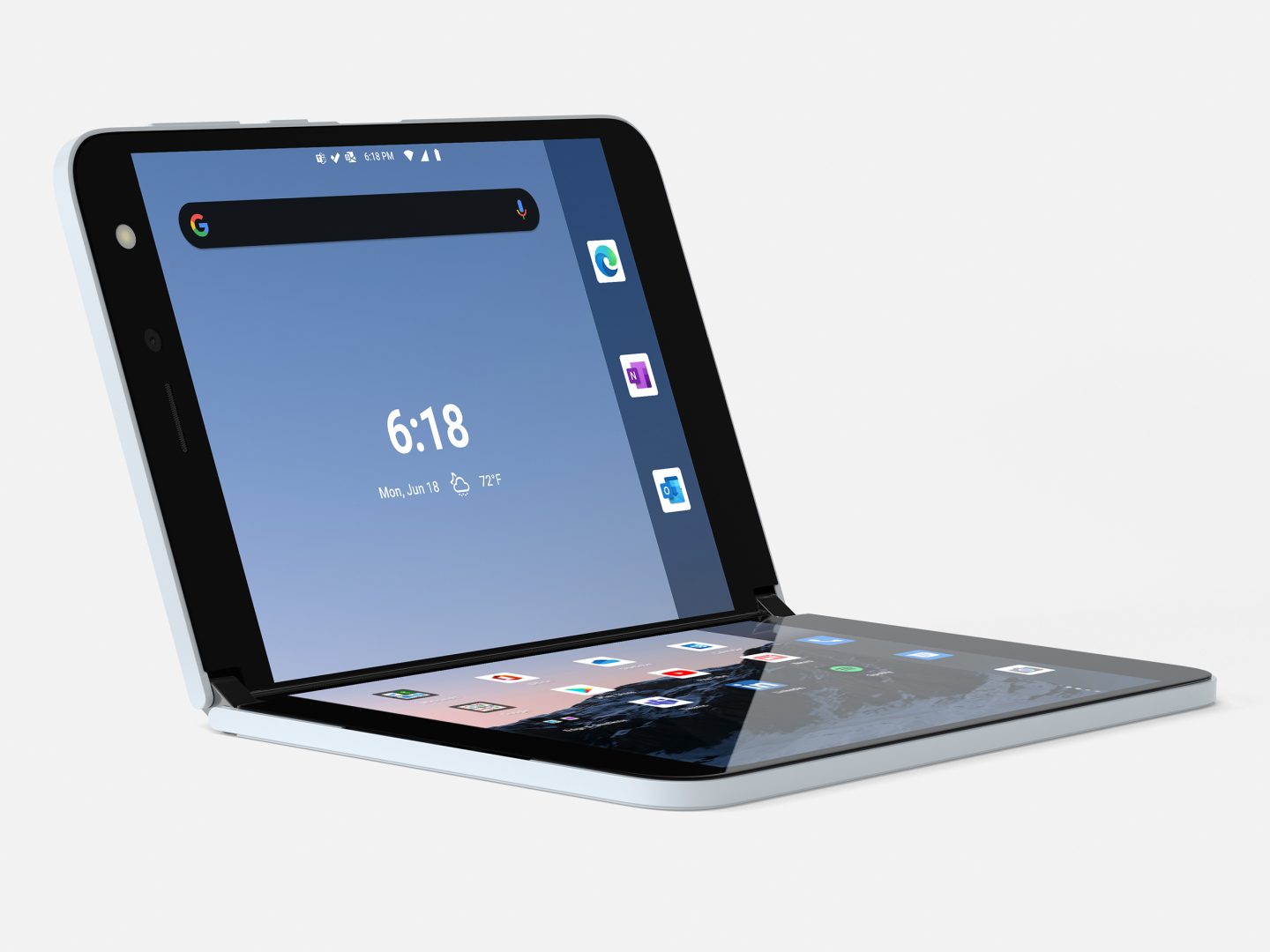 Personally, I think it was a really great move for Microsoft to make an Android phone, and I think it was an even better move for this device to get the Surface branding that it did. Sure, $1,400 is a lot of money for a device, but this is literally the only device on earth that can do what this thing can do. The Microsoft Surface Duo is less about spec sheets and more about feature lists. You don't have to try the Surface Duo to be able to see that.
Sure, the 3577mAh battery may seem small, and by comparison to some popular devices, it is. Take the Galaxy S20, with its 4000mAh battery, and its upgraded 'Ultra' version which has a 5000mAh battery. Both of those phones only have to power a single screen and remember, the display accounts for the overwhelming majority of battery usage. Yet even still, the Microsoft Surface Duo is rated for 15.5 hours of battery life while the Samsung Galaxy S20 and S20 ultra only net 10 and 12 hours, respectively. There is no getting around the fact that Microsoft has done some amazing things under the hood to improve battery life. This has enabled the Surface Duo to be extremely thin, at just 4.8mm when open, and 9.9mm closed. Microsoft definitely didn't have to compromise battery life over form factor.
The Microsoft Surface Duo has several innovative software tweaks, one of which is the ability to pair apps. You see, this thing has two screens, and the software tricks that Microsoft implemented into Android 10 enables you to run two apps at the same time. You can then combine those apps in a 'groups' that saves a new icon to your desktop. Any time you tap that icon, it will pull up those apps. Think: Kindle on one side, and your favorite notes app on the other. Your favorite text messenger on one side, and a web browser on the other. Another great pair of apps for me personally would be YouTube and a Webbrowser, so I could watch videos on one side and do further research on the topic on the other.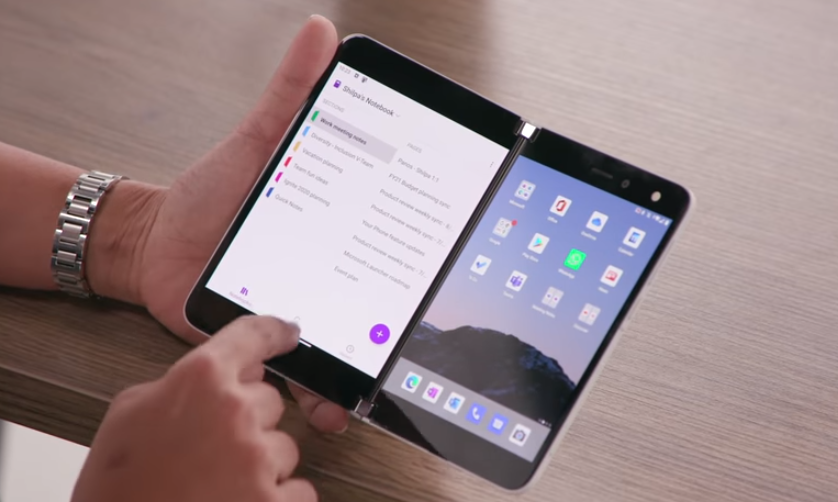 There really is a lot about the spec sheet to love, though. Check it out:
The Qualcomm Snapdragon 855 is a high-performance 64-bit ARM SoC fabricated on TSMC's 7nm process. It features 4 Kryo 485 Silver high-efficiency cores at 1.8 GHz, 3 high-performance Kryo 485 Gold cores at 2.42 GHz, and a single Kryo 485 Gold core operating at a higher 2.84 GHz clock speed. The Snapdragon 855 includes an Adreno 640 GPU that runs at 600 MHz and features an X24 LTE Cat 20 modem. The Snapdragon 855 SoC also includes 4 LPDDR4X-4266 memory controllers that support interleaving for quad-channel memory speeds of up to 135GB per second.
The Surface Duo has OLED displays. These phones are foldable, yes, but they are not flexible. So most other phones in this category had no choice but to use the higher quality OLED display. IPS simply wasn't an option. Yes, even without this limitation, Microsoft chose OLED.
6GB of DDR4 RAM is more than enough to serve Microsoft's intended experience. The company has made a lot of changes under the hood to make good use of memory. Remember, this is a highly efficient PC in your pocket.
To me, $1,400 is a fair price to ask for a cutting-edge device that gives you all of the benefits of a phone, while providing some dual-screen innovations that you just cant get elsewhere along with other features that can only be found on a desktop PC. This device has a mode that merges the two screens into a single 8.1-inch display, but I believe it will be more practice to avoid the gap down the middle.
In a world where Fordable devices clearly aren't ready for prime time, the Surface Duo is a viable acceptation to the rule. It's a reasonable purchase seeing as Samsung's $2,000 Galaxy S20 can't do what the Microsoft Surface Duo can.
This is one of those products that's going to really start to be appreciated by the time its 2nd generation is released. It will then have some of its missing features, such as NFC. It will have an even longer battery life and even further refined software. Unlike a lot of other devices, however, those that pick up a 1st generation Microsoft Surface Duo won't be left with buyer's remorse as it's a truly great device in its own right.
This is Microsoft pushing the envelope on hardware design with the Surface Duo while building on its years of learning (and failures) regarding an ARM-based Windows solution. Windows 10 X will have its place among the full-size ARM platform, but in the realm of the small, Android reigns supreme and Microsoft knows that.
Seeing devices like the Microsoft Surface Duo and Lenovo Yoga 5G come out really underline the fact that the traditional 'Wintel' (Microsoft and Intel) partnership has broken down. Microsoft has to survive and thrive, and to do that they have to innovate and step outside of their normal role. In this case, they are exchanging their normal role of Operating System provider in exchange for being a hardware producer that provides value-added software.
If you would like to contact the author at any time for any reason, you can do so here.
Featured Image Credit: [Microsoft]