T-Mobile Franchises Are Battling it Out For Prepaid
Published on August 31, 2020
With the Sprint merger in full swing, Metro by T-mobile dealers are concerned with what might happen to the popular prepaid servicer. Twitter was ablaze with their comments and concerns over the weekend.
The 'Metro Dealers Unity Group' is worried about how they will be able to do business with T-Mobile going forward. A source representing the group said that the group is made up of over 100 dealers Metro dealers.
One of the new rules that they aren't too happy about is the requirement that dealers get all of their accessories directly through T-Mobile, rather than a third party. Another issue that they had was commissions being spread over six months, a longer time-span than they are accustom to.
The company responded. On Sunday morning, T-mobile's executive vice president of Consumer Markets, Jon Freier said 'Our door is always open.'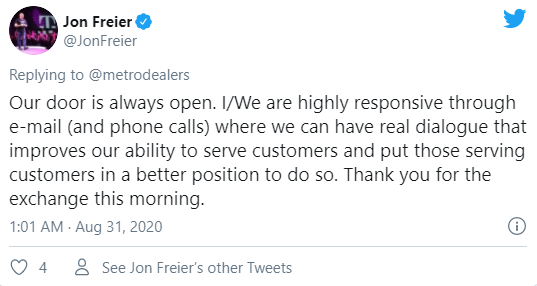 A lot of dealers were repeating the same message: 'It's time to unite, stand up and make it known that our voice matters.' Dealers for the cause called for stores to close on August 31st. The message continued by saying that as of 10/1, accessories would have to be bought from Alpha Comm, along with some other remarks. Along with the message were the taglines 'Dealers Lives Matter' and 'Dealers Livelihood Matter.'
The anonymous source who represented the group of Metro Dealers said that group didn't post the message. They went on to say that the reference to 'Dealers Lives Matter' was more than likely there on account of the fact that in some areas, dealer locations have bulletproof glass and T-Mobile had alluded to forcing dealers to remove those kinds of safety measures.
Fierce then reports that the Metro Dealers Unity Group is concerned with their compensation formula and they don't want to end up handled the same way postpaid is. Further concerns are in regards to residuals and ensuring that prepaid remains competitive.
Data by Wave7 Research shows that around 98% of the nearly 9,000 Metro by T-Mobile stores in the United States are operated by independent dealers rather than corporate employees. Earlier in 2020 dealers were already told that they could no longer sell other brands alongside T-mobile.
Image Credit: [Pixabay/FirmBee]