Here is Steve Jobs' 1973 job application and it is being sold for $174,757
Published on March 17, 2018
The job application filled out by former Apple CEO, Steve Jobs back in 1973 is being auctioned for $174,757. The job application is filled out and signed by Steve Jobs back in 1973. It includes some amusing misspellings and other exciting details. The job application does not provide any specific on which company the late genius was applying for as such. However, it does represent a young aspirant on a lookout for a job.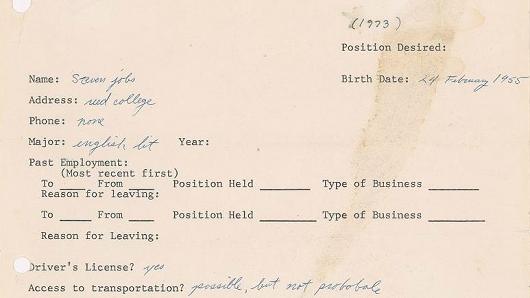 The job application consisted of numerous questions. Under address, Jobs had written "reed college," in lowercase. He hasn't capitalised any of the answers in his job application. When asked what he had majored in, Jobs response was, "English, lit." When asked about access to transportation, he wrote, "possible, but not probable." Under "Special Abilities," he wrote, "electronics tech or design engineer. digital.-from Bay near Hewitt-Packard" — misspelling Hewlett-Packard.
When asked what his unique skills are, he surprisingly answered computers and calculators. It appears that the Apple CEO dropped filled up the job application shortly after he dropped out of Reed College. As can be recalled, he enrolled for the 1972 fall semester. However, he decided to stick around Portland and Oregon campus for a year and a half. Following which, he had taken up the task of job-hunting.
The sale price of the job application marks quite a jump from when it was last auctioned off by Bonhams in December for $18,750. Bobby Livingston, executive vice president at RR Auction, said those who bid on the application included entrepreneurs and successful internet company owners who grew up admiring Steve Jobs and Apple."The document to them resonates emotionally about who Steve Jobs was," Livingston said. "Here he was with nothing, and now he's one of the most important people in the 20th century."