Steve Jobs' 1937 jib application auction estimates more than $50,000
Published on February 24, 2018
Steve Jobs, a person who bought a new era of technology in the hands of ordinary people. Before ruling the tech industry with his brand Apple, he was just an average man who was seeking for a job to cover up his regular need for expenses. After dropping out of Reed College only six months after enrolling for the 1972 fall semester, he went around the Portland campus for a year and a half to audit courses on calligraphy, dance, and Shakespeare.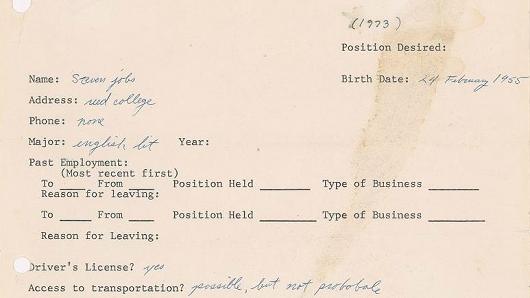 It was 1973 when he filled out a job application for an unspecified position, and the job application letter is now on auction by RR Auction. The auction company RR Auction estimates the job letter this a starting price of $50,000. The job application letter includes some misspellings and other exciting details.
That one piece of paper details about the profile of a person who founded Apple just three years after this job application was filed. The job application letter projects that Steve wrote "reed college" in place of his address. His major, "English. Lit" was also not capitalized. Under the section of transport, he replied "possible, but not probable."
Steve was skilled in computers and calculators, and thus under the section of special abilities, he writes "electronics tech or design engineer. digital.-from Bay near Hewit-Packard."
Bobby Livingston, executive vice president at RR Auction, stated that "It breathes more life into him and his memory."
One more auction was held in October which was a magazine signed by Steve Jobs, and that got sold for over $50,000. An Apple-1 computer valued at $700,000 was also sold at auction. Moreover, his personally used household's like his bathrobes, his electric razor was even gone sold at auction bidding. One of his leather jackets was auctioned for $22,400.
The job application letter of Steve Jobs is underbidding and was first auctioned off by Bonhams for $18,750 in December.
Livingston said "I believe that person bought that and understood that he got a great deal," he added "You just don't see anything like that. It's a pretty rare piece."