Snapchat's Latest Production: A Flying Camera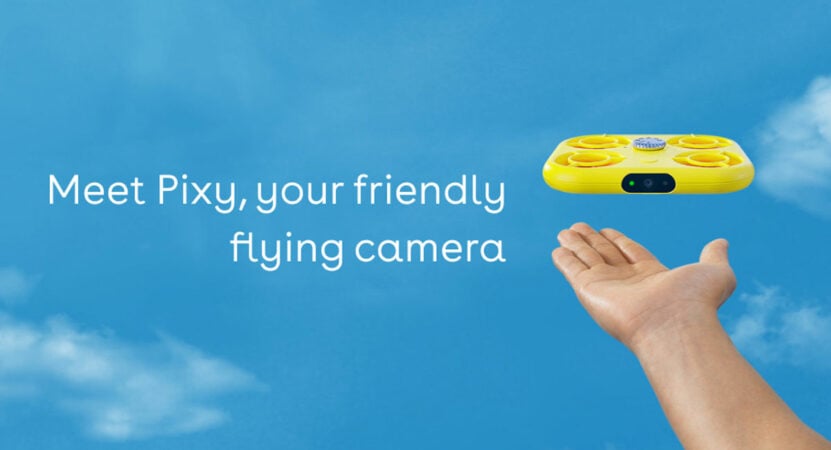 Snapchat is back with a second hardware product. And this time, it flies.
Snapchat has made a flying camera, a drone, called Pixy. A small yellow puck takes off from your hand, follows you around, and captures video that can be sent back to Snapchat. It's Snap's attempt at making a drone that's friendlier and more approachable than other products on the market — and it may hint at the more advanced, AR-powered future Snap is building toward. It was released more than five years after Snapchat released Spectacles.
What were Spectacles and What Happened?
Snap CEO Evan Spiegel unveiled the company's first actual augmented reality glasses, technology that he and rivals like Facebook think will be as ubiquitous as mobile phones one day. A demo showed virtual butterflies fluttering over colorful plants and landing in Spiegel's extended hand.
Spectacles have dual waveguide displays capable of superimposing AR effects made with Snapchat's software tools. In addition, the frame features four built-in microphones, two stereo speakers, and a built-in touchpad.
Front-facing cameras help the glasses detect objects and surfaces you're looking at so that graphics more naturally interact with the world around you.
These Spectacles, however, aren't ready for the mass market. Unlike past models, Snap isn't selling them. Instead, it's giving them directly to an undisclosed number of AR effects creators through an application program online. (Another indication they aren't ready for everyday use: the battery only lasts 30 minutes.)
Although the Snap Spectacles were a popular and hip product worldwide, fewer than 1 percent of Snapchat users purchased the glasses. Snapchat's earliest and most unique product, yet it was a failure.
Pixy and its Features
The business describes the small yellow drone, which goes by the name Pixy, as a "free-flying companion" that can assist people in taking photos without using a selfie stick.
According to the manufacturer, the device is accessible in France and the United States, where drone use is more permissible than in the United Kingdom.
It comes when multiple social media behemoths are ramping up their hardware and Augmented Reality (AR) capabilities. Look at Meta, for example!
The Pixy is self-contained, recording video as it flies and wirelessly transferring it to and saving it in the app.
Then, after the flight, the selfie drone sits in the palm of your hand, ready to be used.
Snapchat continues to be extremely popular even though it does not garner the same degree of attention that other social media platforms such as Facebook or Twitter do.
According to the firm, Snapchat has 300 million daily active users worldwide, including in the United States. It also reached more than 75% of persons between 13 and 34 in more than twenty nations.
Gadgets such as Pixy are "subject to local, state, and federal rules concerning who may fly them, how and where they should be flown," according to Snap, which urges consumers to be aware of the applicable drone laws.
Pixy is available online for $230 in the US and France starting Thursday.