Samsung Gear S4 may come with Bixby support
Published on July 13, 2018
Samsung's line of Gear smartwatches has been rumoured for a long time, and it is incorporated under the Samsung Galaxy name. As per the Chinese leaker Ice Universe state, the upcoming Samsung Gear S4 will be branded as the Samsung Galaxy Watch.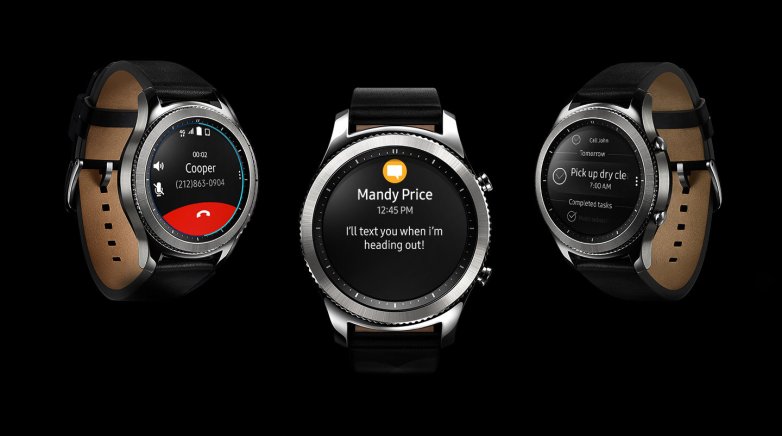 The logo of the Samsung Galaxy Watch has been registered in South Korea and it is seen that it may go to support Samsung's virtual assistant, Bixby. SamMobile said that the report from the Ice Universe would suggest that the Samsung Galaxy Watch will be running on Wear OS. This shows that the South Korean technology giant is now bringing the smartwatches close to the flagships. The sale of the watches may increase now, and the smartwatches are now already on the top.
If Samsung is bringing out this smartwatch this year for real, then it will be the only smartwatch model for them. The company has made an about-face, and it is now banking on Wear OS instead of the Tizen OS. The Tizen OS has been in use since the first Gear S smartwatch. This change is strategy also have advantages and disadvantages but it is not sure until now, and after the launching, this will help in knowing it. It will also show that apps that may be present on the smartwatch.
This thing made that the Bixby will be there on the Gear S4/Galaxy Watch which is both expected. Bixby has not been out for more than a year, and Samsung's own AI assistant has not yet descended on current smartwatches. The Gear S3 is said to be unfortunate, and they have left with the deprecated useless S voice. It also raises a question about how Bixby will be supported and how good it will work. Bixby which was present on Wear IS will be possible, and it almost makes more sense to see Bixby on Tizen, and Samsung controls. This Wear OS will be coupled tightly with the Google Assistant.
Currently, all the paperwork has been filed, and they are now registering the name with the "Samsung Galaxy Fit" line of the devices which is present in the United States. The potential of running Wear OS and SamMobile has disagreed to believe that it will continue to run Tizen OS. Samsung Bixby supports the device which runsTizen as the Google Assistant is built into Wear OS.