Samsung Galaxy A7(2018): full features and specification
Published on December 16, 2018
Samsung is one of the most demanded brand by the market, which also has a great sale and even all the models of it. Samsung smartphones are being famous for attractive looks and design. You all must have gone through the Samsung's latest flagships, yes the Samsung Galaxy S9 and S9 Plus and also aware that Samsung is about to launch its first foldable smartphone next year, which is named as Samsung Galaxy S10. With this Samsung has recently launched its new smartphone, named as Samsung Galaxy A7(2018 edition) which have full of features and specifications in it.
As said above Samsung has been making very great smartphones in the market which vary from a high flagship to mid-range smartphone, basically, it takes care of the market budget and of the people so that they could also have some feature of Samsung. The new smartphone of Samsung, the Samsung Galaxy A7(2018) is embedded with completely nice features and good specifications. As you all must have compared the Samsung series smartphone, they have two mid-range series, one is the "J" series and other is the "A", this series is known as the most premium ranged series by Samsung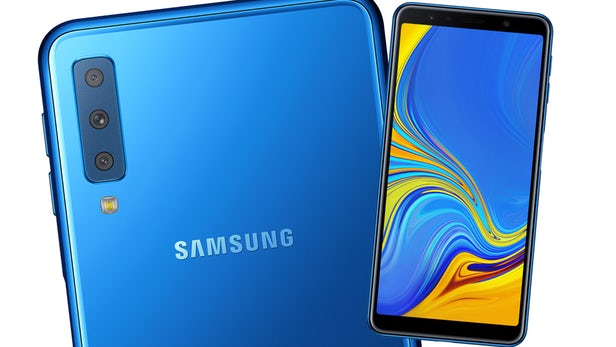 Design of Samsung Galaxy A7(2018)
As the technology is getting better generation by generation, the screen display is getting more wider, you can also say that getting more edge-to-edge but one thing which was being seen in the Samsung A7 is that it has Bezels on the Display but somehow it looks gorgeous. You must be thinking that why the A7 is cheaper, the reason behind this is that it has bezels in it and yes the curved edge doesn't need much money to process. Also if we go a little back, Samsung was all famous in making curved glass smartphones which somehow attracts the people as well.
Well the A7 has a 2.5D rear glass back which means as a glass Sandwich with a plastic frame acting as the filling. With this, it has most comfortable buttons(volume buttons and power button) and located on the right side whereas the SIM SLOT tray is on the left side. One thing which you all must have seen that we usually need power button to see the display, it just that fingerprint scanner do all the things(on the display). We can just simply say that by using the fingerprint scanner we can wake and unlock the phone. Today, all the smartphone which are emerging whether a mid-range smartphone or high cost all have a fingerprint scanner as well as the face-unlock system.
Okay, so at the bottom of Samsung A7, smartphone holds a headphone jack at the side, one MicroUSB port obviously and a single speaker which is loud and clear.
Display of Samsung Galaxy A7(2018)
Yes, it holds the better specifications, such as it has 6.0-inch FHD and a super AMOLED Infinity Display also the display of A7 is the bright, clear and vivid screen. This screen display is one of the best display and afterwards, these display features only come in the flagships or high-cost smartphones but when you get the same display in a mid-range smartphone then it would be the best decision to buy it. Also, one more thing is that this display has a resolution of 2,220 x 1,080 (FHD+), which is actually the default resolution for flagship devices like the S9 and Note 9 with a density of 411ppi.
The software of Samsung Galaxy A7(2018)
You might get surprised by the software of Samsung A7 because it gives the update all of a high range smartphone. This smartphone has an Android 8.0 Oreo and a Samsung Experience 9.0, absolutely this update is only available in the Samsung flagship but now this mid-range smartphone. Also, it shares the UI technology as well which gives the same look like Samsung Galaxy Note 9. Also, Samsung also reported that all the all the icons, setting and the theme is all same as flagships.
Performance of Samsung Galaxy A7(2018)
Samsung Galaxy A7 has many things which match with a great flagship, also the processor also matches at some extent, it has the 14nm Exynos 7885 processor with an octa-core CPU with two 2.2GHz Cortex-A73 CPU cores and six 1.6GHz Cortex-A53 cores. This processor is being the fastest if compared in the smartphone ranged, Also it took complete care of gamers which are most addicted to it and adds 7885 features an Arm Mali-G71 GPU which gives fast gaming experience, it's just like if you play the most popular game, PUBG and Asphalt 9 then you will get a perfect experience.
The A7 processor allows all the support, 2G, 3G and 4G support with a promise of reaching 600Mbps downloading speed. This smartphone is available in 2 model, one in the 4 GB RAM and other in 6 GB RAM model whereas it is also available in 2 storage(internal) option, one in the 64 GB and other in 128 GB. One thing which all the people focus on is that, do we have an option to expand the memory, therefore Samsung Galaxy A7 said it yes.
The battery of Samsung Galaxy A7(2018)
The battery configuration will somehow surprise you because A7 is a smartphone cheaper than S9 and still it has a better battery of 3,300mAh which is a good option. This battery will give you a complete day usage once fully charged. Also, Samsung completely said that it would be giving 5 hours of minimum battery life when playing 3D games
The camera of Samsung Galaxy A7(2018)
You will be surprised to have it because A7 has three cameras on the rear side, which go as follows. The first camera is used for normal photos, the second is majorly used for wide-angle shots and the third is for a portrait shots. It is good that the main camera has a 24 MP sensor and a f/1.7 aperture, which is best for taking shots in low-light. Whereas the second camera which gives wide-angle shots have 8 MP camera and the third camera which is for depth focus in of 5 MP. Although this all configuration is much better and will surely attract everyone when clicked a shot.
Also, one more interesting thing about the selfie lovers is that this phone gives a 24 MP front camera for them so that the user could have a perfect selfie at any spot.
After buying this Samsung Galaxy A7, one thing is completely sure that the user will get a good satisfaction from its camera and most importantly the processor which it has. If you wish to buy this you will surely get this for $319 but with 64 GB of storage and 4 GB of RAM.