Qualcomm Snapdragon X Elite Benchmarked Proves It Beat's Apple's M2 CPU
Published on October 31, 2023
Last week marked the debut of Qualcomm's most recent venture into the laptop SoC market, with the unveiling of the Snapdragon X Elite, the company's first laptop SoC design after its collaboration with Nuvia.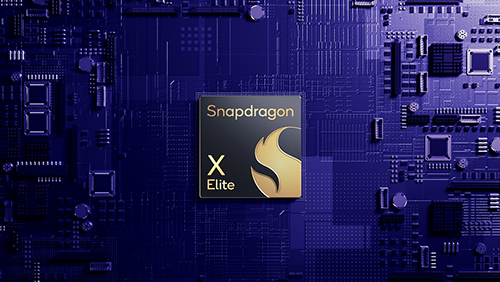 This new initiative introduces a rebranded effort backed by Qualcomm's own custom CPU core, named Oryon. The Snapdragon X Elite represents a significant step forward for the company, reflecting a substantial increase in investment in both engineering and marketing efforts for their latest Arm SoC, aimed at Windows laptops.
The goal is clear: to position the Snapdragon X Elite as a pivotal development for the brand, establishing a strong foothold in the profitable Windows laptop sector while also laying the groundwork for more advanced smartphone SoCs slated for release in 2024.
During the Snapdragon Summit last week, where this news was highlighted, Qualcomm's enthusiasm for the Snapdragon X Elite was palpable. They are keen to showcase its capabilities, especially given benchmark results that outperform top competitors from Intel, AMD, and Arm in certain scenarios. Despite the fact that consumer-ready devices featuring the SoC won't hit the shelves until the latter half of 2024, Qualcomm is keen to flaunt its achievements with this new chip as soon as it can.
To support their promotional efforts, Qualcomm also organized a private event for the press and analysts. Here, they showcased the prowess of the Snapdragon X Elite through reference design laptops loaded with popular benchmarking tools—some of which underscored the impressive performance figures highlighted in their keynote presentation. The session aimed to confirm that the company's reported benchmark results were not mere outliers but reflected the actual performance of devices that are currently operational.
Today's revelations serve as a preliminary glimpse into what's to come. Although journalists could watch the benchmarks unfold, there was no direct interaction allowed with the laptops themselves, preventing any independent verification of the technical intricacies of the Oryon core or the Elite SoC at this stage. Thus, while we can share our observations, we underscore that these results are based on Qualcomm's data, even as they strive for transparency through standardized benchmarking procedures.
Context of Competition: The Significance of Timing
Qualcomm's rush to disclose numerous benchmark outcomes is a blend of company pride and strategic timing. It's a rare occasion when a firm can flaunt an SoC built around a bespoke CPU core, crafted by engineers who have contributed to Apple's high-performing A/M series chips and bring to the table their collective expertise from earlier endeavors. The formation of the Nuvia team nearly four years ago made headlines for its potential to shake up the CPU core landscape. Although Qualcomm's subsequent acquisition pivoted the focus from servers to mobile devices, the disruptive potential remains.
In particular, Oryon's fresh high-performance CPU design is one of the most captivating narratives in the tech hardware arena at the moment, rivaling the buzz around Apple's M1 chip introduction. If the Snapdragon X Elite delivers as promised across CPU, GPU, and NPU performance, it will certainly raise the stakes. Thus, Qualcomm is exceedingly keen to demonstrate the hardware that will underpin their next-gen laptops, smartphones, and automotive designs.
The timing of revealing the Snapdragon X Elite and releasing benchmark statistics is also tactically important for Qualcomm. They aim to shape the conversation around their SoC immediately, preferring it to be compared to the current market contenders without delay.
However, the gap of more than half a year before retail devices featuring the chip are available implies that today's competitors, such as Apple's M2 series or Intel's Alder/Raptor Lake variants, won't necessarily be the yardstick against which the Snapdragon X Elite will be measured once it launches. Everyone in the space will likely have introduced new chip generations by then. Thus, while Qualcomm's SoC may be primed and ready now, the true test will be how it fares against the imminent innovations from its rivals.
Furthermore, this preview serves another purpose for Qualcomm: it's a strategic opportunity to attract OEM partners for their new chip. Past iterations, like the 8cx range, despite incremental improvements, haven't seen widespread adoption, with only a few devices sporting the latest 8cx Gen 3 chip. With this in mind, Qualcomm is aiming to reverse this trend by garnering more OEM support for a chip that's poised for a much more significant launch.
A Closer Look at the Reference Laptops: Variations in Size and Performance
In terms of demonstrating the Snapdragon X Elite's capabilities, Qualcomm presented two distinct reference design laptops. Labelled "demo config A" and "demo config B," these prototypes resemble the size and style of Apple's 14-inch and 16-inch MacBook Pros. While Qualcomm has no plans to enter the laptop market themselves, these reference designs are instrumental in showcasing the potential of what OEMs can achieve with the Snapdragon X Elite.
The reference models vary not just in size but in performance capabilities and thermal design power (TDP) targets. The higher-performing "A" variant boasts a Snapdragon X Elite chip with peak clock speeds of 4.3GHz for two-core turbo and 3.8GHz for all-core turbo. Its counterpart, the "B" configuration, has a lower clock speed of 4.0GHz for two-core turbo and 3.4GHz for all-core turbo, and features TDPs of 80W and 23W respectively. The lower TDP of the "B" model skirts the threshold for passive cooling, but in this case, Qualcomm has opted for active cooling solutions for both.
In a noteworthy mention, both laptops are paired with LPDDR5X memory, clocking in at 8533Mbps per pin, surpassing other laptop chips in the market that currently max out at LPDDR5X-6400. This gives the Snapdragon Elite X systems a significant advantage in memory bandwidth, a crucial factor that particularly benefits GPU performance.
While there wasn't an opportunity for hands-on interaction with these machines, they served their purpose in illustrating how the Snapdragon X Elite performs under various power constraints, maintaining impressive performance even when dialed back in power usage.
Benchmarking the Snapdragon X Elite: Official Figures vs. Real-World Performance
Not only did Qualcomm furnish the laptops for demonstration, but they also provided their official performance metrics for the SoC. These figures echo the results shared in their keynote presentations and set the expected performance bar for their hardware, with the demo laptops at the event validating that these benchmarks are achievable in practice.
A key detail worth noting is that most of Qualcomm's official benchmark data was reportedly compiled by Andrei Frumusanu, a former AnandTech expert, explaining why the official numbers are averages from multiple benchmark runs, a rigorous statistical method not commonly offered by other manufacturers.
The benchmarks included a variety of tests like Cinebench, Geekbench, UL's PCMark 10 Applications, Procyon AI, and 3DMark Wildlife Extreme, along with Kishonti's GFXBench 5.0 Aztec Ruins. Some of these tests are more frequently seen in reviews for smartphones and tablets rather than laptops, which may seem unusual. However, Qualcomm's choice is strategic, aiming to present the Snapdragon X Elite in the best light by using benchmarks that have been thoroughly optimized for both Arm and x86 architectures, ensuring that all tests were run with native Arm binaries, sidestepping any x86 emulation.
Here's what happened This Week in AI: #SnapdragonSummit edition.

🔵 Designed to deliver intelligent on-device #AI experiences, Qualcomm announced @Snapdragon X Elite — the most powerful computing processor it's ever created for the PC: https://t.co/IpJd5CaPjL

🔵 A true titan of… pic.twitter.com/5s92Wzt9Ln

— Qualcomm (@Qualcomm) October 27, 2023
Qualcomm let us see live benchmarking of its highly touted Oryon CPU and Snapdragon X Elite platform.

The results hold as it is currently one of the fastest and most efficient CPUs on the planet, and doubly so for Windows laptops.https://t.co/w2BjOzGrfM #snapdragonxelite

— Daniel Rubino (@Daniel_Rubino) October 30, 2023
Contextualizing the Figures: Snapdragon X Elite Versus the Competition
Setting aside the credibility of Qualcomm's stated figures, they're not very telling in isolation. A benchmarking framework is required to put Snapdragon X Elite's performance into perspective.
Qualcomm's unconventional selection of benchmarks poses challenges for direct third-party performance comparisons. AnandTech typically doesn't focus on laptop reviews, and neither do its affiliate sites such as Tom's Hardware, Laptop Mag, Tom's Guide, and TechRadar, which largely do not employ these specific benchmarks—some of which, like Cinebench 2024, have only been around for a short while.
This leaves us with a dearth of comprehensive and uniform data for a reliable performance comparison. We are thus limited to Qualcomm's self-presented performance charts, showcasing comparisons with select systems from Intel, AMD, and Apple.
In particular, Qualcomm's data encompasses a 2023 Razer Blade 15 (Core i7-13800H) with no TDP restrictions, a 2023 Asus ROG Zephyrus G14 (Ryzen 9 7940HS) capped at an 80W TDP, and a 2022 13-inch MacBook Pro with an M2 chip. Remarkably absent is Intel's flagship mobile processor, the Core i9-13900H, although AMD's best offering is included. The M2 in the MacBook Pro represents the base model chip, without the additional CPU and GPU cores found in the higher-tier Pro/Max models of the 14-inch and 16-inch MacBook Pros.
Additionally, there's a noticeable gap in data for Qualcomm's own predecessors, like the Snapdragon 8cx Gen 3.
At their keynote, Qualcomm highlighted their Cinebench 2024 outcomes, a reasonable focus given the benchmark's popularity. Advancing in single-threaded capability is a commendable feat, considering the challenge of improving instructions per cycle and the diminishing returns on increasing clock speeds.
The multi-threaded scenario presents more disparity, with many rival chips having only 8 CPU cores. For the 13800H, a configuration of 6 performance cores and 8 efficiency cores may place it at a disadvantage in raw CPU performance tests.
Geekbench 6.2 presents a more compact range of outcomes. Qualcomm claims superiority in single-threaded performance for both Snapdragon X Elite configurations. However, as Geekbench aggregates various subtests, it's challenging to determine comparative performance for specific tasks. The multi-threaded scores widen but not to the degree observed in Cinebench.
Turning to GPU benchmarks, GFXBench Aztec Ruins stands out as an unconventional inclusion for a laptop benchmarking set, primarily tailored for smartphones and being five years old.
Qualcomm leads in this benchmark. Yet, the peculiar nature of this benchmark in the PC realm raises questions about optimization by Intel and AMD's drivers. The M2 chip provides a more relevant point of comparison.
Contrastingly, 3DMark Wildlife Extreme is better suited for GPU benchmarking, even if it's also designed with mobile devices in mind, using the "extreme" setting for more intensive testing. Here, the focus is typically on the graphics score rather than frame rate, making it not an outright GPU benchmark.
Qualcomm has recently emphasized its integrated GPU offerings in smartphones, often surpassing Apple's latest mobile SoC, which makes their lead here somewhat expected. Still, it's somewhat surprising that they do not outstrip the M2 by a larger margin.
For Windows PCs, benchmarks using actual Windows games would be more indicative of real-world performance, despite the need for x86 translation in Qualcomm's case.
Lastly, Qualcomm's UL Procyon AI benchmark slide merits mention. These results are somewhat skewed without the proper context: only Qualcomm chips utilize an accelerated (NPU) backend, whereas Intel and AMD rely on the standard Windows ML CPU backend.
The scenario isn't Qualcomm's responsibility—the Intel chip lacks a comparable NPU, and AMD's NPU isn't sufficiently accessible for this benchmark. Their results, though not incorrect, highlight the advantage of NPUs over CPU processing. By the time Snapdragon X Elite is available, NPUs should be a standard feature among major hardware providers.
Final Reflections: A Promising Preview Qualcomm's preliminary benchmarks offer a tantalizing glimpse into what their upcoming laptop SoC might achieve. Although the timing is a bit off, as rival next-gen hardware is imminent, Qualcomm's discussion in the same context as M2 or Raptor Lake represents a significant stride from their previous Snapdragon 8cx SoCs, which fell short in performance battles. The Snapdragon X Elite appears poised to elevate Qualcomm's standing considerably.
Still, much remains unknown about the Snapdragon X Elite SoC and its Oryon CPU cores, particularly concerning its architecture and x86 emulation performance. Nevertheless, the progress Qualcomm has shown to date suggests the Snapdragon X Elite is a development worth monitoring as we approach its anticipated mid-2024 launch.