OnePlus 7 Pro Receives The Security Update Before Google Pixel
Published on August 2, 2019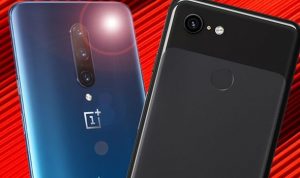 OnePlus has been setting the smartphone world on fire for a while, and its new release of the OnePlus 7 Pro has set a new benchmark in the industry with all the latest features.
It is seen that Google Pixel models get the updates early no matter whether it is a small update or a big update. This time the owners of OnePlus 7 Pro have a chance to win the update race against Google Pixel owners this month. OnePlus has already started giving the security updates for its Android system from the very starting of this month.
These security updates are not yet received by the Pixel owners. OnePlus decided to give monthly updates apart from OnePlus 7 Pro's bimonthly updates. The new security update in OnePlus 7 Pro came out as OxygenOS 9.5.11 update. If you are still wondering what OxygenOS is, then here is your catch, the OxygenOS is the proprietary Android-based operating system One Plus devices use. The new update of the OnePlus 7 Pro includes,
• Optimized adaptive brightness
• Optimized screen sensitivity for games
• Reduced accidental notification bar touches while on a phone call
• GMS update 2019.06
• Other bug fixes and tweaks
Here are the steps to update your OnePlus 7 Pro security update.
• On your OnePlus 7 Pro, go to Settings > System >System Update
• Tap "Check for Updates"
• If an update is available, tap "Download and Install Now."
• Wait for the update process to complete
If you have not received any update yet from OnePlus and you don't want to wait, here's what you can do:
• Download the update file to your PC.
• Connect your Oneplus 7 Pro to your PC via the USB charger.
• On your Oneplus device, go to Settings > System > System updates.
• Tap the settings icon in the upper-right corner, then tap "local update."
• Navigate to the updated Zip file, select it, then tap "Install."
Follow any remaining instructions; then the update will begin. Your device will reboot once the upgrade is complete.