Nimbus Data unveils ExaDrive DC100 with 100TB of 3D flash memory
Published on March 20, 2018
Sometime last month, Samsung took the wraps off its record-breaking 30TB SSD drive. It had claimed the throne in the market of all the SSD storage drives. It appears that Samsung will now be dethroned. If reports are believed to be true, Nimbus Data has taken the wraps off the ExaDrive DC100.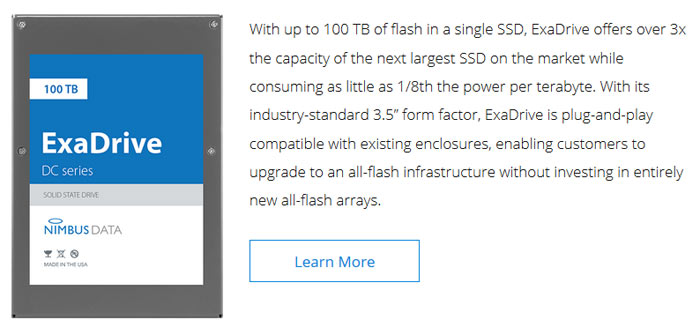 The storage box includes 100TB of 3D flash memory, which comes in a standard size of 3.5-inch SATA form factor. In other words, users can quickly pack up 20 million songs (5MB per song) in the small device. The device is small enough to fit into an individual's home PC. Unfortunately, the drive is not available for sale as yet. There is no word on when the memory drive might be possible for launch.
According to the information provided by Nimbus Data, the ExaDrive DC100 drive is targeted towards servers. These servers are created with the focus on capacity over everything else. The factors include performance (500MB/sec). According to a report published by Engadget, "A data center could hold 100 petabytes of data in a single rack instead of needing large swaths of server room space. That's helpful for cloud services, AI and other technologies that may need massive amounts of data."
There is no word on what the pricing of the data storage will be. However, rumors suggest that the DC100 will ship in summer. The pricing will be comparable to other business-grade SSDs "on a per terabyte basis."
In other words, the price of the storage factor will be much more. It might cost tens of thousands of dollars, for all we know. This move is believed to be enough to give pause even to those companies that can afford it. "While the drive should be trustworthy enough, that's a lot of money (and a lot of data) to lose if one goes bad," notes Engadget.