Microsoft adds ransomware protections to OneDrive, Outlook
Published on April 6, 2018
Is your PC infected with ransomware? If it is, then it won't take long for the infection to spread from file to file. The problem will end up encrypting all the data involved in the matter. "If your PC is infected with ransomware, it will spread from file to file, encrypting them until you pay the bad guys for the digital key," an online report suggests. However, the ransomware can also end up spreading to the rest of your files. Microsoft's new OneDrive protections are specifically designed to address that issue. Earlier on Thursday, Redmond technology giant, Microsoft announced the ability to "roll back" the files which were stored in OneDrive. The company reportedly stored up to a month-old file in the system.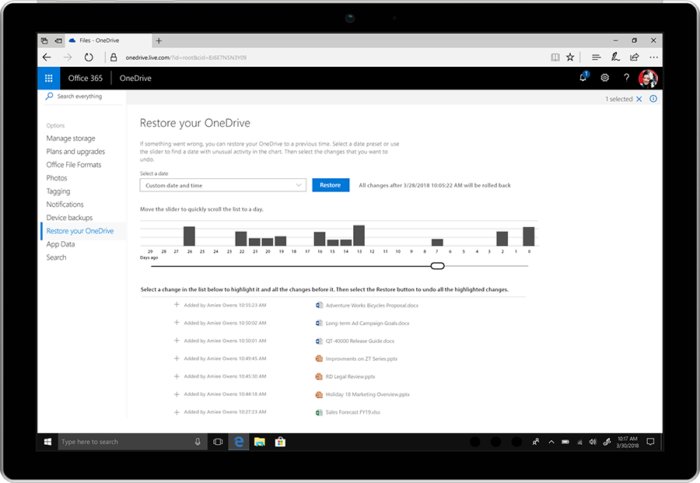 The company ended up helping users return wherein they were no longer infecting with malware. The company further stated that the system is designed to help users make use of automated threat-detection systems with the objective to figure out when is it that the ransomware started infecting the files. Following which, the company would send users alerts via their respective smartphones about the future infection. According to a report published by The Verge, the Redmond technology giant would be announcing additional protections for sharing as well as reading purposes for their files.
These files are typically found to be stored on OneDrive and are emailing through Outlook.com. For those who aren't aware, Outlook.com is a web-based version of Outlook that includes information about encrypted email information. However, there's a catch to this as well. Users will have to subscribe to the Office 365 version, which would go on to include the company's subscription service. This move would allow users to gain access to different services such as PowerPoint, Excel, Word and other Office applications.
According to online reports, the Outlook perceptions have not yet been made available to the Office 365 version of Outlook as yet. "With the growing presence and sophistication of online threats like viruses, ransomware, and phishing scams, it's increasingly important to have the right protection and tools to help protect your devices, personal information, and files from being compromised," Kirk Koenigsbauer, the corporate vice president for Office, wrote in a blog post.
What does this mean for you?
Microsoft's latest innovation has a surprise planned for its users. Through smart-surfing and other good Internet practices, one can easily protect their systems against potential malware. The protection also includes ransomware. If ransomware ends up infecting your desktop, then it will affect other PCs on your network as well. This setting contains persistent connections to cloud storage as well. It is advisable for one to erase all the files and refresh the PC desktop. However, it would mean that you would lose all your data. Microsoft has a solution for this problem. The company is pitching its OneDrive as the ideal solution. Users can upload all the critical files, and before the PC is infected, the user can get rid of the malware.
Cloud Protection in One Place
Microsoft has reportedly adapted its Files Restore capability in the latest system. Previously, one OneDrive was promoted in the form of Business. However, it has now been brought into Office 365 subscription for Home users as well. "Not only will Microsoft detect an attack, but you'll be notified by any channels that Microsoft would normally use to send you messages: email, a popup notification, and more," notes an online report. Following which, users will enter the OneDrive setting accordingly and roll back to a day earlier.