Learn best feature of Amazon Echo Dot
Published on November 28, 2018
Smart speakers are the gadgets which are used nowadays with a great efficiency and loved by the youth as well as users. Till date no problems have been seen about the smart speaker rather they were also enabled with new feature and helpful to its user. Smart speakers have their own standard by which they work, for example, they just need a voice command and the task will be completed and regarding this, you can also call the smart-speaker as their speaking robot.  There are many fully featured smart speakers in the market, yes we are talking about the Amazon Echo Dot.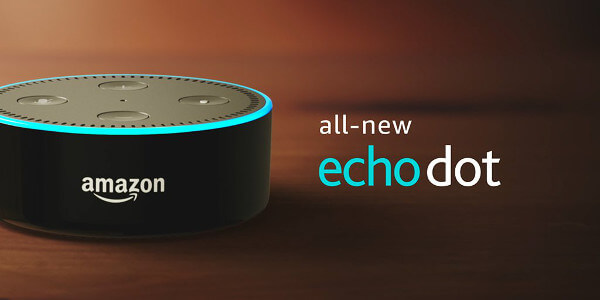 You must have got the last updates and record of Amazon Echo Device on the earlier sale, Black Friday Sale in which it was available for a low price. If you will go with the stats then you will find that the Amazon Echo Dot had a great sale on that day but what for those who have purchased the  Amazon Echo Dot but doesn't know how to use it. For them, we will help them step by step so that they could use their Dot more effectively and at every point in time.
Let's get started with the features of Echo Dot, the very basic feature which is enabled in this is that you are eligible to add weather and most probably you can also find a correct score of matches(football, cricket etc.) With all this basic feature many new were also added such as you can also call people by giving a simple command and also the very interesting that the user can place an order on Amazon as well.
One thing which will be needed is that you must have an Amazon Alexa app both for iPhone and Android so that you could have your tricks to use in Echo   Dot.
Let us begin with the tricks for using it.
First comes the Calling feature,  just imagine that how will it help when you just have to give a voice command to your Echo Dot that calls him/her. Yes this feature is added in the Amazon Echo Dot to help the user and save their little time, but also there are some of the procedures to follow, the first thing which is very important is that you should have the complete contact list in your account.
Below is the procedure
First, you have to open the Amazon app, then you just have to click on the menu option and select the contacts button. The next step will ask you about the list of people you wanted to select, once it is selected then you just have to ask Echo Dot to call that person(by giving voice-commands). Also, you can add the name of the person on the list, so that it could catch and operate that too. Also with this, you can use this device like WhatsApp, it also helps you to record voice commands and send it to the person in your contacts. Using Alexa and keeping it for use will make your life so efficient,
you just have to follow some steps such as
"say, Alexa"
Call the xyz person
You can speak your message and the Echo Dot will ask you for confirmation
" say yes"
Also, you can also use your Echo Dot device if someone has messaged(
voice command), and speak "listen to my recording"
Also, the best thing which can be done is that if you have any device of Echo Dot in your house, then they can be also used as an Inter-com home. you can also communicate with your partner sitting in the next room if you have more than two Alexa device. Also the very important thing, it can be used, for example, if your kids are sleeping in the next room, you can give a voice command to second Alexa device "get up children you are getting late" somehow like that. This feature is the best one to date which will attract the users the most.