Review: Jabra Elite 75t True Wireless Earbuds Better Than Its Predecessors
Published on December 7, 2019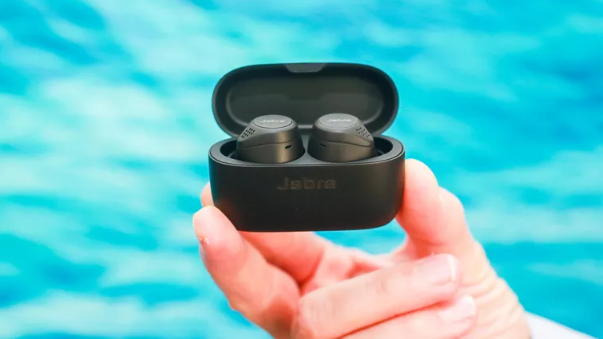 Jabra got the breakthrough when it released the Elite 65t earbuds. 75t has best audio experience with strong connectivity, smooth design which insured that these earbuds were a winner in its category and the best AirPods alternate. With its latest flagship Elite 75t, Jabra now looks like to challenge Apple AirPods. It offers longer battery life, an improved design, Adaptive listening modes, having better performance, these buds are true successor to their predecessors.
To be frank, the Elite 75t is a lightweight pair of wireless headphones that improve your listening experience and provide great features and inside customization.
Design
Without compromising on specs, Jabra reduced the size of Elite 75t by 20% as compared to Elite 65t. You'll get three sets of ear tips, a short USB-C charging cable and a charging case inside the box. Two colors, black and titanium black are offered by Elite 75t. These buds are IP55-certified which indicates water and dust resistant feature. They can be used to work out, but they are really made for leisure.
Jabra came up with more cutting edge engineering than its previous model of Elite series by shortening the tip of the earbuds where the mics are located. Because it has a magnetic closure that makes it seamless to open and close the lid, Jabra made the charger case smaller and more practical. The plastic case has a soft, smooth feel to it, even if it lowers the appearance of the soft rubber and reduces chances of scratches.
Controls
By integrating several functions into two physical buttons, Jabra modernized the Elite 75t controls. Each earbud is split between the playback, the volume and the features. The left earbud button offers 1x press to enable/disable HearThrough mode, 2x press to forward track, 3x press for previous track, and long press for lower volume. Right earbud has other controls like play/pause music and answer/end calls by pressing one time, enable digital assistant by pressing two times, and increase volume using long press.
Audio Quality
Elite 75t clearly knocks out its predecessor Elite 65t in audio quality and listening experience. Thankfully, for tuning audio the Sound+ app is impeccable.
For the healthier listening experience, I transitioned into melodic recordings. Presley's songs were a peaceful listen that sounded great on various presets. Justin Bieber's "Baby" had me feeling the passion in the voice of singer with the prominent beats. Elite 75t gives its best when it is used to listen podcasts and interviews, especially. It stunned me how loud and perfect the journalists sounded. I saw various news clips. It was more impressive that these buds reproduced background noises very well. I could hear off-camera conversations and shoes screeching on the playground during pre-game sessions.
Special features and Sound+ app
Companion app by Jabra offers a range of features that let us personalize the audio experience with great satisfaction. There are six different music presets Default, Bass Boost, Energize, Speech, Smooth, and Treble Boost available on home screen. There are toggle settings for both listening modes which are Soundscapes and HearThrough, and also a custom equalizer.
HearThrough is the best listening mode you will experience on. It allows enough noise to distinguish sounds and to clearly capture voices. It is also great that the mode turns on automatically when music is paused. Setting menu has more features, but the most of them are just switching options such as HearThrough, Auto-Pause and Sleep Mode.
The Elite 75t has also have the digital assistant support for Alexa, Google Assistant, and Siri. Even after the update, it does not work properly on all devices. Google Assistant and Siri barely recognized my voice on my IPhone 8 and MacBook Pro.
Noise cancelation
The Elite 75t is not as strong as ANC. It doesn't have a bad comfort award for those people who like hearing their music with very little or no background noise. Buds have four-microphones like Elite 65t, but this time Jabra moved the mics. Two mics are available, one on the front and one on the back. It should also be noticed how well these buds are isolated from noise. It will not silence environmental noise entirely, but it can muffle 80% of unwanted noise. The low level of sound leakage is another impressive thing.
Battery life
Jabra rates 8 hours of battery life for 75t, which is actually about 7 hours. It offers more fun times than Elite65t's 5 hours battery life and Plantronics BackBeat 5100's 6.5 hours, but it's always shorter than category leaders such as the 9 hours long battery life of Powerbeats Pro. All in all, the buds were long enough for me to enjoy daily walks with music and YouTube videos. I was able to listen for about 3 hours every day before putting them into the recharge case on fourth day.
Call quality and connectivity
Loud and crisp calls can be made from the Elite 65t series but I don't know why Jabra couldn't see it go wrong in case of the Elite 75t. Each call that I made before the update sounded very low, and it was max volume with the buds and my smartphone. With the update, nothing has changed.
Jabra's main fix was to reinforce the connection between the left earbuds. It is no longer falling out on random. Range of Bluetooth is more stable and longer. My previous earbuds dropped signals if I get them out of 25 feet range, I am now able to hear wirelessly by up to 35 feet.
It was a breeze to pair with portable devices. Multi-point technology enabled the connection to two devices at same time and made it easy to switch without unpairing between audio sources.
Final Verdict
The Jabra Elite 75t t is a decent Elite 65t upgrade. A simpler model and increased battery life are what real wireless search users are aimed for. The buds look sexy, comfortable, and the charge case is as handy as they: small, powerful and full of portable strength. They are very comfortable.
Read Next: Hands-on Review: Tap Strap 2 Wearable Keyboard And Mouse