Here Is The Winner Of The 2019 Fortnite World Cup
Published on August 1, 2019
When it comes to the gaming world, the first name that comes up in mind is Fortnite.
Fortnite is one of the most played games in the entire world and the main part in taking the game onto a global level is the players. The craze of the game led to the world cup which was organized recently in the Unite States. The event was held in the Arthur Ashe tennis stadium in which more than 10,000 people attended the event and more than 180,000 viewed the world cup event online. The world cup featured 100 players who fought against each other until just one remained. Even celebrities were present at the event which was named Pro-Am i.e. professionals versus amateurs.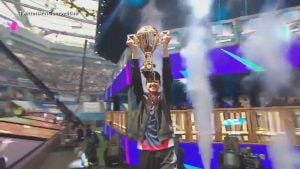 The winners of the Pro-Am competition were Airwaks and RL Grime. Airwaks is 24-year-old from ex-League of Legends professional player from Switzerland, who wanted to go for the Fortnite World Cup glory. The Fortnite World Cup was won by 16-year-old Kyle Giersdorf of Pennsylvania, who took home the prize of $3 million after winning the honor. His gamer player name is 'Bugha', he was the last man standing after defeating 99 other players on Sunday. The last round of the world cup was organized at the U.S.T.A. Billie Jean King National Tennis Center in New York.
Fortnite has currently more than 250 million registered players and out of 250, around 40 million players participated in the qualifiers round for the World Cup. The tickets on sale were worth $50 to $150. In an interview with Kyle Giersdorf on Monday, he said that he felt elated after the event, "I definitely went into the competition aiming for at least top 20, but after that big first game I definitely thought I could win". He played only six games which lasted for 23 minutes.