Google's Search Bar Will Now Fix Your Typos and Bookmark Your Search
Published on October 19, 2023
Google is introducing some modifications to how its search and address bar — often called the omnibox — functions in the Chrome browser. Each change might seem minor on its own, but collectively, they indicate a rather surprising trend: Google is streamlining the process of navigating the web, potentially reducing the number of Google searches one makes.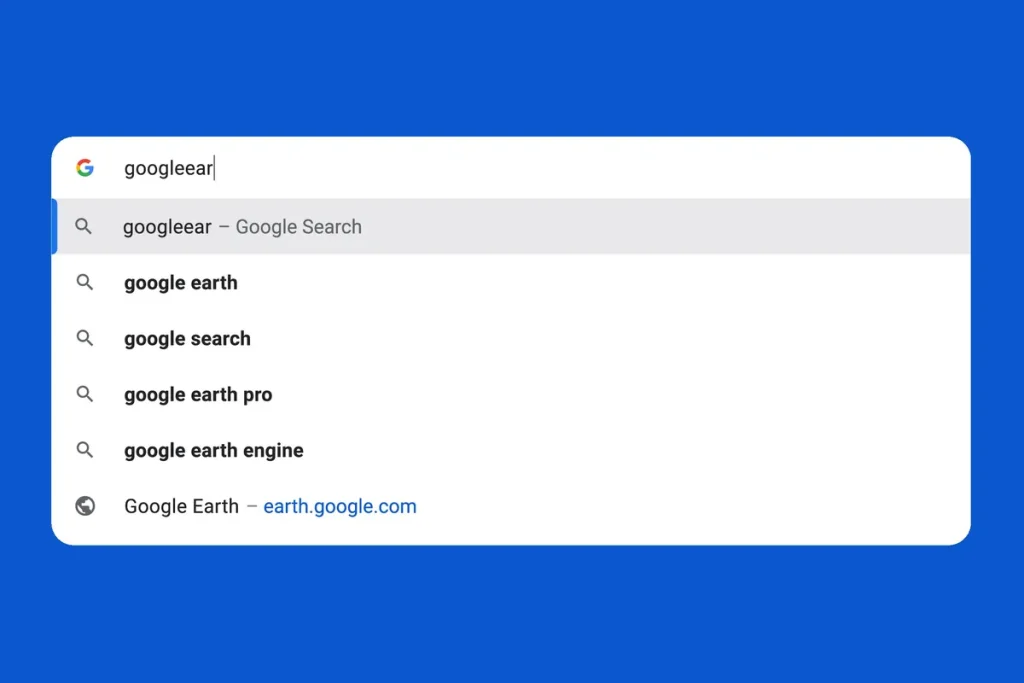 Whether you're using Chrome on a desktop or mobile device, the browser will now aim to rectify any URL mistakes you make. So, entering mistyped URLs like thevrege.com or ninteendo.com will result in autocomplete suggestions aligning with the correct website rather than whatever the misspelled domains lead to. The intelligence of the omnibox's autocomplete is also enhanced, predicting the destination website from keywords instead of simply approximating the URL you're entering. For instance, keying in "flights" might prompt Chrome to suggest Google Flights rather than just showing search suggestions that contain the word. And this isn't restricted to Google's own sites. Additionally, Chrome will now comb through your bookmarks to find sites and files that match your input.
The enhancements are rooted in your browsing history and bookmarks, making Chrome more tailored to individual users. However, one significant change affects the broader internet: typing the beginning of a renowned website's name will display its URL in the suggestions, enabling you to navigate there directly. This feature has been gradually introduced and should be accessible to all users by now.
Chrome announced 5 new address bar updates, including "Suggestions for popular sites"

E.g. Chrome will suggest a popular website based on what you are entering in the address bar. Eager to see what Chrome considers "popular". 🙂 https://t.co/IaZ3uYvysA pic.twitter.com/jDhQIGU8V9

— Glenn Gabe (@glenngabe) October 18, 2023
Google is improving its search experience on Chrome to try and better understand what you're looking for… autocorrect and text prediction taken to the next level. https://t.co/scPeD3jJ9l

— Mark Hachman (@markhachman) October 18, 2023
Although these updates are beneficial for web navigation, they might mean users will be conducting fewer Google searches. Historically, many internet users accessed sites like Facebook by searching for its name on Google and then selecting the first link. Misspelled searches also contributed to a large portion of searches. Previously, such features were avoided by the Chrome team as they could potentially decrease daily Google search counts.
But the scenario has shifted. Google currently faces a significant antitrust lawsuit, accusing it of monopolizing search and exploiting this to the detriment of consumers. Furthermore, as Google integrates AI via the Search Generative Experience — something CEO Sundar Pichai believes is the future of search — each query now costs more since it requires querying their extensive language models. As many navigation-based searches lack advertisements, Google might be inclined to steer users away from its results page. Ultimately, ensuring Chrome remains the primary browser, and hence preserving Google as the default search engine, might justify some feature compromises.
Coupled with these shifts, Google is adjusting the omnibox's visual design for clarity and speedier loading times. In Chrome, there seems to be a subtle downplay of the significance of the search results page, focusing more on enhancing the address bar and suggestions dropdown for swifter web navigation. This could pave the way for sponsored autocomplete suggestions, but that's a concern for another time. The essence of online searching is evolving, and even giants like Google are rapidly adapting.