Google Go app tackles slow internet speeds in Africa, here's how
Published on April 13, 2018
Google has reportedly gone on to introduce a new capability for its Go application. The latest ability reduces the amount of data that users need to display. In other words, the use goes on to reduce the amount of the data required to present search results. The changes have reportedly been made by over forty percent. According to a note published by CNET, the search giant will be releasing a new application that is specifically intended to help internet users in Africa. The primary objective of the latest capability is to ensure that internet users in Africa also overcome poo connectivity problems. More times than often, internet users end up spending a lot of money when they want to gain direct access to fast internet. However, the same is not necessarily applicable in Google's Go case. As far as the internet users in Africa are concerned, they can opt for higher connectivity speed by spending very little data. Users need not worry about paying a lot of money on internet connections to ensure that they enjoy fast speed. Google designs the Go applications in such a way that it displays all the essential features at the cost of very little data.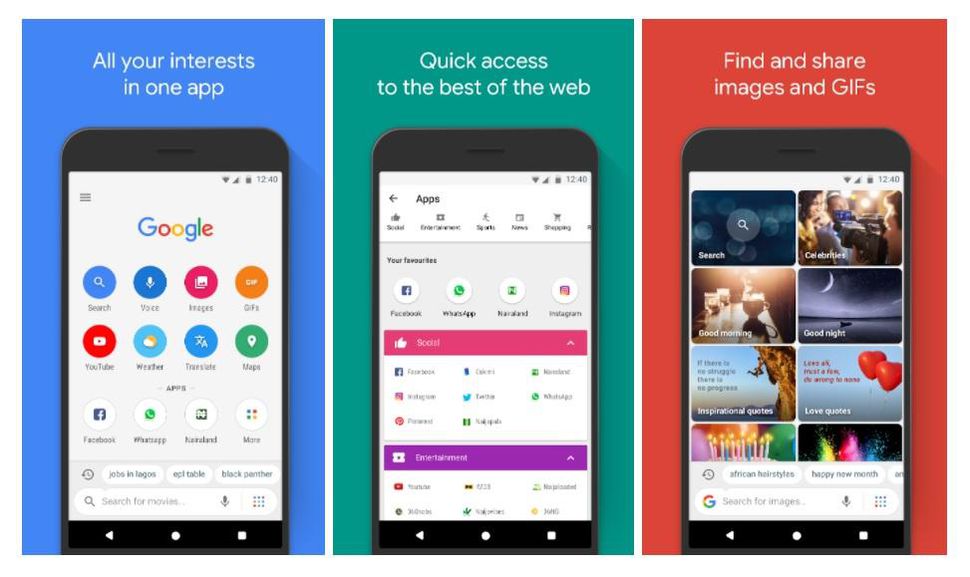 According to a report by CNET, the Google Go application goes on to reduce the amount of data that is required to display results by over forty percent. Furthermore, it allows previous searches to be accessed offline as well. The search giant does not necessarily have to charge the users for this service. The service can be availed at a low cost as well. The company went on to confirm the news in a blog post. Google's Voice search has also been updated. The search now works better on slow connections, including 2G internet speeds as well. It is safe to say that gone are those days when one would have to struggle with internet connections.
"More and more Africans are coming online every year, using mobile phones as their primary and sometimes only internet device," Christina Lin, Facebook products marketing manager for sub-Saharan Africa, said in the post. "But weak data connectivity, high data costs, and low RAM or storage space often make it hard for people to get the most out of the internet. Google Go provides a lighter, faster way to search," she wrote. According to their official blog post, the Google Go application is perhaps the company's latest effort into expanding its internet reach. The company does not shy away from embracing the fact that they have wanted to push the internet access to the sub-Saharan African regions as well.
Google is not the first one to enter this market. Facebook has reportedly already been rolling out numerous initiatives. The social media giant's primary objective has been to bring low-cost and free broadband to hard-to-reach areas. Sometime last year, the US-based technology giant went ahead to announce new plans. These plans went on to reveal the company's objective, which is to teach 10 million people in Africa a set of new online skills. The program will reportedly be taking place in the span of next five months. The employment rate is expected to go sky-rocketing after the training is over. The Google Go app, at the moment, already operates on several devices that run on the latest Android 4.2 (Jelly Bean) version. The software operating system is available in over 26 different sub-Saharan African countries. Apart from this, it is stated that the software operating system will arrive pre-installed on all of Android Oreo (Go edition) smartphones. In other words, the latest version will be available in stores soon enough.