Facebook launches Facebook Watch worldwide
Published on September 7, 2018
In the latest announcement from the company, Facebook has announced its new app Facebook Watch. This is a social network's home to the original video content with the answer to the YouTube. It seems that the Facebook is now going to give some competition to the online streaming giant.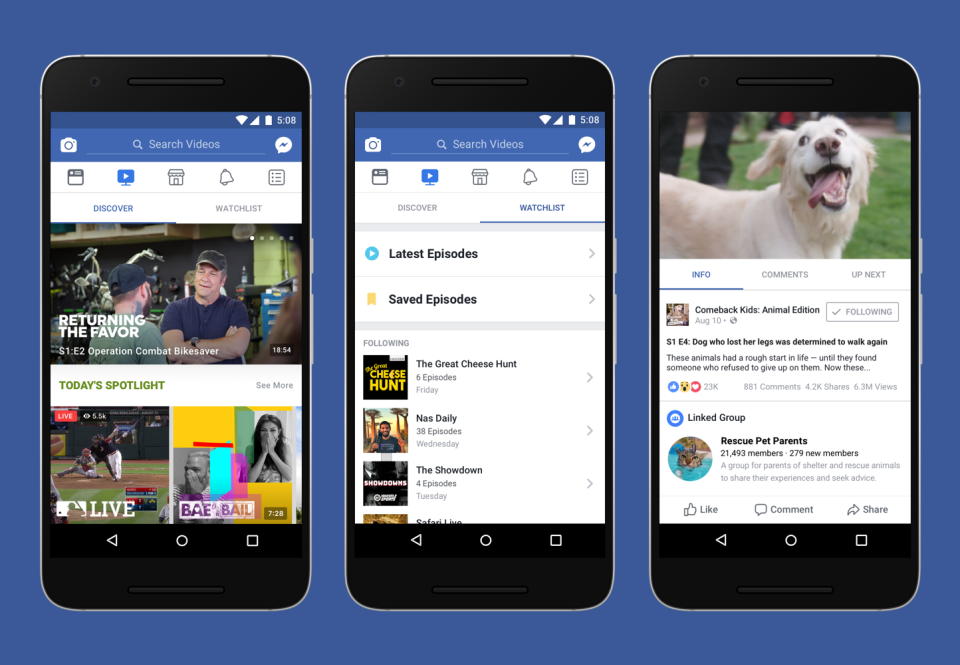 This new Watch tab has been first launched during the last August 2018, but it is only for the US. It has now got about over 50 million monthly viewers who watch the minimum of over a minute of video in the app. As per Facebook, the total time spent is said to be spent on viewing the videos in Watch is now increased to about 14x.
The company said by adding that it will add more social features to Watch over the past year. This includes the participatory viewing of the experiences which are like the Watch parties, Premiers or an HQ Trivia.
The Watch also offers some of the basic tools for the discovery which is done while they save the videos by the users for the later viewing. It let the users customize the feed of the videos which is from the Facebook pages that the user follow.
The Facebook said that this Watch would be available internationally, but it will be introducing Ad Breaks so that it will be more publishers. They can be either mid-roll or pre-poll ads or even some images which is below the video. The publishers can either insert the ads or can ads themselves will be used to automated the ad insertion features of the Facebook. The company has said that the about 70+ per cent of all mid-roll ads are said to be viewed to the completion.
These ad breaks are said to be now offering to the creators who will be publishing the 3-minute videos that can generate over the 30,000 1-minute views in total over the last two months.  It has got over 10,000 Facebook followers who all are in the supported country with the other eligibility criteria.
Today, they have done a global launch of the Creator Studio, where the Pages can get manage in the entire content library as well as business. This includes the ability to search across the library. This is done to view the post-level details as well as insights who all can able to manage the interactions which are spread across the Pages, Messages, Instagram, comments.
It is seen that the YouTube has also launched an updated version of the Creator Studio which is now known as YouTube Studio.