Apple is working on its keyboard problem of its MacBooks, suggests patent reports
Published on March 11, 2018
Apple filed a patent back on September 8th, 2016 but its image came out yesterday and here is detailed coverage of that explaining how Apple is working to replace its old type of keyboard with a new one to make it less annoying and operational.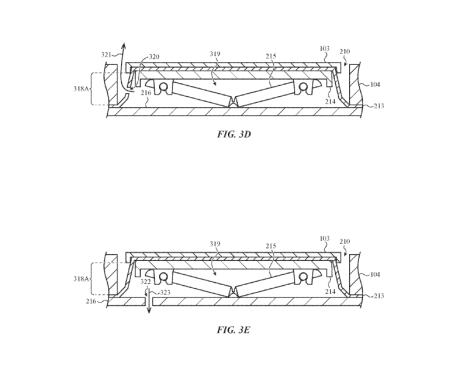 As reported by The Sun, the patent could be evidence that fixes for keyboard could be on the way for future versions. The keyboard the MacBook and MacBook Pro are super shallow as of now. When you press a key, it only moves less than a millimeter. While in comparison to a regular keyboard its wrong, a proper keyboard has a travel distance of 1.5 to 2mm, and even a fancy mechanical keyboard goes upto 3mm. This travel distance is one of a factor that decides how a keyboard feels to type on. Apple's shallow keyboards were introduced with MacBook in 2015.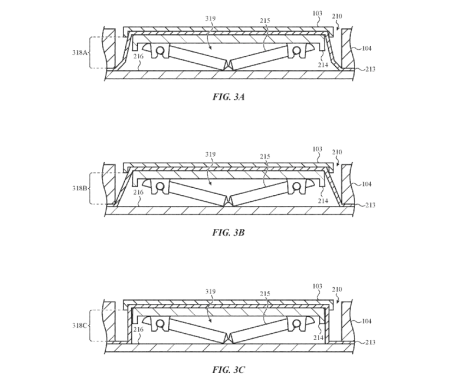 Now three patent images suggest the planning of Apple over the change of these shallow keyboard. Out of the three, one is to apply a membrane between the mechanism that moves the key and keycap. But this is quite common and has already been used by other brands and even by Apple too.
The second one image suggests the use of a perforated membrane which will appear to emit gas or air which each keypress, efficiently clearing the key of debris. And the third idea is to create an awning around the keycap that funnels debris away from the key switch.
So this is what Apple is planning to change with its keyboard mechanism. As the patent was filed in 2016, we cannot assure that whether these images go parallel with the plannings of Apple or not but this could be the working mechanism of Apple's future MacBooks.
Apple is also rumored to bring a new budget segment of its MacBook by the end of the running year or by the beginning of 2019. Apple tipsters have also confirmed that the company is working to introduce some cheap priced MacBook Air to make a high-profit graph in laptop category too. So we can expect that this change of keyboard might arrive in this budget-friendly MacBook Air series.