19-Year-Old Burns Her Neck After Using The iPhone's Generic Charger
Published on August 2, 2019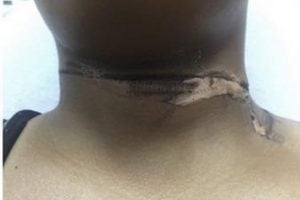 Chargers can be pretty dangerous sometimes, and when something like this happens, it can tickle the bones with fear. A recent incident came into notice when a 19-year-old woman's necklace got in contact with the smartphone charger.
It is highly suggested to keep your phones away from the bed whenever charging. The case report was also mentioned in the Annals of Emergency Medicine.
According to the journal, the woman was lying on the couch with the charger connected beside her when her chain necklace got in contact with the charger, and she suffered some major neck burns due to the touch.
She was ridden to the emergency room suddenly at the University of Michigan C.S. Mott Children's Hospital. When the burns were examined, it turned out to be the second-degree burns. According to the doctors, she got her neck burned due to the electric charge that the charger passed to her necklace while she was lying on the bed. "Generic phone chargers can cause burns or electrocutions," lead author Dr Carissa Bunke, a pediatric resident at the University of Michigan C.S. Mott Children's Hospital, said in a statement. "Teens and adolescents are particularly at risk of injury due to their frequent mobile device use. They should be advised to not sleep with their phones or mobile devices charging in bed and avoid leaving the charger plugged in when it is not connected to a phone."
The charger was generic due to which the accident happened, and such chargers are pretty famous among the iPhone users as they cost less than the original chargers by Apple. The significant difference between the generic and Apple certified chargers is the chip that Apple includes in their chargers to avoid the overheating. Eddie Prestopine, manager at CPR Cell Phone Repair in Shreveport, La., told ABC affiliate KTBS.