This is how you can get wireless charging to your iPhone and Apple Watch in just $35
Published on April 12, 2018
Apple introduced the wireless charging pad called 'Apple AirPower Pad' with the launch of the first-ever notch smartphone iPhone X. The company had widespread expectations with the iPhone which didn't reach upto the mark, and the next dip can be the launch of this AirPower Pad. This is because rumors are suggesting that the device will cost around $99 to $199 which I think most of the Apple users won't support.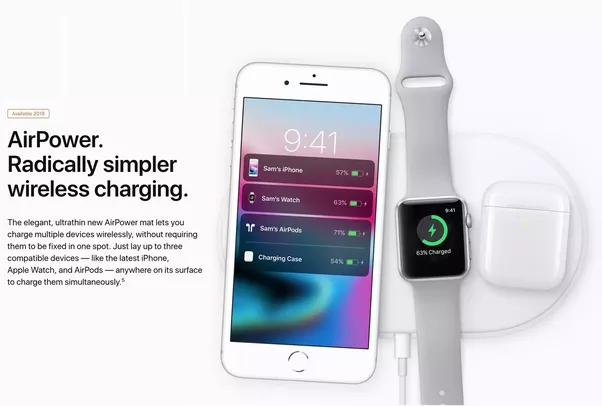 The AirPower Pad provides wireless charging to the newly launched models of iPhone, i.e., iPhone 8, iPhone 8 Plus and iPhone X. The device also supports wireless charging to AirPods and Apple Watch higher than the model Watch Series 3. The company didn't reveal a confirm date of release for AirPower Pad and also didn't mention the price during the introductory session in September 2017. As of now, we can only predict its rates and availability. But we can provide you a pathway with which you can avail this kind of wireless charging in just $35.
If Apple will go more than $150 for this wireless charging device, then it would be difficult for the company to lift up some massive sale of the product. As there are plenty of other cheap options available for the same the Apple users can also go with them to save the bucks which Apple will charge for this device.
Now let's understand how you can get wireless charging for your iPhone and Apple Watch for as low as $35. One example is the iPM two-in-one Wireless Charging Pad for $35 with shipping. The usual cost of the device is near about $99, but you can get that by applying a coupon code 'RICK35.'
The device is Qi-compatible and therefore able to charge the only Qi-friendly phone and when it comes to watching it only support Apple Watch Series 2 and Series 3. Let's get deep inside the specs and features of this cheap wireless charging pad of iPM.
This wireless charging device supports 7.5-watt charging for iPhones and 10-watt charging for Android Phones which directly points towards the feature of fast charging. The device supports charging to both Android and iOS devices. We may not be sure that would Apple AirPower Pad will support Android smartphones.
The wireless charging pad which iPM is offering so low is not Qi-Certified as the product doesn't mention the certification on iPM's product page. Instead, the product is CE-, FCC- and RoHS-certified as according to the Daily Steals listing. It is well known that all iPM products come with a 30-day warranty but this the Daily Steals has listed the product with a full year warranty which sounds excellent.
As according to me the device is suitable for the wireless charging for both iPhone and Apple Watch. The best part about this device is the cost and the warranty of one year. That means that at least a person can enjoy wireless charging for his Apple products for just $35. With the compatibility of both Android and iOS devices, the gadget makes a separate level of comfort.
As of now, Apple has not mentioned the release date for its AirPower Pad, so this is a good time for iPM to target all iPhone users. The deal sounds to a Black Friday deal, but actually, the gadget maker iPM is planning to overlap the market of iOS users with its cheap and reliable product.
Back in September when Apple introduced the product, it was like welcome to a new generation product. Now many companies are providing the same product ranging from $75-$150, but the much-awaited thing is the price of Apple AirPower Pad. If the company will price it high, then a less number of iPhone users would prefer to buy it and vice versa.
It may not be a matter of ease for an iPhone user to spend for his luxury after a particular interval of time. Previously when Apple launched its AirPods users paid a considerable amount just for the music accessibility and now again for the wireless charging pad, so this may not give good impact. Not doubt that Apple is providing high-end technical gadgets to its users, but the continuous consumption of $ will not get liked by the people.
At last, we give a positive review to the wireless charging Pad of iPM, and we can ask you to give it a try, if it would not be so kind then you'll not lose hundreds of dollar, you'll need to spend a little buck which you spend over outing or food. So go ahead with it, give it a try and do update the review by commenting in the comment box provided below.