The XIDU PhilMac – A Fast, Affordable Mini-PC
Published on October 26, 2020
The folks at XIDU were nice enough to send us a review unit of one of their products, the XIDU PhilMac. The PhilMac is one of many Mini-PC's available on the market.
With so many of these tiny PC's available these days, its hard to know which one to buy. Most of them are about the same size and have similar specs. So, what makes the XIDU PhilMac stand out from the crowd?
Hardware Design
I'm a 25 year veteran of the PC industry, so, one look at the spec sheet for a PC and I can already get an idea of how its going to run. So, when I got this in the mail over the weekend, the first thing I did was take it apart.
After I took out the screws, I expected to be able to pop off the top and expose the motherboard. This, however, was not the case. I could not get the top to come off. As I looked harder and harder for the seam, I realized something: there was no seam at all.
I was utterly shocked when I realize that the XIDU Philmac was machined out of a solid block of aluminum. That's why there was no seam. This is a low-cost PC. You would expect the manufacturer to make the enclosure out of cheap aluminum panels that were screwed together. That is not the case with the Philmac.
So, equipped with this new knowledge, I realized that to get to the motherboard, I needed to pop out the plastic plate that housed the I/O ports. Once I did this, the motherboard easily slid out of the side of the computer.
I thoroughly inspected the board to find that these XIDU engineers really know what they are doing. The board is a bit thinner than a standard circuit board, and right off the bat, a less experienced individual might think that this is a sign of something being low quality. And in a lot of cases, they would be correct.
In the case of this low-cost mini-PC, however, it was the perfect choice. Using a thinner circuit board provides a substantial cost savings for the manufacturer. There is a trade-off, though. If you are running high power electronics, or interference is an issue of concern, you might have problems using a thinner circuit board.
But this is a low power computer that is encased in a machined aluminum block. It does not draw a lot of power and interference is not an issue. If XIDU used a standard circuit board for this computer, it would have been a waste of money and provided no benefit to the end user. They would have had to charge more for this device for no reason at all. XIDU's engineers really know what they are doing.
All of the components on the board are well placed. XIDU managed to fit 128GB of Solid State Storage, 8GB of DDR4 RAM, a quad core Intel processor, Wi-Fi, Bluetooth, power control electronics, and everything else required to run a computer on this tiny circuit board.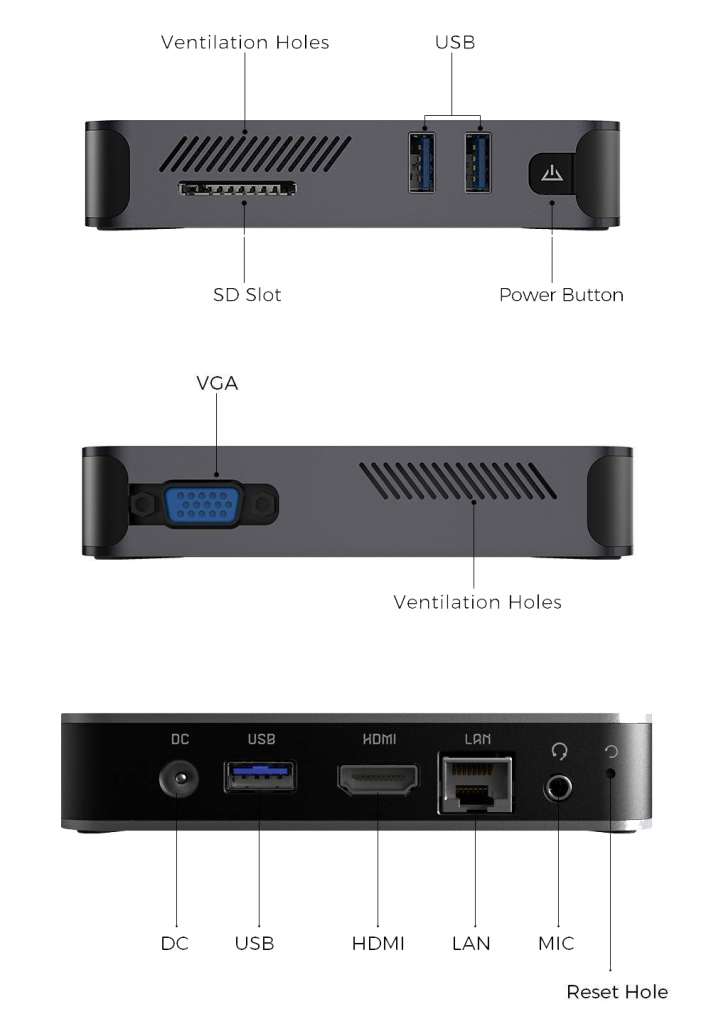 Performance
After inspecting the board, I put the mini-PC back together and hooked it up to a TV. I pressed the power button for the first time and could barely hear the tiny fan that was installed in the XIDU Philmac. In fact, it was kinda hard to tell that it was on by sound alone. Luckily there is a nice blue LED to let you know it's powered up.
This PC is nearly silent. It was a bit warm, so I walked over to the air conditioner and turned it on. When I walked back to the computer, I could not hear the fan at all. My air conditioner is not that loud, and even with it on the other side of the room and me holding the XIDU Philmac in my hand, I was no longer able to hear it.
I Was Stunned by The Performance of This Computer
I have installed Windows literally thousands of times. I have installed Windows 10, in particular, many hundreds of times. I am familiar with each phase of the installation process, and how long each one should take. I take into consideration a computers specifications, and if part of the installation is not moving as fast as it should, its a good indication that something is wrong.
In this case, the computer came pre-installed with Windows 10, but as with any other manufacturer, it was not completely installed. The last step, which is called the OOBE (Out of Box Experience) still had to be done. This is where you create your username, connect to Wi-Fi, accept Microsoft's EULA (End User License Agreement), etc.
I was shocked how quickly this machine was able to move through those last phases of installation. This little PC is very, very quick.
Software Setup
There is not much to say about the software for the XIDU PhilMac, and well, that's a good thing. That means there is no bloatware, spyware, or malware to deal with. No 'value-added' software to uninstall, no outdated programs to update. It was just a crisp, clean installation of Windows 10.
The first thing I checked was the device manager. No drivers needed to be installed. This system was set up perfectly.
I'm what you call a 'power user', so, I really use a computer to its fullest. I always have 10+ Chrome tabs open, and I run programs like Photoshop and screen capturing software. I was able to get my normal suite of programs set up on this computer, no problems.
I was surprised to see this computer handle my daily workload with no problem at all. On one hand, I want to say that this is a credit that needs to be given to Intel, rather than XIDU. I say that because XIDU did not make the processor or even the RAM in this computer. But on the other hand, credit should be given to the XIDU engineers because they chose chips that had the perfect balance of price and performance.
This machine is intended for office work, so if they put any faster of a CPU in this machine, it would be a waste of money and go completely unnoticed (like a thick circuit board would have). Using the Gemini Lake architecture, the Celeron J4115 CPU in the PhilMac is plenty fast enough for any task you can throw at it.
Stability & Reliability
A snappy computer is pretty useless if you can't rely on it. That's not the case here. I used this computer intensely, all day long for several days. I never even turned it off or restarted it and it just kept producing great results. There was never a single issue.
Conclusion
Priced at just $200 for a complete system, it's hard to recommend any other mini-PC. The XIDU PhilMac is an example of a perfect balance between cost, performance, and aesthetic. It looks great, it's nearly silent, it run's great, and its reliable. Other mini-PC's either cost too much, don't look good sitting on your desk, don't run as fast as they should, or all of the above.
With the Philmac, XIDU really got it right. I look forward to seeing what other products this company has to offer.
You can check out XIDU's products here.