Sony's Awesome PS5 Graphics Likely Come From This Russian Artist
Published on June 24, 2020
As you can see above, pulsing blue spheres rearrange themselves into different geometric patterns. If you recognise that, then you probably saw the Sony PlayStation 5 reveal. The blue, black, and white colors that Sony went with really did well for the reveal of the PS5 console, and the whole event just had a super modern feel to it.
The funny thing, though, is that image above isn't actually from Sony. It's the work of a Russian artist named Maxim Zhestkov. After comparing the two, the similarities between the graphics in Sony's PS5 and Zhestkov's work make it look like he was hired to make those PS5 graphics. So, let's compare some of his work to what was shown in the PS5 video.
Look at the PS5 graphics shown in the GIF below. You can see a bunch of tiny spheres that are lit by a light above which forms the familiar PlayStation circle. You can see a cool blue illumination shifting throughout the column: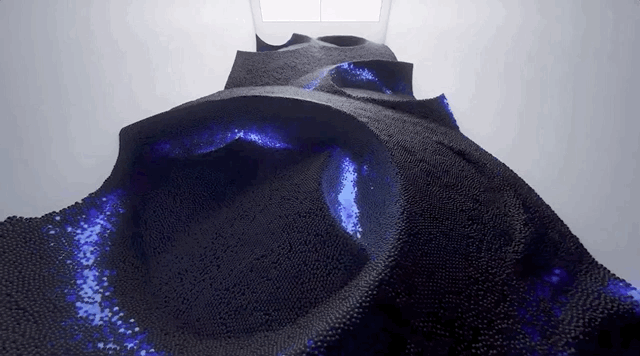 Now, compare that to this GIF from one of Zhestkov's works called "Computations." Again, you see thousands of thousands of little spheres that are lit by a dim overhead light that fades into different shapes with cool blue illumination shifting through the column — lol.
Now, let's take a look at something a little different. Here you can see a GIF shown in the PS5 reveal of a cuboid monolith in a desolate room which opens up to reveal to be bright and colorful inside:
This looks a whole lot like a scene from one of Zhestkov's works of titled 'Layers,' which features a rectangular monolith in an empty room that opens up to reveal a more colorful, layered inside:
What is The PS5 Going to Look Like?
Sony showed off the final design of the PS5 during its June 11th PS5 reveal event. IT looks a lot like the DualSense controller, features a two-tone black and white design.
What Will be The Price of PS5?
The price of the PS5 will between $450 and $500. There will be a cheaper version of the console that does not include an optical disc drive. This lower cost version will rely on the internet to download games.