Sony launches its new 5.1 channel soundbars
Published on August 3, 2018
Today, Sony Company has launched its two new 5.1 channel soundbars in the Indian market which are HT S700RF and HT- S500RF. As per Sony, they have developed this music system especially for India which will have the sound settings which have been tuned for Indian consumers.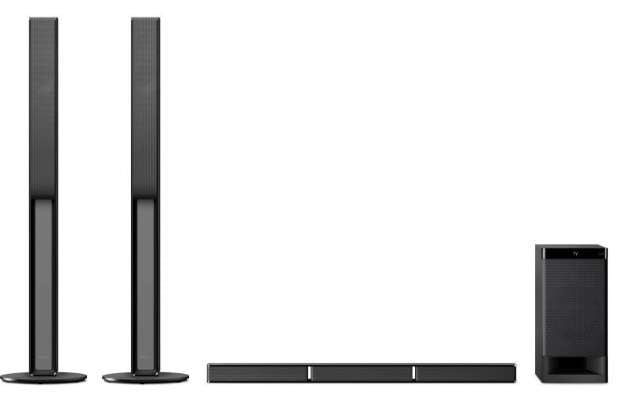 These sound systems have got a new diamond cut which punches metal grille which is present at the front with a rhombus pattern. These two Home Theatre systems come with a powerful bass sound with a clear vocal sound. The company now aims to grow by more than 80 percent in FY18 for the popular 5.1 channel Soundbar Home Theatre.
These two new 5.1 channel surround systems can give powerful audio experience by delivering about 1000W output power with a high volume boxes which use tweeters as well as high aperture ratio grill. The tweeters which are present in HT-S700RF as well as HT-S500RF to reproduce high-frequency sounds. HT-S700 RF has got two front along with two rear tweeters which come loaded with two front tweeters.
The Sony HT-S700RF 5.1 channel soundbar will give the user with outstanding sound experience with 1000 W total power output. The traditional soundbars have got just a single unit which comes with a soundbar with a dedicated subwoofer. There are also two rear speakers for an impressive surround sound experience. The 5.1 channel soundbar is very easy to set up. The only thing that the user has to do is to plug in after which the user can enjoy the surround sound system. The cables which are present in them runs to the subwoofer; as a result, it helps in maintaining a neat with a tidy appearance. The speakers are about 120cm tall which feature full range 65mm drivers. You can also connect your phone with Bluetooth connectivity.
The HT-S500RF offers the same 1000 W total power, but the speakers who are present in them are compact rear speakers. It has got 3-channel sound bar with subwoofer along with rear speakers which are capable of filling the room with sound. It comes with a DTS digital surround with Dolby Digital format support. It offers an optical –audio input with analog audio input along with USB Type-A, HDMI port with ARC as well as Bluetooth.
The Sony HT-S700RF 5.1 channel soundbar has got a price tag of Rs 37,990 in India. The HT- S500RF model has got the price tag of Rs 29,990. The music systems will be available from 10th August 2018.