Here is all about JBL Link View
Published on October 4, 2018
In the recent people and the market is engaging more towards Amazon Echo and Google Home just to make their task easier, they just need to give an update about the playlist and the work is then appreciated. Similarly, it will be more than enough when you will have these type of speaker with the visual screen also, yes we are talking about the Echo Show and the JBL Link View, these speakers help the user to make their task easier and also increase the functionality by showing the actual videos, photos and more.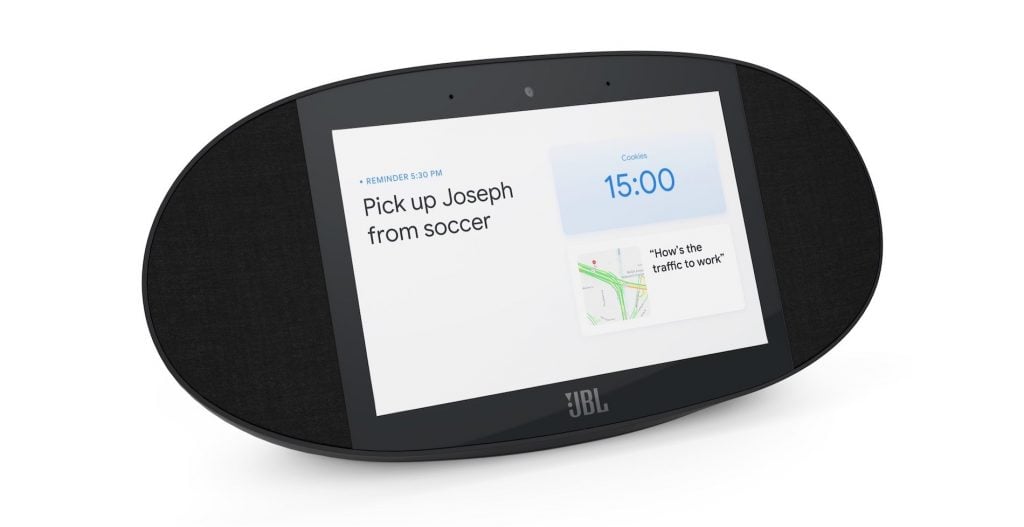 You must know that the Echo Show is an Alexa device which performs a task and if we say about the JBL Link View is, it is absolutely like a Lenovo smart display, and have a lot of features, obviously a device, speaker or a screen with Google Assistant will always be better than anything else.
A speaker with a screen will definitely have good results in the market and will also be loved by the youth, therefore this is the JBL Link View which has an eight-inch touchscreen display, but therefore as it is same as Google Home it will run through voice commands. Further are some of the key features about JBL Link View.
Screen:
As you all must be aware that JBL is the brand which is most leading in the manufacturing of Speakers and sub-woofers, therefore it JBL has come up with its new product known as JBL Link View in this year. This device is shaped like a pill and has a flat front that is slightly tilted, and rounded back with a speaker on either side of the screen. Also, it gives you an option to put a physical shutter over the five-megapixel camera which is exactly above the LCD screen by pressing the slider button which lies on the back of the speaker, you will be more than happy to use this fully loaded calling featured speakers because by this you can make calls by Google Duo as well as make normal call to a person you wish to.
The main difference between Lenovo smart speaker and the JBL Link View is that JBL speakers have a chunkier display than Lenovo. The screen has a dimension of 13-6-4 inches. Also on the display, you will get to know about the weather and time but if you want more options you will have to download the Google Home app for more setting and to do more things. For images, you have an option whether to add Google photos or any other which you want.
Touch:
No doubt that these new speakers by JBL, known as JBL Link View are more likely as Google Home, but here you also get a screen with speakers, therefore, you have to be specified about your command, for example, you have to search some product on Wallmart then you have to give a command like " search iPhone Xs on Google on the site of Wallmart". Obviously, it will lead to some of the disturbance between your work, but will also give the best results. One more thing which you should know that this screen doesn't have any search bar but yes have a sliding option for selecting different types of categories such as, Different types of cooking recipes, listen to new songs, play games and also tells you the latest news. Some onscreen features are as follows If you swipe up it will bring some of the device settings if you swipe left it will takes you back to the home screen, and also it has an option for controlling screen brightness and you will be surprised by its new feature that, if you will give a command to google for switch of the screen or to shut, it will clear the display but will still show a clock on it.
You all must have to use the Google voice commands system on your smartphone, in the similar way you have the new JBL Link View speaker which will wake up by listening "Ok Google" or "Wakeup Google", you will be shown up a white bar and you will be also able to see what you will be saying will appear in that bar and obviously it will look quite nice on the screen. This Link View is so helpful that it takes command to show the accurate results for what you were waiting for, just like you have to search for a cuisine, it will further show you the time-period it will take for preparing that cuisine. Also, it takes just an easy step to open up your playlist, it just needs a command that "Ok Google" open my playlist and the task will be completed, I think this would be a nice feature and also more helpful than Google Home.
Just imagine you have to search for a hotel or a restaurant near your place which have a good rating, therefore just give the command to search hotels or restaurants and it will give you the complete list of that along with the views and same goes for the weather conditions, you just need to ask for tomorrow's weather and it will show up the complete list of weather for the entire week. The JBL Link View is so good that it also gives you the timer option and gives you the complete details that when it will be closed, For example, you have a timer that after 25 minutes remind me to turn off the Oven and also one side you have placed a reminder that reminds me to take a shower after 35 minutes therefore both the timers will appear on the screen and you will be aware that which one is going to be ring first. Thanks to Google and the JBL Link View.
Warranty and Cost
The JBL Link View has a warranty of around one-year and if we say about the competition than yes it has its biggest competitors, the Amazon Echo Show which cost $230 and also the Lenovo's Smart Display which cost around $199.